News Around the Republic of Mexico | February 2009
Protesters Demand Stop on Pyramid Project

Prensa Latina
go to original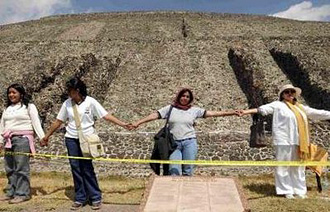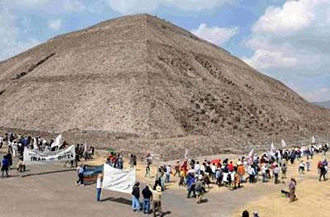 Workers of Mexico's National Institute of Anthropology and History stand around the Pyramid of the Sun in Teotihuacan during a protest against a lighting project at the pre-Hispanic Teotihuacan pyramids February 3, 2009. The local government had launched the project to create a night time light and sound show for tourists. (Reuters/Felipe Leon)
Several Mexican organizations and personalities demand today to stop the lighting and sound project being set up in the pyramids of Teotihuacan.


They warn that the works have damaged the structure of these historical monuments declared World Patrimony by the United Nations Educational, Scientific and Cultural Organization (UNESCO).


Resplandor Teotihuacano, as this multimedia project promoted by the government of the Mexico state is known, hopes to boost the regional tourism.


Members of the unions, teaching staffs and researchers of the National Institute of Anthropology and History (INAH in Spanish) demand the cancellation of the building works and accuse the governor of that state, Enrique Peña Nieto, of wanting to destroy the pyramids of Teotihuacan in the interesting of commercializing the show that will only benefit a few people.


They also explained that according to a technique-academic report of affectations caused by the installation of the show made between the 7 and 27 on past January, the damages are irreversible.


They specified that 6 575 perforations in the place were made, of which 212 had failures. Plus they caused fractures in stones because of the use of expansive devices.


They added that there was also a detachment of stones intentional or by slip when placing metallic elements, cutting aluminum over the same traces, accumulating wastes that do not belong to the place, spillage of painting on floors and rocks and visual and archeological damage of the place.


Yesterday, more than a thousand Mexicans demanded that in the patrimonial area be stopped the tourist project.
Tell a Friend
•
Site Map
•
Print this Page
•
Email Us
•
Top