Entertainment | Restaurants & Dining | February 2009
Irreverent Chef: Love on a Plate? Why Not?

Liana Turner - PVNN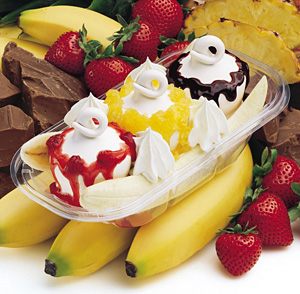 Happy Valentine's Day! May it be filled with fabulous food and sensual delights.
Valentine's Day is coming up. That means it is time to wake up the libido, so I've been investigating aphrodisiac foods. Do they really work? Is it all in the head? Are there really certain chemicals in some foods that can increase libido?


After extensive personal and academic research, I have come to the following conclusion: well, umm... maybe. There is very little conclusive scientific proof that any of these things work, but the consensus in the aphrodisiac community seems to be that if you believe it, it will be so.


So, I suggest giving some of these foods a try. They are all natural and healthy, so it can't hurt. Some of the foods that are thought to stir up amorous feelings are obvious because of their shapes, like asparagus, cucumber, celery (which is said to contain androsterone, a male hormone that is reported to stimulate the arousal of females.)


Bananas are purported to contain enzymes and minerals that increase male libido. Foods with a lot of eggs or seeds (caviar, pomegranate, etc) are considered to be symbolic of fertility. Many seeds and nuts are believed to have amorous properties.


Chick peas or garbanzo beans have a long history, and were fed to prize stallions in ancient Rome. Also in Roman society, walnuts were thrown at newlyweds instead of rice to encourage the fertility of the couple. Ouch! I don't think being pelted with hard walnuts by family and friends would really put anyone in the mood.


Chocolate, of course, is an important part of any loving relationship (and an important part of life in general.) It's common knowledge that it contains PEA, which is the same chemical released by the brain when people fall in love, rendering them deaf, dumb, blind and dreamily euphoric.


Oysters have to be mentioned here, as the food most universally thought to increase desire and performance. I had a dozen or so on the beach last weekend, and they were so incredibly good – salty, luscious, squishy little morsels of love. But can they really live up to their lofty reputation? There is some good news. Oysters contain zinc, the lack of which can cause male impotence. So I say, better safe than sorry. Eat your oysters.


This menu has been specially designed to encourage loving feelings in mind and body. Good luck, and let me know how it goes. Happy Valentine's Day! May it be filled with fabulous food and sensual delights.

Aphrodisiac Valentine's Day Menu

Appetizer: Oysters on the Half Shell, with Lime and Pomegranate Mignonette


Salad: Cold Steamed Asparagus Spears wrapped in Prosciutto with Roasted Tomato Vinaigrette and Diced Roma Tomatoes


Main Dish: Jumbo Shrimp, Grilled and served with Basil Garlic Butter


Side Dishes: Steamed Baby Zucchini, Truffle Risotto


Dessert: Banana Split (Vanilla Ice Cream, Bananas, Chocolate Sauce and Fresh Strawberries)


The Irreverent Chef, a.k.a. Liana Turner, is the chef and owner of Paradise Bakery and Catering. Serving the "Best Cinnamon Rolls in Vallarta," along with delicious sandwiches, salads, main dishes and yummy sweet treats every day but Sunday, and providing all styles of catering services, from pre-prepared meals to-go for informal gatherings to full service elegance for dinners, cocktail parties, wedding receptions and special events, Paradise Bakery & Catering is located at Sierra Aconcagua 299, Prolongacion Brasil, Colonia Lazaro Cardenas, Puerto Vallarta. For more information, call (322) 222-5133 or visit VallartaCatering.com.

Click HERE for more articles by The Irreverent Chef
Tell a Friend
•
Site Map
•
Print this Page
•
Email Us
•
Top