Entertainment | Restaurants & Dining | February 2009
Another Super Easy, Super Good and Pretty Cheap Recipe: Mexi-Lasagna

Liana Turner - PVNN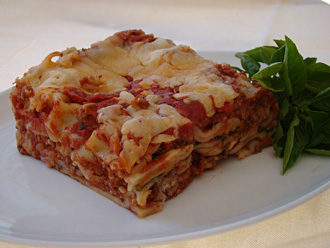 I started making my Mexican version of lasagna to sell in the bakery a few months ago, and it has become a huge hit.
Some people can't really appreciate things unless they are either complicated or expensive or otherwise difficult or exclusive to obtain. Those are the people who only go to the finest stores, and don't see the joy in saving piles of money in a discount store, like Ross or Nordstrom Rack.


They are the people who use Larousse Gastronomique (in French) as their only cookbook, and follow every ingredient and direction to a "T" - weighing every milligram and measuring every milliliter.


That attitude works just fine for people who don't mind spending more than they need to, or enjoy putting extra time and effort into something just for the fun and glory of it, without necessarily better results. There is a fine balance between economy and quality, but it is not difficult to economize financially and energetically, and still get some very fine results.


This is a Mexican version of lasagna that I started making to sell in the bakery a few months ago, and it has become a huge hit. As with many great recipes, it was the result of available ingredients. In other words, I took what I had and made something out of it.

Mama's Mexi-Lasagna

Quantities will depend on the size of your pan, but it will be easy to figure out. My apologies to anyone who must have a detailed recipe in order to cook.


About the Meat: You can use ground beef, ground pork, ground turkey, chorizo or any combination of those meats. Sauté without oil until cooked through. You don't need to break the meat into tiny pieces. It will be better if you leave it a little chunky. Drain any extra fat by putting the meat on paper towels and set aside.


Roast fresh Poblano chiles (enough to cover one layer of the pan) over a stove flame until just black all over (but not burned through). Place chiles in a plastic container with a lid or in a plastic bag and close tightly. Leave for ten minutes or more to "sweat." Then remove the stems, seeds and as much of the skin from the chiles as possible. If a little black stays on it will be fine. The color adds character.


Have plenty of grated cheese ready. Mozzarella, Chihuahua, Manchego, Oaxaca, Monterrey Jack... any mild, white cheese will do. You can grate it yourself if you like, but if you want to keep things simple, just buy a bag of grated cheese (the grated Monterrey Jack at Costco is pretty good.)


Start with a deep (2 inches or more) baking pan of the desired size. Cover the bottom of the pan with a thin layer of tomato sauce (pure de tomate)


Place one layer of flat uncooked lasagna noodles over the sauce.


Spread a layer of meat over the noodles and pour a can of chopped tomatoes on top. Sprinkle the tomatoes with cumin and a light layer of chile powder (Chile Ancho Molido). Sprinkle a light layer of cheese over this.


Place another layer of lasagna noodles. Then spread out one layer of the roasted Poblano chiles. Repeat the chopped tomatoes, cumin, chile powder and cheese.


Repeat as many layers as you like or have room for. You don't want to have the lasagna all the way to the top edge of the pan, or the foil will stick.


When you are satisfied with the amount of filling, pour some tomato sauce (pure de tomate) over the whole thing, just to make sure there are no dry parts. Then a little more cumin and chile powder and a final layer of cheese. Cover very tightly with foil, but try to keep the foil from touching the cheese.


Bake at 350 degrees Fahrenheit (about 175 Celsius) for about 45 minutes, or until a knife placed into the middle goes in and comes out easily, with no resistance. Remove the foil and bake for an additional 20 minutes or so, until browned. You may serve immediately, but you will get nicer looking squares if you let it cool and cut. Then you can reheat.


Buen Provecho!


The Irreverent Chef, a.k.a. Liana Turner, is the chef and owner of Paradise Bakery and Catering. Serving the "Best Cinnamon Rolls in Vallarta," along with delicious sandwiches, salads, main dishes and yummy sweet treats every day but Sunday, and providing all styles of catering services, from pre-prepared meals to-go for informal gatherings to full service elegance for dinners, cocktail parties, wedding receptions and special events, Paradise Bakery & Catering is located at Sierra Aconcagua 299, Prolongacion Brasil, Colonia Lazaro Cardenas, Puerto Vallarta. For more information, call (322) 222-5133 or visit VallartaCatering.com.

Click HERE for more articles by The Irreverent Chef
Tell a Friend
•
Site Map
•
Print this Page
•
Email Us
•
Top