Entertainment | Restaurants & Dining | February 2009
Irreverent Chef: Wheat Free, Gluten Free... What Does it All Mean?

Liana Turner - PVNN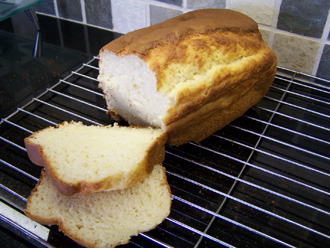 If you or a loved one have a need for these products, please send an email to me at lianasea(at)msn.com with your specific needs.
Ten years ago, the necessity for wheat and gluten free products was virtually unheard of, but as more people are becoming aware of what is going on in their own bodies and are taking control of their own care, many are discovering that by making changes in diet (some subtle and some drastic) they can dramatically improve their health and life.


Some wheat intolerance can create mild symptoms, but gluten allergies or Celiac disease can cause great discomfort and sickness to sufferers. A wheat and gluten free diet has also shown promise for children and adults with autism.


To finally discover what has been causing illness is a wonderful thing. It is the first step to creating a more comfortable and fulfilling life.


Most of the problems with wheat seem to come from gluten, which is a component of wheat. It is what gives wheat flour it's "stretchiness," which allows the CO2 that yeast produces to create bubbles and lightness. As the gluten cooks around the air bubbles it keeps its shape and provides the bread with airiness and texture.


Without gluten, most breads will be flat, dense masses. We have ways around that, and the possibilities are exciting. There are many other flours that can be used, and in combination with other ingredients the airiness of wheat bread can be duplicated.


Chances are, you or someone you know has sensitivity or problems with gluten. It helps to know which foods can cause problems, in case you might be cooking for them. I have found that there is an increasing need to know about this and the foods to watch out for.


Wheat is not the only culprit. There are several other grains or grain products that contain gluten, including Barley, Rye, Graham, Couscous, Bulgur, Durum, Farina, and Matzoh Meal. Other products may contain gluten too, and someone who is sensitive will want to carefully check labels on all processed foods and meats, such as sausages and lunch meats.


Other foods to be careful of are self-basting turkeys, sauce mixes, dry mustard, pickles, salad dressings, soups, white pepper, malt vinegar, soy sauce (Tamari is usually wheat free,) some toothpastes and many medicines and food supplements.


There are alternative flours and grains that do not contain gluten and are fine for this special diet, such as rice flour, potato flour and starch, tapioca, amaranth, arrowroot, flax, buckwheat (which is not really wheat at all,) millet, nut flours, pea, quinoa, soy, sweet potato, etc... The possibilities are exciting, and I can't wait to get started on this new project.


My first wheat free bread request came about six years ago from a mother of an autistic child. I tried a few recipes, but didn't come up with anything that I considered good enough to sell.


In the last year or so, the requests have increased to a point where I must take action. There are so many who are in need. I have recently found more sources for the ingredients needed to create wheat and gluten free breads, so I will be experimenting in the coming weeks with recipes and different flours.


If you or a loved one have a need for these products, please send an email to me at lianasea(at)msn.com with your specific needs. Your input will help in the development of these exciting new products.


The Irreverent Chef, a.k.a. Liana Turner, is the chef and owner of Paradise Bakery and Catering. Serving the "Best Cinnamon Rolls in Vallarta," along with delicious sandwiches, salads, main dishes and yummy sweet treats every day but Sunday, and providing all styles of catering services, from pre-prepared meals to-go for informal gatherings to full service elegance for dinners, cocktail parties, wedding receptions and special events, Paradise Bakery & Catering is located at Sierra Aconcagua 299, Prolongacion Brasil, Colonia Lazaro Cardenas, Puerto Vallarta. For more information, call (322) 222-5133 or visit VallartaCatering.com.

Click HERE for more articles by The Irreverent Chef
Tell a Friend
•
Site Map
•
Print this Page
•
Email Us
•
Top