Entertainment | March 2009
The Self-Proclaimed Bitch is Back

Laura Gelezunas - PVNN
If you would like to learn how you can promote your Banderas Bay area business or event through a video press release on BanderasNews, please contact Laura Gelezunas at VideoDivaProductions(at)yahoo.com (Video Diva Productions)
As Jackie Beat belts out the tune to Natural Woman, she has transposed the lyrics to ask why she is better than most women. But, how natural that is, is up to you. Determine for yourself while checking out Jackie Beat while she graces the stage at Club Mañana for three musical and fun-filled weeks.


"I was born to perform," says Jackie Beat, Drag Superstar, "I love making people happy. Even though the character is a little bitchy, I always make fun of myself first. I think that my costume and make-up is just icing on the cake, the material is funny whether I'm in drag or not. This is a high concept character like Elvira or Pee Wee Herman, and it just so happens that the person under the female character is a man."


Jackie hits the high notes and the low blows, there's no lip-synching involved. It's the real thing. For over 20 years, the show has mixed comedy and music, plus puts a caustic and twisted spin on life.


"The filthy song parodies is how I get the laughs and I'm a laugh whore so now the show is 10 or 11 filthy song parodies," says Jackie, "It's almost like divine intervention, believe it or not, which I think isn't too far off because making people laugh, especially in this day and age is a very noble profession. You really cannot underestimate or undervalue the importance of escaping from your life for an hour... and I do a damn good job of it."


Audience interaction is a big part of the show and Jackie prides herself on making them happy. She's had a lot of practice.


"When I was growing up, my mom was depressed before there was even a word for it," remembers Jackie, "As a little boy it was my job to make her laugh, or at least make her smile, and I was pretty good at it and continued the practice through my life and into my shows."


Club Mañana prides itself on being one of the only venues with live, international entertainment in the bay. And you can enjoy the programs at a fraction of what you would pay elsewhere. Jackie has four shows per week and two different acts, catch the kaleidoscope of Jackie Beat until April 1st.


Ticket prices are $250 pesos or $20 USD, for Mañana VIP Members admission is free. Shows run Monday, Wednesday, Friday and Saturday starting at 10 pm. For more information or to purchase tickets visit their website, ClubManana.com.
---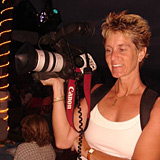 After having spent 10 years in the world of US broadcast news, Laura Gelezunas decided to unleash her skills on Puerto Vallarta by opening Video Diva Productions, a full-service, professional digital video company. Whether you're interested in a sales video, WEBmercial, music video, feature story, documentary, or corporate event video coverage, she has the experience, equipment and talent to coordinate a professional production. For more information, visit her website at VideoDivaProductions.com.
---
Located at Venustiano Carranza 290 in the Romantic Zone, Club Mañana is the single Puerto Vallarta address that seems to unite all types of revelers, even drawing its share of straight friends of the community, who appreciate the outstanding sound system and high-energy vibe.


For more information, click HERE, call (322) 222-7772 or visit ClubManana.com.
Tell a Friend
•
Site Map
•
Print this Page
•
Email Us
•
Top