News from Around Banderas Bay | March 2009
PV Little League Week Four Report and Recap

Bob Cohen - PVNN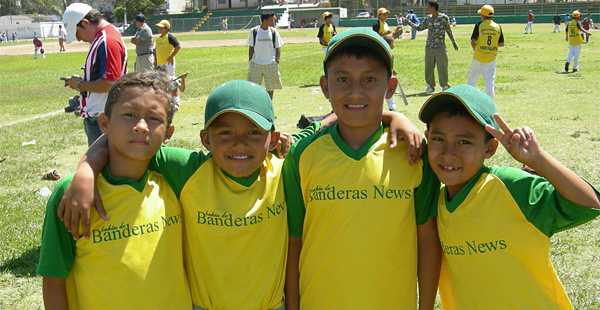 From left to right, Eddie, Alvaro, Leonardo and Joel of Los Limones just after the big three run homer hit by Leonardo who put Los Limones in the lead and kept them as the only 9-11 year old team that is still unbeaten.
Week 4 of the Puerto Vallarta Little League saw some extremely competitive games, which was exciting news for all, but on the downside, two teams did not show up as scheduled, leaving a dilemma for league officials and a decision will be made this week as to how the league will handle this unfortunate situation. The teams that did not show up were given losses of course and their opponents were given wins, but the teams wanted their victories by playing and not by default.


Results, recaps and records for Saturday are as follows:


In the 9-11 category:


The only two unbeaten teams faced each other in the opener and Los Limones remained the only team with a perfect record at 3-0, but needed a 5th inning three run homer by Leonardo to take the lead and the pitching held up in the final inning for a tight 6-5 victory over Viejo Vallarta in a thrilling game that drew a large crowd. Viejo Vallarta lost their first game of the season and are 2-1.


The PV Yankees won their first game after two close losses over the high scoring Brisas Del Pacifico 21-17. The Yankees trailed 17-16 going into the 6th and final inning and scored five times in the top half of the 6th and prepared for the potential offensive onslaught by Brisas who scored 44 runs in their first two games. The Yankees held them scoreless and claimed their first victory and are 1-2, the same as the Brisas team.


The last game in the 9-11 category was a forfeit victory for Bucerias as Daiquiri Dick's Lazaro Cardanez team came with not enough players to field a team. Sadly, it was the second consecutive week that Bucerias made the long trip but was unable to play. Bucerias improved to 2-1 and Daiquiri Dick's fell to 0-3 due to the forfeit.


In the 12-14 year old category:


Roberto's Camarones won due to forfeit as Escuela 29 did not show up. The Camarones used the two hours to play an intrasquad game and practice and improved to 2-1. The Escuela 29 (0-3) league status is up in the air and a decision this week will be made by both the league and the school to see if they will still participate.


The second game saw Club Maρana's Los Angeles improve to a division leading 3-0, defeating Banderas News in a thriller, 17-16. Banderas News staged a dramatic late rally that fell short fell to and they dropped to 1-2. The 12-14 division has three teams that are extremely close in ability and the rest of the season should be exciting as the teams will play each other again.


Last week's games that were played but not counted as regular season victories due to the cancellation of the late games was thought over and discussed and a decision was made to count the games that were played in the standings and make up games will be played for the teams that weren't able to play due to the schedule snafu from last week. This coming Saturday the games will be added to the standings and the other games will have rescheduled dates.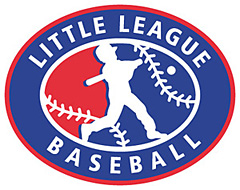 For donations, sponsorships and further information we urge you to contact:


• Bob Cohen at bob(at)banderasnews.com
• Miguel Vargas at tacos.park(at)hotmail.com
• Oscar Mercado at mercadooscar(at)hotmail.com




Seven banners for sponsors were picked up and hung in the outfield and they looked terrific. On the negative side, two more teams had their jerseys silk screened and the company that did the work, screened the jerseys with the wrong names, so the league will have to order 30 new jerseys and have them corrected; a loss of needed money for the fledging league. We didn't expect problems such as these but in the initial Little League in 15 years in PV, there obviously were going to be some problems. We are moving along and learning and recording the mishaps so they hopefully won't be repeated again.


In attendance were Dave and Dawn Marriner, the sponsors of the PV Yankees. They returned from Calgary and came back with some new gloves for his team, as well as custom fit hats that looked real sharp on the kids. I was talking with them as they watched their team win their first game with a big final inning. It must have been the new lucky hats that made the difference.


The 15-16 year old all star team that was selected to travel and be in the competition that will ultimately lead to Williamsport for the Little League World Series continued to practice this past week and appear to be a solid team.


League President Miguel Vargas also was watching the games closely and beginning to select kids from each of the age divisions that will represent Puerto Vallarta as the all stars that will compete in post season play.


We still have two and possibly three remaining openings for a business, group or individual to help. Please contact Bob Cohen at bob(at)banderasnews.com for anyone interested. The league is in need of financial support as expenses are mounting and we also faced the unexpected costs. We took on this project to help 150 youngsters that couldn't afford to play baseball and to bring Little League back to Puerto Vallarta after 1 10+ year absence. We do have one business that is ready to come on board and groups can also share a team sponsorship for $5000 pesos each.


Your support provides endless benefits for Banderas Bay area kids, who will develop the qualities of citizenship, discipline, teamwork and physical well-being by participating in Puerto Vallarta Little League Baseball. To learn how you can help, send an email to Bob Cohen at bob(at)banderasnews.com, Miguel Vargas at tacos.park(at)hotmail.com or Oscar Mercado at mercadooscar(at)hotmail.com. For more information about Puerto Vallarta Little League Baseball and full coverage of this season's games click HERE.
Tell a Friend
•
Site Map
•
Print this Page
•
Email Us
•
Top