Editorials | Opinions | April 2009
The Power of Collaboration

The Power of Collaboration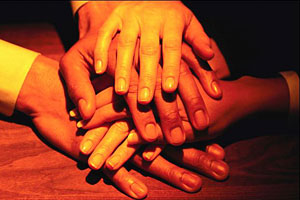 When economies begin to flounder and money and customers become scarce, there is perhaps no better solution than pooling resources and creativity.
If the global Swine Flu epidemic, the US economy and the city's near empty streets are anything to go by, the Puerto Vallarta tourism sector is in for a tumble. While it is difficult to ascertain just how these factors will impact Vallarta's tourism, signs of concern, if not outright panic, are beginning to appear across many sectors. Airlines have cut schedules, hotels are cutting staff, hundreds of locales remain empty, and businesses are cutting prices.


Businesses are looking for solutions to ease the pain. It seems logical to reduce prices during recessions to lure consumers through the front door, but competing on price can become a slippery slope that can cause more harm than good. Eventually price discounts force competitors to react in-kind, resulting in a vicious circle that sees profits gradually eroded and weaker businesses collapse.


And while leading on price may be intended as a short-term tactical move, it can result in brand erosion over the long term by damaging the way the brand is perceived in the market. Why? Despite the most valiant efforts, price discounts are generally followed by cost-cutting across all areas of the business, which can impact heavily on product quality, service delivery or staffing levels, all of which influence the experience customers have with the brand. And despite the changes being intended as a stop-gap until things improve, it is difficult to reverse the impact such cuts can have on a brand's reputation and survival, once it is damaged.


Another consequence of price competition is the invariable 'Us vs Them' mentality that serves to reduce collaboration between competitors and sectors. Brands become defensive as organizations seek to undercut each other's prices and focus on the short-term gain rather than long-term sustainability.


The alternative? Collaboration.


Collaboration means sharing information, resources and ideas. Collaboration is generally avoided when times are good and tourists plentiful, but when economies begin to flounder and money and customers become scarce, there is perhaps no better solution than pooling resources and creativity.


There is no shortage of examples of successful collaborations between former rivals seeking to achieve common objectives. The airline industry is perhaps the most obvious. Where once there was in-fighting and mistrust now stand three powerful and sophisticated alliances working to exchange ideas, share customer information and pool marketing efforts and budgets to respond to the increasingly difficult climate in aviation.


In Vallarta, the Hotel Association recently elected a new president and set up 6 vice-presidencies in order to focus their effort, while ensuring greater representation for members. The President Elect, Gemma Garciarce Monraz, deftly recognized that Vallarta needed to present a unified front and an inclusive solution to the issues Vallarta faces as a destination brand during the economic downturn. She suggests that a collective strategy and consistent messaging are needed to help Vallarta weather the impending crisis.


It can be difficult to foster consensus amongst perceived rivals, but focusing on long-term objectives will benefit everyone involved. Collaboration can foster innovation, resource maximization and result in cost-savings. It can also serve to cycle customers through a specific area or sector, providing them with a comprehensive service and product offer that results in increased spending in a contained market.


Pooling resources in areas like advertising will make any campaign go further. Additionally, ensuring a homogeny in brand communications and advertising serves to reinforce the campaign concept amongst target audiences and minimize any confusion competing campaigns can generate.


It is undesirable to include all organizations in a sector in an association. Make it too large and agreement becomes impossible and competitiveness withers, make it too small and it becomes ineffective. The size and structure depends on the needs of the sector. While formal associations take time and resources, a simple phone call to a competitor can do much to ease the recessionary pain.


Daniel Gomez is a brand strategist and partner at Mijo. Based in Puerto Vallarta, Mijo is a strategic brand design agency servicing clients across North America and Europe to create breakthrough brand communicatiuon solutions. To learn more about Mijo Brand Strategy Design, call (322) 223-2837 or visit mijo.com.mx.


Click HERE for more articles by Daniel Gomez.
Tell a Friend
•
Site Map
•
Print this Page
•
Email Us
•
Top