Local Profiles
Strategically Designing the Good Life

a profile of branding expert Daniel Gomez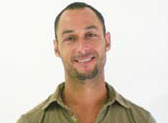 Daniel Gomez of Mijo! Brands in Puerto Vallarta

Daniel Gomez is partner at Mijo, a strategic brand design and communications agency based in Puerto Vallarta. The agency works with clients across all sectors throughout Mexico, the United States and Europe.


Before Mijo, Daniel worked with high school friends to launch Brandinstinct in London, England. His team won the prestigious Design Week Award for Best Identity Program in Europe in 2004 for their work with Les Trois Garcons Group.


Mijo's team includes graphic, package and product designers, web programmers, editorial staff, and brand and communication strategists. The four service areas include Brand Strategy development, Brand Identity design, Implementation and Internal Branding.


Daniel, a native of Puerto Vallarta, moved to Canada with his family in 1979. He travelled between Mexico and Canada until 1997 when he moved to the UK. Daniel studied Business at George Brown College in Toronto, read for a bachelor in business at King's College London, part of the University of London, and obtained his Masters of Business Arts (MBA) from LSBU in London in 2006. He published a thesis on Fostering Collaboration and Innovation across Organisations.


Seeking sun, Daniel returned to Vallarta in September of 2007 to be closer to his family. He surfed for a few months but eventually returned to branding by launching Mijo in November of 2007. His clients in Mexico include Blue Seas Resort and Spa, Los Veranos Canopy, Viejo Mexico, Maven and SQ Wellness in The UK, and La Fabrica in Spain.


In addition to contributing articles to BanderasNews, Daniel writes for local and international newspapers including The News, Vallarta Today, Vallarta Opina, Vallarta Tribune. He has also written for The Times of London and Design Week in the UK.


Daniel splits his free time between family and friends, journalism, and learning to surf. He will eventually get a dog and slow down.


To learn more about Mijo! Brands visit MijoBrands.com.

If you have a suggestion for a future profile, email us at Profiles@BanderasNews.com
• B E L O W T H E F O L D •
What's New Around the Bay?

Daniel Gomez

The biggest news is of course the reopening of the bridge across the Ameca River to Nayarit state, on December 8th, only 3 months from the time the old bridge collapsed. This is great news for anyone going to the Riviera Nayarit, Punta Mita, Sayulita and all points north.

---
Fusión de Sentidos: Fiesta Vallarta 2011

Daniel Gomez

Puerto Vallarta is set to make a big impact this December 31st with an unprecedented New Year's Eve celebration. Fiesta Vallarta 2011 is scheduled to take place at Los Arcos Amphitheater on the Malecón, featuring a roster of acclaimed local and international entertainment beginning at 7:00 pm.

---
México Limpio y Querido to Clean Up Vallarta's Image

Daniel Gomez

The México Limpio y Querido group is organizing the first of what will be an ongoing series of bilingual round-table forums and events to promote environmental protection in the Bahía de Banderas area. The first forum will be hosted by Puerto Vallarta Holiday Inn on October 12th.

---
Mijo! Brands Launches Qlick.com.mx - An Innovative B2B Portal

Daniel Gomez

The fast approaching federal government legislation that all companies operating in Mexico must issue electronic or digital facturas by the end of the year has helped Qlick.com.mx, the new Mexican business to business portal recently launched by Vallarta based Mijo! Brands, gain new momentum.

---
Mexico Celebrates its Past and Future in 2010

Daniel Gomez

Mexico's upcoming centennial and bicentennial celebrations present each and every Mexican with an opportunity to speak out. An opportunity to reflect, reestablish our voice by participating and exerting the right to control and celebrate a future that is more just and equitable than our past.

---
Book Signing at Saturday's Farmers Market

Daniel Gomez

Medicinal Plants of the Jungle, an important new book about the traditional medicine and cultural heritage of Western Mexico, is to be published by Dr. Leslie Korn, who will conduct a book signing at the Old Town Farmers' Market on the south side of Puerto Vallarta on Saturday, May 1st, 2010.

---
Mijo! Brands Celebrates 2 Years in Mexico

Daniel Gomez

It has been a busy 2 years since Mijo! Brand Strategy and Design uprooted from London, England seeking sunnier shores and relocated to Puerto Vallarta, Mexico. To celebrate our two years in Mexico, we launched our new brand strategy and identity, MijoBrands.com, in late October.

---
Five Tips for Surviving a Recession
Daniel Gomez

Downturns cause panic amongst everyone. It is a knee-jerk reaction to throw the baby out with the bath water. While your business may be suffering, it is not the only one. Mijo! Brands offers some advice on how to survive this longer than expected economic turmoil.

---
Know Yourself, Know Your Brand

Daniel Gomez

The current economic crisis is causing havoc not only for Vallarta businesses but for consumers as well. Some long established brands that were once considered unshakeable pillars of capitalism are now hardly recognizable.

---
Mijo! Brands Get Personal with Maven Partners

Daniel Gomez

Launching a recruitment services company while the world economy continues to free-fall is either a sign of genius or idiocy. In the case of Maven Partners, it is genius. Maven Partners launches officially this week in the UK, offering specialist finance and taxation recruitment services.

---
Imitation as Competition

Daniel Gomez

If imitation is the greatest form of flattery then Puerto Vallarta businesses must be blushing, the market's full of imitators. While copying to jump on a bandwagon of success may be tempting, it's not very honest and will unlikely pay dividends in the end.

---
The Power of Collaboration

Daniel Gomez

If the global Swine Flu epidemic, the US economy and the city's near empty streets are anything to go by, the Puerto Vallarta tourism sector is in for a tumble. Signs of concern, if not outright panic, are beginning to appear across many sectors.

---
Investing in Economic Downturns

Daniel Gomez

The true effect of the economic crisis that is spreading globally may not be felt fully in Puerto Vallarta until next year. While tourism numbers appear depressed, it is too early to tell how we'll fare.

---
Advertising in Mexico Whitewashes Reality

Daniel Gomez

While the Mexico I live in is a tapestry of ethnic origins and thrives in a cultural, social and linguistic cacophony, the Mexico represented in advertising and media, is homogenous, generic and generally blonde, if not blue-eyed.

---
Brand Paradise - Rethinking Brand Vallarta

Daniel Gomez

A destination branding strategy is about much more than a beach ad or a catchy slogan. If a destination like Puerto Vallarta is to survive and flourish, it must clearly articulate a strategy and vision of itself for the future.

---
Mexicana's Bold Re-Brand

Daniel Gomez

The fact that Mexicana de Aviacion re-branded is no surprise. The airline's brand identity had become antiquated over the years as newer, bolder and more youthful airlines entered the domestic market.

---
Making All-Inclusives More Inclusive

Daniel Gomez

Banderas Bay area visitors who travel outside the compounds of all-inclusive resorts not only have the opportunity to experience the local culture of Puerto Vallarta, but also to make a more substantial financial contribution to the local economy.

---
Puerto Vallarta: A Brand in Flux

Daniel Gomez

If Puerto Vallarta is to compete successfully in the international arena it needs to develop a clear brand strategy that guides not only its marketing and communications, but compliments its social, economic and environmental policies.

Tell a Friend
•
Site Map
•
Print this Page
•
Email Us
•
Top