News from Around Banderas Bay | April 2009
PV Little League Baseball - Week Six

Bob Cohen - PVNN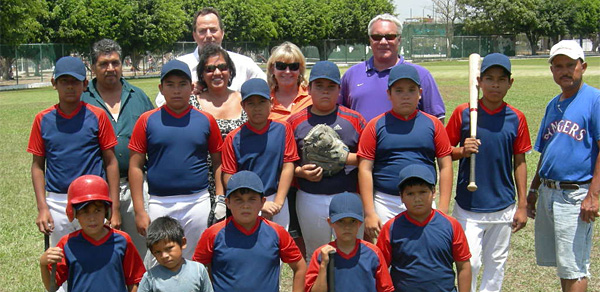 Los Picosos, formerly Brisas Del Pacifico after Saturday's game with their new sponsors.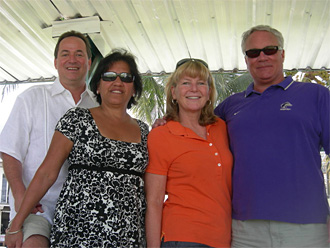 New sponsors of Los Picosos, from Seattle are from left to right, Mike Hooper, Lydia Gaytan, Liza Rost and Dave Rost.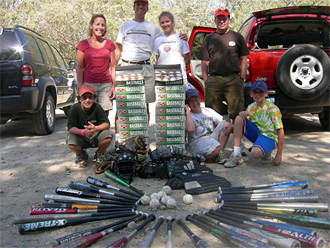 A big donation of 288 brand new baseballs, 30 bats, glove and catchers gear were delivered from the San Francisco area from left to right, Steven Shepard, Laura Traxler, Kady Richardson, Dave Richardson, Scott Shepard and below, Kevin Shepard and Will Richardson.

Week 6 of the Puerto Vallarta Little League was played Saturday and the teams will have two weeks off before their next game due to the spring holidays that will see many youngsters leave town for family vacations. The skies were sunny once again and more parents are coming out to watch and cheer for their kids each week. The season is also at its halfway point; the full schedule will be 12 regular season games, followed by playoffs in each division and the finals will follow to crown champions.


A decision was made for the Week 3 games that saw the schedule interrupted that day due to a glitch in city planning and only six of the ten teams were able to play. Originally it was determined that the whole week would not be counted in the standings and treated as exhibition games, but upon review, it was decided to count the games that were played and have the two other games played as makeup games at a future date.


The game of the week was the revenge game from opening day between the undefeated Los Limones, sponsored by Teatro Limon Restaurante and the PV Yankees, sponsored by Dave and Dawn Marriner, who were on a three game wining streak after losing their first two games. They lost a heartbreaker to Los Limones on opening day 11-9. This week the Yankees jumped out to a 2-0 lead, allowed a run and scored twice more to lead 4-1. Los Limones was only able to manufacture one more run as pitching and defenses dictated play as the Yankees tightened up the standings in the 9-11 year old division with a 4-2 victory. The six runs scored in the game were the lowest total runs scored by any team this season.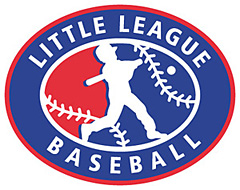 For donations, sponsorships and further information we urge you to contact:


• Bob Cohen at bob(at)banderasnews.com
• Miguel Vargas at tacos.park(at)hotmail.com
• Oscar Mercado at mercadooscar(at)hotmail.com




As the two battled on the right field side of the stadium, there was another thriller being played on the left field side of the stadium as Bucerias and Brisas Del Pacifico, both with new sponsors played in the other early 9-11 year old game. Brisas led 12-9 going into the top of the 6th and final inning, but Bucerias scored five times to take a 14-12 lead with Brisas coming to the plate in the bottom of the 6th. Brisas has been the highest scoring team in the league, so expectations were set for a thrilling finish. Brisas got two on base with one out but the Bucerias pitcher struck out the last two batters as the team celebrated.


This can be confusing but Bucerias is now sponsored by Harvey Brown and his son Allen who is a high school pitcher in Newport Beach, California. They made contact with me after reading about the PV Little League online here on BanderasNews and within a week they became the new sponsors of Bucerias. The name of the team will be called Sage Hill Lightning, which is the school Allen pitches for in California. Welcome aboard Allen and Harvey!


Brisas is now sponsored by Mike Hooper and Dave Rost of Seattle, who we met this past week. They came out to the ball park on Saturday and signed on to sponsor a team and chose to call their team "Los Picosos". Dave and his wife have been coming to Puerto Vallarta for many years and they wanted to give back to the kids in the city that has given them so many memorable vacations. Mike and his friend Lydia Gaytan are newer vacationers to our area but we are sure to see them annually. The two even asked for a long term sponsorship, with no special deals; they are refreshingly good people and altruistic in nature.


The late game in the 9-11 year old division saw a strong Viejo Vallarta team move into 2nd place at 4-1 as they defeated an improved Daiquiri Dick's squad 13-7. Daiquiri Dick's are still winless and fell to 0-6. The teams that need to play a make up game in the younger division are Viejo Vallarta vs. Bucerias. No date has been set yet for the contest.


9-11 Year Old Standings
Los Limones 5-1
Viejo Vallarta 4-1
PV Yankees 4-2
Sage Hill Lightning 3-2
Los Picosos 1-5
Daiquiri Dick's 0-6


The 12-14 year old early game was won by default by Banderas News when Escuela 29 did not have enough players to play. The late game saw Los Angeles, sponsored by Club Maρana defeat Roberto's Los Camarones 14-3. Los Angeles is the best in the older division and the only unbeaten team left of the 10 teams. The game that needs to be made up in the 12-14 year old division is Banderas News vs. Escuela 29.


12-14 Year Old Standings
Los Angeles 6-0
Banderas News 3-2
Los Camarones 2-4
Escuela 29 0-5


Two teams from Aguascalientes will be traveling to Puerto Vallarta to play a "friendly" series in two age divisions. This is to prepare the all star teams for postseason competition for both cities. The 9-10 year olds and the 11-12 year olds will compete and Miguel Vargas, the league president has selected, with the help of coaches, an all star team that includes players from each team. The games will be played on April 18th and 19th. On April 24th the 15-16 year old all star team will travel to Guadalajara for competition.


This week we had an exciting donation that we picked up from two families from the San Francisco Bay area in California. Mom Laura Traxler has been in touch with me via email for over a month and her kids and friend's kids who are little leaguers up north in the Orinda Baseball Association decided to raise money for the Puerto Vallarta Little League to bring with them on their one week vacation here. The Shepard family and the Richardson family met Miguel and myself in Nuevo Vallarta and our jaws dropped as they pulled out 288 brand new baseballs, 30 bats, some gloves and catchers gear. The kids earned the money to buy the equipment by having an opening day bake sale, doing various chores at home and in the neighborhood. We thank you all so much for your wonderful donation.


We did pick up two more sponsors this week and still have one last one ready to come aboard. The donation from California helped us immensely with our equipment situation. We do have all star games and postseason ahead of us and we still need donations in cash and/or equipment. Please contact Bob Cohen at bob@banderasnews.com for anyone interested. The league is in need of financial support as expenses are mounting and we also facing unexpected costs. We took on this project to help 150 youngsters that couldn't afford to play baseball and to bring Little League back to Puerto Vallarta after a 10+ year absence. When our team sponsors are filled we still do need league assistance, mostly financial so we appreciate everything and everyone that can step up to the plate to help. Please do remember that this is a strictly non-profit organization and no salaries are being paid to anyone.


Your support provides endless benefits for Banderas Bay area kids, who will develop the qualities of citizenship, discipline, teamwork and physical well-being by participating in Puerto Vallarta Little League Baseball. To learn how you can help, send an email to Bob Cohen at bob(at)banderasnews.com, Miguel Vargas at tacos.park(at)hotmail.com or Oscar Mercado at mercadooscar(at)hotmail.com. For more information about Puerto Vallarta Little League Baseball and full coverage of this season's games click HERE.
Tell a Friend
•
Site Map
•
Print this Page
•
Email Us
•
Top