Travel & Outdoors | April 2009
The Sweet Low Down: Mexico Way - Part 2

Jan Baumgartner - PVNN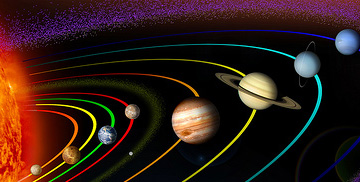 Dark Side of the Moon (Image Editor, Courtesy: Flickr)
Dark Side of the Moon

I live in rural Maine. More appropriately, I live on Uranus. I'm tired of hearing how beautiful Uranus is by those who only drop in for a short-term visit, the in and out crowd who cross the border into Neverland thinking they've found Nirvana. Yes, I know that all the billboards say "The Way Life Should Be," but I'm telling you, don't believe everything you read; it's not all it's cracked up to be.


Everyone has this romantic, warm and fuzzy notion of what life is like on Uranus. Granted, it's tolerable for about eight weeks of the year, but try living there. It is dark and cold, and not all pine-scented. And don't get me started on the black flies.


I envy those from Venus or Mars or Mexico who get out once in awhile and enjoy some sunshine without hip waders and earmuffs. I was going to post this paragraph into the descriptive sales ad for the listing of my home, but figured it might be better to let prospective buyers seek out their own little piece of paradise without my tarnished two cents. Yes, Uranus' beaches are dramatic, rocky and mussel-strewn, but at times, as with life, they can be littered with a lot of flotsam and jetsam. One man's Uranus is another man's heaven. I think I'd rather wade through Mexico.

Rear Window - Front Terrace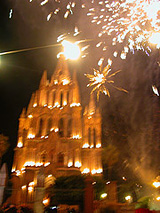 Fireworks at La Parroquia (xinecj, Courtesy: Flickr)

On the terrace, watching lightning flashing in the distance and behind the 16th century chapel spires, bats with three foot wingspans dart from the Parroquia towers and through the brilliant sparks of green, red and white fireworks celebrating the closing of the annual Cuban festival in the jardin. I sit alone in shadows with my red wine. From across the street I see a vision of a woman in white.


The vision seems to float up the spiraling, wrought iron stairs that begin somewhere below in a hidden interior garden and curve their way up to its terrace. Her white gauze dress and lace shawl billow in the stiff breeze like sails on a ghost ship. There is little light, only that of dim streetlamps, fireworks and the sporadic flash of lightning.


She makes her way to the lip of her terrace, her shadow and outline of thin cotton resting against a coral painted cupola. From where I sit, hidden in my shadows but for one flickering candle, her stance seems precarious; her frame, small, and the winds fuerte. I see the soft glow of crimson as she drags from her cigarette. She faces the cobalt sky as colored sparks drop down like rain.


From the small light of her cigarette I see her glance across the street, briefly, at the shadow that sits in partial darkness, in and out by the dictates of a candle flame. Neither of us speaks but we are aware of each others presence. I sip my wine; she takes another drag as her shawl billows around her body. The moment is magical, surreal. Nothing seems to fit, yet everything is in its place. The fireworks continue to explode, the lightning bolts flash behind holy shrines, the street lamps glow a faded gold, her cigarette still burns red.


Later, I return to the terrace to turn off a small exterior light. I glance across the street. I see the woman stepping from her shower, her small oval window facing my terrace. She stands before the vanity mirror, naked, wrapping a white towel around her wet hair. From her bathroom mirror and through the beveled oval window, I glimpse her reflection for the first time. She turns to face the window. Mortified that she would see me standing in the dark from across the narrow cobbled street and looking in her direction, I disappear into the rear shadows of my terrace. Only by chance, and for a moment, did I see her as I went to extinguish the terrace lamp. One always feels guilty when inadvertently witnessing a private moment believed unseen.


If the floating image in white gauze who stood at the lip of her terrace beneath an exploding sky and seemed to sail into the fireworks reads this, I was not watching you. But in catching your filtered reflection in the mirror, it was beautiful just the same.

Tell a Friend
•
Site Map
•
Print this Page
•
Email Us
•
Top