Editorials | Issues | May 2009
Rumors, Speculation and Fear: San Miguel de Allende Copes with the Spread of Media-Fueled Alarm, Not H1N1 Flu Virus

Jan Baumgartner - PVNN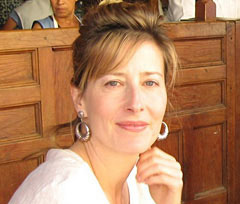 A native Californian, Jan Baumgartner is a freelance writer dividing her time between surviving in Maine and living in Mexico.
San Miguel de Allende, Guanajuato, Mexico - For the last several days, I have watched the systematic shutting down of this otherwise tranquil city in the highlands of central Mexico. To date, there are no confirmed cases of the H1N1 virus in the entire state of Guanajuato. But you would never know that by the air of growing concern, masked faces, and government mandated closings that has this otherwise bustling town still, and eerily quiet.


Monday afternoon was the first sign that the fear and ripple effect of the closing down of one of the world's most populated cities, Mexico City, had worked its way to San Miguel some 180 miles northwest of the country's capital.


The children's playground at Parque Juarez was all but empty, void of the usual energy and laughter. Walking down Calle Nueva to Natura, the health food store where I do most of my shopping, I was shocked to see faces clad in masks along the cobbled street and on the busier stretch of Ancha San Antonio. Many of those on foot, bicycles, in cars, all wore pale green face masks on a day that was settling in on 90 degrees and while dry, felt heavy and stifling.


Inside Natura the refrigerators and shelves were uncharacteristically bare. A young woman and her son were buying a flat of farm fresh eggs. I overheard her telling another customer that the kids had been sent home earlier that morning, that by decree all schools in Mexico would be shut down until May 6.


"You're kidding," I said, "why, when there hasn't been a single confirmed case of flu in the state?" "I know," she shrugged, "this media hype is getting ridiculous." She went on to tell how friends had witnessed a near "mob scene" at a local pharmacy stripping shelves of hand sanitizers and demanding Tamiflu.


"I think instead of hand sanitizers we should all drop to the ground and eat a little dirt." She smirked. "That might be what keeps us healthy." Her young son, in complete agreement, was grinning from ear to ear. I had to wonder if her comment wouldn't come back to haunt her one day - not because she or her family would have contracted the flu, but she may have inadvertently given her son free reign to take daily dust baths.


I crossed the street to pick up a few additional groceries at Espinos market and was equally as surprised to see their personnel clad in the suffocating masks and donning plastic gloves. I found myself adding a few extra items to my basket not knowing if I returned in a day, perhaps two, if the shelves might be stripped as food stockpiling would become the task at hand for everyone worried about closings or a reduction or slowing down of deliveries and service.


Walking home in the dry and dusty late April heat, I remembered what a Mexican friend had told me last year. April and May are the dustiest, sultriest months of the year after many months of little to no rain, parched earth and desert winds. She said that many Mexicans and gringos living here tend to get sick during those two months, colds, flu, simply due to the dust and dirt - nothing more than the time of year.


I wondered then, would the paranoia already gripping the town only contribute to the panic and, if one got ill during the flu scare who might otherwise have their annual cold or flu, unnecessarily flock to doctors and hospitals fearful of H1N1?


Nearing my street of Terraplen I ran into a friend who threw air kisses. Later, at the corner tienda I saw another friend who gave me a hug and a kiss on the cheek. "What, no air kiss?" I smiled. "You've got to be kidding," he said, "this whole flu thing is overblown, media-driven." I tended to agree.


The next day, more and more venues were shutting down; the library, theaters, some bars and nightclubs, art classes, government agencies. I walked down Reloj Street and saw even more people donning masks, mainly Mexicans, a few gringos.


The Mexicans in masks were mostly younger, perhaps 20's and 30's and more than likely due to the fact that those diagnosed in and around Mexico City were primarily younger adults. The usually bustling jardin or zocalo was nearly empty. An older gringo sat alone on a park bench wearing his mask. On a nearby bench a group of Mariachis sat in the shade chatting, their instruments parked, no one to play for.


Late afternoon brought yet more news of how rapidly things were changing. Reported on a local online Civil List and posted by Ed Clancy, the U.S. Consular Agent for San Miguel de Allende, I received the following notice:

April 28, 2009 - Update on Flu Outbreak in Mexico: Mexico City Closes Most Public Establishments; State Department updates Travel Alert for Mexico


U.S. citizens traveling or residing in Mexico City should be aware that on Tuesday, April 28, 2009, the Mayor of Mexico City ordered the closure of all establishments where large numbers of the public gather until May 6, including restaurants, bars, discos, night clubs, cinemas, movie theaters, theaters, gyms, and convention centers.


The State Department believes it is important for all citizens to maintain readiness for all possibilities in case of an emergency. Because of potential disruptions in shopping patterns, the U.S. Embassy is advising its employees to consider stockpiling two-weeks of emergency supplies such as food, water, infant formula and medicines, as well as to verify the availability of cash or credit cards. U.S. citizens traveling or resident in Mexico should consider doing the same.

On Friday morning, San Miguel's weekly English newspaper, Atencion, reported the latest:

As of April 28, all public activities within the municipality of Allende were restricted. Students of all ages were sent home April 27. Sports centers, museums, libraries, nightclubs and theaters have been requested to close. Churches, although recommended to close, continue to ring their bells. Celebrations for Labor Day on May 1 and the Santa Cruz on May 3 have been cancelled.


Restaurants and bars serving food are permitted to continue business as usual. According to Francisco Bautista Espinoza, Civic Protection's assistant-in-training and public relations officer, supermarkets, pharmacies and banks will stay open but staff are following hygiene recommendations, such as wearing surgical masks and gloves as well as cleaning counters regularly with alcohol or chlorine. Restrictions apply even to private events. "Weddings, quinceañeras (15th birthday) parties - all must be suspended; Civic Protection is monitoring the city to ascertain the federal mandate is being obeyed," he said.

The Civil List had its share of postings by concerned residents, some skeptical of the "scare" and its virulence, while others were operating on panic mode. Additional postings by restaurants and cafés were offering food para llevar (take out) and some delivery service for those afraid to dine in a public place.


The paranoia was spreading, far more quickly than any new or suspected cases of flu.


But later at Espinos I noticed a change. The employees were no longer wearing masks. "No masks today?" I asked, "No," the cashier smiled waving her hand in front of her face, "mucho calor!" too hot, she said.


The fear was wearing thin. No cases of H1N1 reported. The few days of concern and safeguards were taking a toll and the numbers weren't adding up. More and more people, both Mexicans and gringos alike were asking "what is going on, how much of this is blown out of proportion? Was this flu really as deadly and as virulent as the media and government would have us believe?"


Initial reported cases of confirmed diagnoses and deaths within Mexico were revised. Instead of thousands confirmed ill from this new strain of flu, governments, health organizations and world media were now saying only 455 cases confirmed illnesses and 16 deaths attributed to H1N1, not 167 previously reported.


In a county of 110 million people, these numbers were miniscule. Stats began to pop up and were discussed by those in town: 36,000 die each year in the U.S. during flu season from flu and complications - how and why was the world in a frenzy over the "outbreak" of H1N1?


When all is said and done there might be plenty of blame to go around. The last couple of day's news sources are reporting that experts say this flu might very well "fizzle out" in the next two to three weeks. They say it is possible it may come back in the fall and winter and perhaps stronger, but as with previous reports, this is speculation. What isn't speculation but sad fact is that it will take months, if not years, for the Mexican economy and its people to rebound from this nightmare.


According to a recent Reuters report:


"With its tourism industry savaged, shoppers staying home and exports to the U.S. in steep decline, Mexico could find itself in the longest, deepest recession it has seen in years," according to analysts.


Approximately 45% of Mexicans live in what is described as "moderate poverty." Tourism in Mexico generates approximately $14 billion annually and in an economy already depressed and tourism negatively impacted due to the U.S. media reports about widespread drug violence within the country, the nation will fall into even greater despair.


Mexico City's Chamber of Commerce estimates that the city is experiencing a loss of approximately $58 million dollars each day since the outbreak, which doesn't include escalating losses due to restaurant closures and lack of tourists.


We will never know how much of the fear-fueled media hype is responsible for the continued decline and economic depression in Mexico. More and more people are canceling business trips and vacations. I can't help but feel that both sides of the political coin, the right wing media voice that has long instilled the fear of "other," Mexico, and the unsafe borders, the "wanton" violence, so blown out of proportion and oftentimes slim or slanted on facts, as well as the extremist left wing reporting that blames this new strain on malevolent government forces, deliberate biochemical wars, big pharma and the likes - are all partially responsible for the world-wide paranoia that has systematically taken down a country I have come to love. A country where I live half of my life, feel safe, at home and for which I am grateful.


From my terrace last night, the city seemed eerily quiet. Was I imagining a lack of cars and music and voices usually profound in and around my neighborhood and the jardin, or was it silent due to people afraid to go out, opting to stay indoors or leave town altogether?


For a moment I felt vulnerable, not because I felt I was in danger of contracting a flu that had yet to make its way anywhere near my adopted town of San Miguel de Allende, but more so due to the strange ambience and seemingly lack of life around me. Was fear itself, the prospect of panic in upcoming days contributing to my feelings of vulnerability - the fear of the unknown - the fear of fear?


Looking out across the roof tops and marveling at the brilliant lights of the Parroquia Church, Las Monjas and Bellas Artes, I knew I'd be okay. But the ache in my gut was in the knowing that this town, this country would be suffering financial hardship for years down the road.


Families, who had little, would have less. Children would go to bed hungry. And at the end of the day, a flu strain that just might not have the wherewithal or virulence that the world was warned of won't be the only player in what helped further cripple a country, a people, a culture.


The U.S. entertainment media who calls itself news but thrives on sensationalism and scare tactics, no longer reliable, factual or accountable for their actions and lacking in journalistic integrity, for my money, will be greatly responsible for the suffering it has wreaked on its neighbor


H1N1 was the newest infotainment news. Octomom and her many offspring no longer had enough legs, it was time for a summer hit, an action-packed thriller, and a new flu strain that could wipe out millions worldwide had blockbuster written all over it.

A native Californian, Jan Baumgartner is a writer and book editor dividing her time between surviving in Maine and living in Mexico. Her writings on Mexico will be included in the new literary journal, Lady Jane (San Francisco Bay Press, 2009) Her background includes scriptwriting, comedy writing for the No. California Emmy Awards, and travel writing for The New York Times. She has worked as a grant writer for the non-profit sector in the fields of academia, AIDS, and wildlife conservation for NGO's in the U.S. and Africa. Her articles and essays have appeared in numerous online and print publications including the NYT, Bangor Daily News, SCOOP New Zealand, Wolf Moon Journal, Media for Freedom Nepal, and BanderasNews in Mexico. She's finishing a memoir about her husband's death from ALS and how travels in Africa became one of her greatest sources of inspiration. She is a Managing Editor for OpEdNews.


Click HERE for more articles by Jan Baumgartner.
Tell a Friend
•
Site Map
•
Print this Page
•
Email Us
•
Top