Local Profiles
Between Surviving in Maine and Living in Mexico

a profile of freelance writer Jan Baumgartner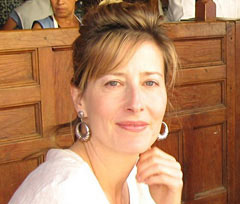 A native Californian, Jan Baumgartner is a freelance writer dividing her time between surviving in Maine and living in Mexico.

Jan Baumgartner was born and raised in California where she moved from San Francisco to the frigid coast of Maine. She no longer remembers why as that part of her memory froze solid and has since broken off.


Come winter and under the cover of darkness, she escapes Maine for half the year, fleeing across the border to Mexico.


A writer and book editor, her writings have been in the forms of humor for both live audience and print, grant writing for Project Open Hand in S.F., the first "meals on wheels" for homebound patients with AIDS and the model for like-agencies around the U.S., for College of the Atlantic in Bar Harbor, and the Gallmann Africa Conservancy in Kenya founded by author and conservationist, Kuki Gallmann, and travel writing for the New York Times.


Her essays have appeared in numerous online and print publications in the U.S. and internationally and have dealt with a range of topics from treks through the African bush, travel, food and wine reviews, human rights, and issues surrounding death and dying based on her experience as a solo caregiver for her terminally ill husband. Her musings on Mexico are included in the new book and literary journal Lady Jane (San Francisco Bay Press, 2009.)


She is a regular contributor to OpEdNews.com where she acts as a managing editor for the online media site which reaches 200 countries and 800,000 unique readers each month.


She is an avid traveler and feels most at home in the African bush, Mexico, Europe, or anywhere close to the equator and that doesn't necessitate flannel sheets for 8 months of the year.

If you have a suggestion for a future profile, email us at Profiles@BanderasNews.com
• B E L O W T H E F O L D •
The Beard

Jan Baumgartner

When Old Lover (OL) and his Newish Girlfriend showed up at my front door I figured they had read 'The Heart is a Fickle Little Muscle'. OL seemed rather miffed and I had to assume the essay about my Expired Lover and loss of lust had not tapped into his funny bone but rather, had hit a nerve...

---
The Heart is a Fickle Little Muscle

Jan Baumgartner

The small beating organ we call the heart is a fickle little muscle; from devil-may-care Bonobo antics, to sheer indifference barely worthy of a pant hoot – I am unsure if the fickleness is survival of the fittest, or nothing more than a peak or dip in hormones.

---
Fiction Corner: Outing Montezuma

Jan Baumgartner

Somehow against all odds, or perhaps in perfect harmony with the macabre humor of the malevolent spirits of amor, I ended up in A Tail of Two Cities, a place that was the best of all possible worlds and at the same time, the biggest incestuous mound of excrement I had ever stepped into...

---
Rumors, Speculation and Fear: San Miguel de Allende Copes with the Spread of Media-Fueled Alarm, Not H1N1 Flu Virus

Jan Baumgartner

To date, there are no confirmed cases of the H1N1 virus in the entire state of Guanajuato. But you would never know that by the air of growing concern, masked faces, and government mandated closings that has this otherwise bustling town still, and eerily quiet.

---
The Sweet Low Down: Mexico Way

Jan Baumgartner

In The Sweet Low Down - Mexico Way, Jan Baumgartner tells us about life in San Miguel de Allende; the local Buddhist meditation center, the annual Cuban festival, lessons learned, Dogs in the Hood and living life to its fullest.

---
Lupita Checking Out: Day of the Dead & The Scorpion Queen

Jan Baumgartner

Not even the sound of Mariachis serenading a wedding posada along her street got her to run up to the roof terrace where before, she would breathe in the lively music and the energy of the revelers following close behind, their laughing faces only watery memories of how life once felt...

---
Regarding Mexico: Biased News, Half-Truths and Fear Mongering Fuel Paranoia of All Things South of the Border

Jan Baumgartner

The U.S. media and federal government have stirred up a toxic cauldron media blitz that has been force-feeding U.S. citizenry only partial truths and irresponsible generalizations about the violence plaguing Mexico.

---
Gone Coastal: From Guadalajara to Barra with No Reservations

Jan Baumgartner

When I told my mother I'd be taking an impromptu bus trip from San Miguel to Guadalajara and onto the Costa Alegre (Happy Coast) I could hear her cringe on the other end of the phone. The word happy eluded her and instead she heard only death wish.

---
Maine to Mexico: A Funeral Procession, a Pick-Up, a Pink Pinata, and Pastel de Chocolate

Jan Baumgartner

Coming from the winter drab of a frigid and nearly colorless Maine, the Mexican tsunami of bright and dizzying colors, the daily Christmas posadas and parades, nearly necessitate a Dramamine. My equilibrium needs adjusting.

---
Mexican Milagros in San Miguel de Allende

Jan Baumgartner

In Mexican Milagros, Jan Baumgartner, a freelance writer living in San Miguel de Allende, tells us about a barking man, a parrot who thinks it's a rooster, drama cat, origins of laughter, beginnings and endings and marking time by church bells.

---
Grabbing the Bull by the Horns: Eating Well in San Miguel - for Less

Jan Baumgartner

Regardless of how few pesos you sport in your fanny pack, you will most assuredly find healthy, affordable cuisine and a rich variety of fear-free dining that's both delicious and wholesome in San Miguel de Allende.

---
Passing Through

Jan Baumgartner

One of the things that I have loved about being in San Miguel is the often progressive, liberal attitudes of not only many expats but natives alike; the no holds barred honesty they imbue, and the exuberant celebrations of both life and death.

---
A Day In Mexico

Jan Baumgartner

The swishing of the street cleaners' broom wakes me from a light sleep. It is dark. Barking dogs wake up the doves near the terrace that roost for the night in a tree branch next to the skylight above my bed.

---
Children of the Sun: The Girls of Casa Hogar Don Bosco

Jan Baumgartner

From this tiny rental casita and directly across the street lies the Parque Juarez and the children's playground. From my rooftop terrace in the colonial village of San Miguel de Allende, Mexico and at nearly 6,500 ft., the morning sun is as bright a white light as I have ever seen.

Tell a Friend
•
Site Map
•
Print this Page
•
Email Us
•
Top