Entertainment | Restaurants & Dining | May 2009
Kaiser Maximilian Celebrates 14 Years

PVNN
Once you've tried the delectable dishes at this award-winning eatery, it is sure to become one of your favorite restaurants in Puerto Vallarta. Visit the website at KaiserMaximilian.com
For 14 years, European Chef Andreas Rupprechter has been combining his extensive experience in Europe and Mexico to create innovative dishes that merge new and old world cuisine at his popular Puerto Vallarta restaurant, Kaiser Maximilian.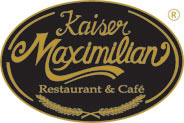 Chef Rupprechter's unique menu reflects his heritage and his appreciation for Mexico's rich culinary history, combining traditional elements of European cuisine with local ingredients to forge exciting new alliances, in addition to classic Austrian dishes.


From May 11th-30th, in addition to Vallarta Restaurant Week, Kaiser Maximilian Restaurant & Cafe is celebrating 14 years of serving fine continental cuisine to Puerto Vallarta locals and visitors, which means that you have more time to enjoy a special three-course meal for only $299 pesos, with your choice of one dish from each of the following categories:


APPETIZERS


• Tossed Garden Lettuce with fresh herbs


• Hearts of Palm Salad with organic white tea & honey dressing


• Spinach Strudel with mixed greens


• Avocado and Tomatoes with organic greens and country cheese totopos


• Caesar Salad with crispy potato croutons


• Marinated beets and carrots with goat cheese


• Raviolis with fennel filling, wild mushrooms and tarragon sauce


• Red Cabbage Cream Soup with potato dumpling or any other soup


ENTREES


• Filet of Trout with white wine sauce and sautéed spinach


• Grilled Red Snapper Filet with baby potatoes, fresh vegetables and lemon-cilantro oil


• Sautéed Shrimp, Grilled Fish Filet and Chicken, rice and smoked Chipotle sauce


• Beef Tenderloin with red flannel hash, green peppercorn and Hollandaise sauces


• Breast of Chicken with rosemary on mashed potatoes and mustard-seed sauce


• Roasted Leg of Veal with potato noodles and mushrooms sauce


• Veal Scallopini with twice-baked potato and creamed spinach


• "Wienerschnitzel" Breaded Pork Loin with potatoes and Austrian salad


• "Zwiebelrostbraten" Flat pounded Beef Loin covered with Austrian onion rings and sautéed potatoes


• "Rahmschnitzel" Sautéed Pork Loin Scallops with homemade noodles and a cream mushroom sauce


DESSERTS


• Any dessert from the á la carte menu


If you enjoy European sidewalk cafés and fine continental cuisine, be sure to stop by Kaiser Maximilian between May 11-30, 2009 to enjoy great food and unbeatable savings. Once you've tried the delectable dishes at this award-winning eatery, it is sure to become one of your favorite restaurants in Puerto Vallarta.

Open Monday-Saturday from 8 am to 11 pm for breakfast, lunch and dinner, Kaiser Maximilian Restaurant & Cafe is located at Olas Altas #38B in the Zona Romántica of Puerto Vallarta. For reservations call (322) 223-0760, 222-5058 or visit KaiserMaximilian.com


Click HERE to read more about Kaiser Maximilian.
Tell a Friend
•
Site Map
•
Print this Page
•
Email Us
•
Top