News Around the Republic of Mexico | June 2009
Mexico Claims to Gulf Shrink with Island's Loss

Agence France-Presse
go to original
June 24, 2009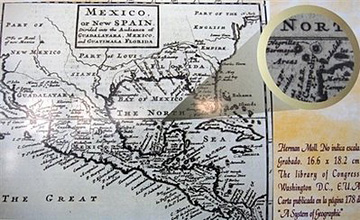 An old map of Mexico shows the location of Bermeja island. The island, which appears on ancient maps of the Gulf of Mexico as a barren speck of land, does not exist in reality, a study has concluded. (AFP/Alfredo Estrella)
Mexico City – The island of Bermeja, which appears on ancient maps of the Gulf of Mexico as a barren speck of land, does not exist in reality, a study has concluded.


The loss of an 80-square-kilometer (31-square-miles) island may not seem like much, but the study by the National Autonomous University of Mexico (UNAM) has larger real world consequences.


It means that the area over which Mexico can claim sovereignty in the Gulf, and by extension its access to energy resources, is smaller than previously thought.


The multi-disciplinary investigation determined that "the so-called Isla Bermeja does not exist, nor can any inference be made to establish its location at the coordinates" given in ancient maps of the western Gulf of Mexico, UNAM said in a press release.


The chamber of deputies of the Mexican congress had requested the study in order to delimit the 200 nautical miles (370 kilometers) that the law allows for economic activities.


In June 2000, Mexico and the United States entered into a "Doughnut Hole" treaty to protect oil deposits in the gulf that lie beyond their 200 nautical mile limits. But a moratorium on oil exploration and exploitation in the treaty area expires next year.


With no Isla Bermeja, the Mexican point of reference farthest out in the Gulf are the Alacranes islands, which would shrink Mexican sovereignty over that maritime area and leave it with reduced access to the oil deposits.


The UNAM report included "a historical and cartographic analysis; a cruise in a university vessel and an aerial survey, carried out between March 21 and 27 of last March, in which seven university entities participated," the university said.


The scientists took ultrasound measurements "to a depth of 472 meters and the area analyzed by the ship was 223 square kilometers" in addition to the aerial survey.


The question of the island's existence has become a subject of controversy in Mexico because of the belief that it sank as a result of climate change.
Tell a Friend
•
Site Map
•
Print this Page
•
Email Us
•
Top