News Around the Republic of Mexico | June 2009
Mexico Vows to Keep Looking for 'Lost' Island

Mark Stevenson - Associated Press
go to original
June 25, 2009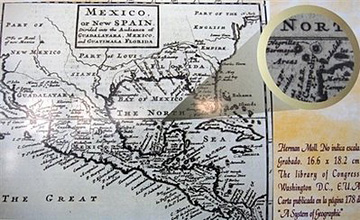 An old map of Mexico shows the location of Bermeja island. The island, which appears on ancient maps of the Gulf of Mexico as a barren speck of land, does not exist in reality, a study has concluded. (AFP/Alfredo Estrella)
Mexico City — Mexico vowed to keep looking for a mysterious island that could extend its offshore oil claims after university researchers said they couldn't find it.


"The island doesn't exist" in the area where it was shown on maps, a National Autonomous University of Mexico study concluded after conducting studies with underwater sensing devices and aerial reconnaissance in the area.


"Isla Bermeja" appeared on maps from the 1700s as a speck of land off the northwest coast of the Yucatan peninsula. A group of Mexican legislators hoped the island would help their decade-long effort to fend off what they describe as U.S. encroachment on their nation's oil claims in the Gulf of Mexico.


Bermeja had been shown lying farther off Mexico's coast than other, confirmed islets, possibly extending the nation's claim by about 55 nautical miles into an area in the middle of the Gulf that lies between U.S. and Mexican territorial waters, said Elias Cardenas, the head of Mexico's congressional Maritime Committee.


That area, which lies beyond both countries' 200-mile territorial limits, is believed to hold rich oil deposits under the sea floor.


Cardenas said he hopes to explore other spots where the island might lie, and plans to ask for more funding for oceanographic studies to help solve the mystery.


"There are four other possible sites where it might have been," Cardenas said, referring to versions the island might have sunk or been submerged.


He said the matter was urgent because the two countries are expected to formalize an agreement on drilling rights in the area soon. "Right now, the big fight is for oil," he said.


How an island could have been listed where none existed remains a mystery, though old maps often carried over inaccurate information from earlier charts.


Mexican have long bounced around conspiracy theories about the affair.


"There are some who say the United States bombed it," journalist Carlos Loret wrote in a column in El Universal newspaper. "Others say it was sunk by global warming, and others think it was an earthquake."


Cardenas dismissed the bombing rumors as "fantasy."


"That would have been something that would have been very noticeable," he said.
Tell a Friend
•
Site Map
•
Print this Page
•
Email Us
•
Top