News from Around Banderas Bay | July 2009
Sage Hill Lightning Wins Playoff Game, One Game From Championship

Bob Cohen - PVNN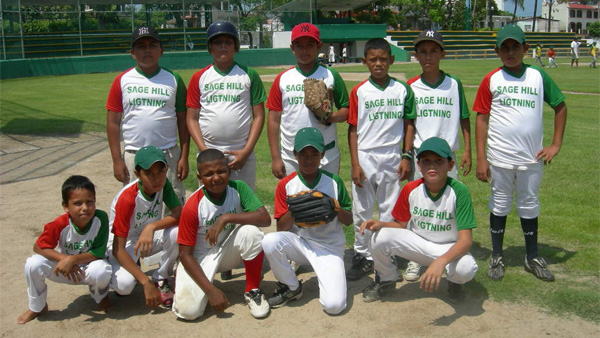 Sage Hill Lightning after their victory put them one game away from the 9-11 year old champions. Come out and watch the kids wrap up their inaugural season Saturday, August 1st at the baseball field in the southwest corner of the Sports Stadium.
The Puerto Vallarta Little League season came closer to a conclusion after Saturday's action. Three games were scheduled but only one was played. The summer vacation left teams short of players as families were out of town. The season was originally scheduled to conclude in mid June but the stoppage of play during May and June forced the playoffs to begin in July.


BanderasNews and Los Angeles were tied 2-2 in the 12-14 year old championship but neither team was able to field enough players to compete. Commissioner Miguel Vargas determined that both teams would be given a victory and the series would be decided this coming Saturday, August 1st at 10:30 AM.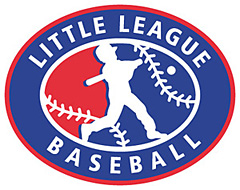 For donations, sponsorships and further information we urge you to contact:


• Bob Cohen at bob(at)banderasnews.com
• Miguel Vargas at tacos.park(at)hotmail.com
• Oscar Mercado at mercadooscar(at)hotmail.com




The teams that did compete were in the 9-11 year old division as top seeded Los Limones took on the 2nd seeded Sage Hill Lightning. Los Limones led their division and were unbeaten in their first five games before losing and closing the first half of the season at 5-1, a game ahead of Sage Hill and the PV Yankees. Los Limones made it to the championship round by defeating the Yankees in two consecutive competitive games and Sage Hill had an easier time of it winning their semifinal matchup by the "mercy rule" in both games over Viejo Vallarta.


Los Limones was sponsored prior to the season start by Bruce Byng, owner and chef of the gourmet restaurant Teatro Limon. Bruce was out at all games the first month and was an ardent supporter of the Little League and a proud sponsor of his team. Sage Hill was originally the Bucerias team before the sponsorship was taken over by Southern California resident Harvey Brown, who named the team the Sage Hill Lightning, the high school his son Allen, attends and pitches for.


The Sage Hill squad was at full strength while Los Limones was missing a few of its players and missing key players can make a huge difference in a game. Sage Hill scored four times in the top of the 1st inning and Los Limones answered with a single run. Sage Hill added another run in the second and in looking at the statistics, Sage Hill's pitcher, Henry Gaciel a 10 year old, allowed only one run and one hit after two innings and struck out 5 of the first six batters.


The 3rd inning was an explosive one for Sage Hill as they scored six more runs and Gaciel also helped with his bat, scorching a triple to left field that drove in two of the runs. Leading 11-1 going into the bottom of the 3rd, Henry struck out two more but allowed a home run as his three innings of pitching were over. After the 3rd it was 11-2 and Gaciel's pitching line was as good as anyone had posted this year; 3 innings pitched, 7 strikeouts, allowing just 2 runs, 3 hits and just one walk.


Los Limones still had hope as a new pitcher had to come in as Little league rules prohibit a player from pitching more than three innings in a game. Enrique Cortez was the relief pitcher that came in and had the appearance of Mexico's best major league pitcher, Fernando Valenzuela. Both teams were scoreless in the 4th inning and Cortez struck out the side doing his job in relief as Gaciel moved to shortstop.


The 5th inning saw Sage Hill explode for 8 runs on 6 hits, sending eleven kids to the plate. Los Limones, who were looking at losing due to the "mercy rule", used four different players to pitch the 5th once Sage Hill opened a big lead. The mercy rule stops a game that is led by one team by 10 or more runs after four innings. It is a good rule, as young kids can easily get demoralized when the score piles up against them. Going into the bottom of the 5th, Los Limones trailed 19-2 and loaded the bases with nobody out, but Sage Hill brought in another pitcher who retired the final three batters, ending the game.


The Most Valuable Player was pitcher Henry Gaciel whose statistics on the mound were noted above but offensively he wasn't retired as he singled, tripled, walked twice, scored 3 runs and drove in two runs, truly an outstanding overall performance.


It was determine that the 9-11 championship would be a best of three series due to kids being on vacations with their families with the consent of both coaches. Originally the championship was scheduled to be a best of five series.


With another victory Saturday, Sage Hill would be crowned champions in the 9-11 division, but a Los Limones victory would force a deciding third game the following week. In the 12-14 division, Saturday will be the final game as BanderasNews and Los Angeles are tied 3-3.


Come out and watch the kids wrap up their inaugural season Saturday, August 1st at the baseball field in the southwest corner of the Sports Stadium.


Your support provides endless benefits for Banderas Bay area kids, who will develop the qualities of citizenship, discipline, teamwork and physical well-being by participating in Puerto Vallarta Little League Baseball. To learn how you can help, send an email to Bob Cohen at bob(at)banderasnews.com, Miguel Vargas at tacos.park(at)hotmail.com or Oscar Mercado at mercadooscar(at)hotmail.com. For more information about Puerto Vallarta Little League Baseball, click HERE.<
Tell a Friend
•
Site Map
•
Print this Page
•
Email Us
•
Top