Entertainment | Restaurants & Dining | August 2009
The Art of Dining & Living Well: Artichokes... Food From the Gods

Liana Turner - PVNN
August 15, 2009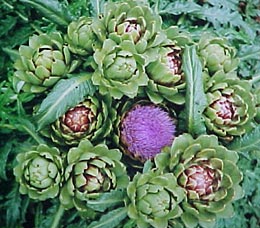 Cynara scolymus is actually a member of the thistle family, and the artichoke is the flower bud. If you let the bud grow instead of steaming and eating it, it will open into a lovely purplish and white hairy looking thistle flower.
This week there are some lovely large artichokes at Costco. There are four in a bag, for only $70 pesos. I had some last night with an easy blender Hollandaise sauce, and they were fantastic, a fun food to share with friends and family. It is a small adventure as you pull off each leaf and finally reach the heart... small adventure with a big reward. Get them while you can!


Greek legend tells us that the first artichoke was a girl named Cynara. Zeus had snatched her up from Earth when she was just a human mortal and made her a goddess in order to keep her as a love slave for when his wife, Hera, was out of town. However, when Cynara became unruly, Zeus, enraged, sent her back to earth as an artichoke plant.


The story doesn't say anything about what happened when the wife found out, but I suppose she was used to that kind of thing, since Zeus is reported to have had over 100 consorts during his "career." Our artichoke was only one of them. Lucky for us... not so much for Cynara.


Cynara scolymus is the Latin name for the Globe Artichoke, which is the cultivated version of the artichoke we eat today. It is actually a member of the thistle family, and the artichoke is the flower bud. If you let the bud continue to grow instead of steaming and eating it, it will open into a lovely purplish and white hairy looking thistle flower. Not many get to that point, though, because they are just too good to eat.

Preparing and Steaming Artichokes

Have handy a bowl of water with the juice of one or two limes squeezed into the water.


Cut off the top inch or so of the artichoke with a large serrated knife (It can be tough.) If you need the stem cut off for presentation purposes, then cut it, but I prefer to leave it, because it has some good edible material in it. I don't like to waste anything good! Cut the stem off at the base, or, preferably, just peel the top layer of skin off of the stem and cut off the darkened end.


As you work, keep dipping the artichoke in the lime water. They are extremely susceptible to oxidization, and the lime (or lemon) will keep all cut, exposed parts nice and light. Leave the prepared artichokes in this water until you are ready to cook.


The next step is optional and can be time consuming. Take some good scissors or kitchen shears and cut off the spiny tips of the leaves. Some people don't do this, but I find it to be a more pleasant experience when I'm not getting my fingers poked by needle-sharp spikes as I consume my treasure.


Steam in lightly salted water for about 15 minutes or so (depending on the size) and enjoy with melted butter or roasted garlic aioli or Hollandaise sauce or sun dried tomato aioli.

Easy Blender Hollandaise Sauce

3 egg yolks
2-3 Tablespoons lemon or lime juice
1/4 tsp salt
1/8 tsp fresh ground black pepper
A few drops Tabasco Sauce or a few grains cayenne pepper
3 Tablespoons boiling water
1/2 cup butter, clarified


Put egg yolks, juice, salt, pepper, Tabasco or cayenne in blender and mix well. Meanwhile, melt butter in a saucepan until bubbling. Skim off any milk solids that come to the top. Heat 1/4 cup water in a small saucepan (you wont need it all). Add 3 Tablespoons of the boiling water to the yolk mixture slowly with the blender running. Then add butter in a slow, steady stream. Use only the clarified butter. The sauce will thicken as the butter is added. If there is something that looks like milk in the bottom of the pan, stop pouring before any of it can get out. Use sauce immediately. This sauce can also be refrigerated and reheated gently in a metal bowl over a pan of simmering water. Enjoy!


Deluxe version: In a small saucepan, heat to simmering: 1/3 cup white wine, the lime or lemon juice, 1 Tablespoon of minced shallots, Tabasco or cayenne pepper. Simmer until it has reduced almost completely. Use this at the beginning with the egg yolks in the blender. Enjoy!


Liana Turner is the chef and owner of Paradise Bakery and Catering. Serving the "Best Cinnamon Rolls in Vallarta," along with delicious sandwiches, salads, main dishes and yummy sweet treats every day but Sunday, and providing all styles of catering services, from pre-prepared meals to-go for informal gatherings to full service elegance for dinners, cocktail parties, wedding receptions and special events, Paradise Bakery & Catering is located at Sierra Aconcagua 299, Prolongacion Brasil, Colonia Lazaro Cardenas, Puerto Vallarta. For more information, call (322) 222-5133 or visit VallartaCatering.com.

Click HERE for more articles by Liana Turner.
Tell a Friend
•
Site Map
•
Print this Page
•
Email Us
•
Top