International Vodka Venue, Playa los Arcos, Puerto Vallarta

Christopher Schmidt - Examiner
go to original
August 03, 2009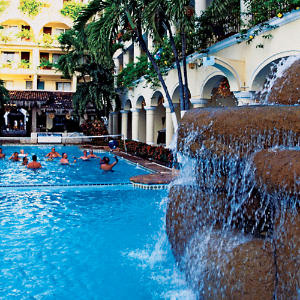 As a fabulous destination, Puerto Vallarta, Mexico, is the perfect choice. The tropical party town has lively restaurants and pretty beaches. And it offers lots of good deals. (Playa los Arcos)
Puerto Vallarta itself is an absolute paradise, along the lines of Tahiti, Rio, Cancun and Hawaii. While perhaps not as ardently sought by mainstream tourists, what Vallarta has over other popular vacation spots are reasonable rooms, food and transportation, and an appreciation for happy hour.


Battling a now worldwide recession, combined with recent horrendous press stemming from the swine-flu, Mexico is currently an extremely affordable, and safe, destination.


Puerto Vallarta stands out in terms of affordability, for despite outstanding weather, exceptional food and breathtaking vistas and beaches, it doesn't benefit - or suffer, depending upon your perspective - from regular, excessive tourist traffic.


Described as a 19th-century, colonial, hacienda style hotel, the Playa los Arcos is a 171-room resort, just a simple, though thrilling cab ride from the international airport. Most importantly, along with all that is glorious in Puerto Vallarta, the Playa los Arcos is on the beach. It has three restaurants, adjacent to the beach, a palapa bar, on the beach, and a pool and pool bar, which, while they merely overlook the beach, are still rather incredible.


The rooms are spacious and charming, though of little consequence, as everything you care about is outside (see restaurants, bars, pool and beaches). To help you get the hang of being in a Mexican resort, try the following:


Yhen you arrive at the hotel, drop off your bags with a bellman, leave them by the front desk, or heck, leave them in the taxi. Do not check in, proceed directly across the veranda, gawk at the waterfall in the pool as you approach the terrace bar. Order your favorite drink, which is hopefully a high-end margarita. No, order two.


Continue to take in the glorious surroundings, and start to get a feeling for the pace at which matters progress. Translation: make sure you are not in a hurry, 'cause the guy making your drinks, and everyone else you meet this week isn't going to be in one either. Rejoice when you figure out the local currency and determine your two Don Julio margaritas cost little more than a pack of gum.


Begin to make serious preparations for spending a lot less time taking the bus tours you heard about, and chart out the thirty or forty places on the various patios and private beach, where you might like to sit, as you and concoct and sample drinks from the bar, three dollars at a time.

Christopher's Home Page