Health & Beauty | September 2009
51% Rate Alcohol More Dangerous Than Marijuana

Rasmussen Reports
go to original
August 31, 2009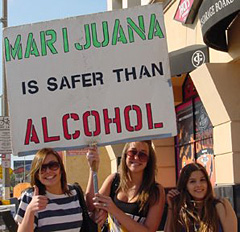 Fifty-one percent of American adults say alcohol is more dangerous than marijuana.
Fifty-one percent (51%) of American adults say alcohol is more dangerous than marijuana, according to a new Rasmussen Reports national telephone survey. Just 19% disagree and say pot is worse.


But 25% say both are equally dangerous. Just two percent (2%) say neither is dangerous.


Younger adults are more likely than their elders to view alcohol as the more dangerous of the two.


Fifty-three percent (53%) of women say alcohol is more dangerous than marijuana, compared to 48% of men. Men by a two-to-one margin over women say pot is riskier, but women are more inclined to say both are dangerous.


Unmarried adults are more critical of alcohol than those who are married. Those with children at home think alcohol is more dangerous than those without kids living with them.


Mexico recently decriminalized possession of small amounts of marijuana by adults, and there are three initiatives being pushed in California to put marijuana legalization measures before voters in November 2010.


As California looks for solutions to its ongoing budget problems, 47% of voters in the state say marijuana should be legalized and taxed. Nearly as many (42%) oppose the state legalizing and taxing the drug.


Nationally, 41% of likely voters think the United States should legalize and tax marijuana, but 49% are opposed.


President Obama's new drug czar Gil Kerlikowske has signaled a shift away from the decades-old war on drugs toward more emphasis on health treatment for drug users. However, 54% of voters say illegal drug use is primarily a criminal justice issue rather than a matter of public health.


Only 28% of voters believe that the legalization of marijuana in the United States would help to reduce drug-related violence in Mexico.


Fifty-one percent (51%) of Americans believe the legal drinking age should stay at 21, but 30% favor lowering it to 18. One-out-of-two (50%) adults say drunk driving laws in the United States are not tough enough.


Fifty percent (50%) of Americans favor increasing taxes on beer, wine and other alcoholic beverages to help provide health insurance for every one in the country. Forty percent (40%) are against such tax increases.

Rasmussen Reports is an electronic publishing firm specializing in the collection, publication, and distribution of public opinion polling information.
Tell a Friend
•
Site Map
•
Print this Page
•
Email Us
•
Top