Health & Beauty | September 2009
Dr. Javier Diaz Nuñez: A Mexican Doctor with "Gringo" Sensibilities

Roberta Rand - SF Productions
September 22, 2009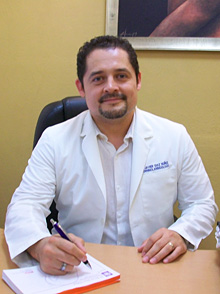 To contact Dr. Diaz for an appointment, call his office at (322) 223-0878, or send an email to orljavier(at)hotmail.com.
The first thing you notice upon meeting Dr. Javier Diaz Nuñez, a respected Ear, Nose and Throat specialist in Puerto Vallarta, is his impeccable English and the total absence of a Mexican accent. "I was born in Chicago, but moved to Puerto Vallarta when I was nine years old," he explains. Dr. Diaz holds dual Mexican/American citizenship and his extended family still resides in the Chicago area.


In addition to holding a medical degree from the prestigious University of Guadalajara, and an advanced degree from the Instituto de Mexicano del Seguro Social, Dr. Diaz cites his command of American vernacular as a particularly helpful calling card for American patients anxious about entrusting their procedures to a Mexican surgeon. "When patients hear me speak, they are put at ease. They know that I will understand them and any concerns they might have about having surgery in Mexico."


Relief about the language barrier is just the beginning as Dr. Diaz' patients have already discovered. Dr. Diaz is a board-certified Ear, Nose and Throat specialist who has practiced in Puerto Vallarta for almost five years. He serves on the staffs of three major hospitals in Puerto Vallarta: Amerimed, CMQ and San Javier. Currently about one third of his patients are American and Canadian.


Americans' positive experiences with Dr. Diaz and other excellent doctors in Puerto Vallarta are debunking the myths and stereotypes of Mexico as a country of dime store dentists and backwoods doctors operating in run-down 19th-century hospitals.


They are discovering what the Mexican people have known for a long time: Mexican doctors, hospitals, technologies and standards of cleanliness are comparable, and in some cases exceed the quality of care in the US.


"Mexican hospitals are as modern and cutting-edge as America's - especially here in Puerto Vallarta," says Dr. Diaz. And nearly everyone who comes down here concludes that the care is much more personal, with minimal waiting time and a lot less bureaucracy."


Dr. Diaz specializes in correcting what he describes as "functionality" problems - sinus infections and breathing problems resulting from broken septums (broken noses) and other traumas. Among the surgeries he routinely performs:


• Removal of tumors
• Removal of nasal polyps
• Drainage of sinuses
• Corrective surgery to relieve chronic sinus infections


Dr. Diaz also performs rhinoplasty (nose jobs). He currently cooperates with another cosmetic surgeon in Vallarta to perform purely cosmetic procedures. In addition, Dr. Diaz is the only surgeon in Vallarta who can perform "FESS" - or functional endoscopic nasal surgery. "With endoscopic surgery, we use a camera to view the inside of the nose, thereby reducing cutting, bleeding, discomfort and recovery time."


According to Dr. Diaz, Puerto Vallarta is under exploited as a destination for all types of surgeries. "We have numerous highly-credentialed surgeons and several top-of-the-line facilities with all the latest technologies - and people with the skills to apply them. I consider myself fortunate to be surrounded by professional colleagues who are all excellent specialists."


"Vallarta has much to offer in terms of hospitals and quality of care," says Dr. Nuñez. "You can safely have any major surgery performed in Puerto Vallarta or Guadalajara a few hours away with the same level of care, competence and skill as you would receive in the States - and in most cases, the cost savings are almost half."


To contact Dr. Diaz for an appointment, call his office at (322) 223-0878, or send an email to orljavier(at)hotmail.com.

To see your business featured in an article on BanderasNews, please contact Martha at SF Productions TV, Tel. (322) 209-0092, or send an email to Martha(at)sfproductionstv.com.
---

Roberta Rand is Public Relations Manager for SF Productions TV, a full service production and marketing company in Puerto Vallarta. Prior to relocating to Mexico from Colorado Springs with her dog, Bo, Roberta worked as a magazine editor, web editor and marketing copywriter. She is also an essayist and author, whose book "Playing the Tuba at Midnight" explored the quirks of living single.


To learn more about SF Productions, click HERE or visit SFProductionsTV.com.
Tell a Friend
•
Site Map
•
Print this Page
•
Email Us
•
Top