Health & Beauty | September 2009
Mouth Magic in Mexico (or, I Am the Biggest Dental Weenie in the World!)

Pamela Thompson - PVNN
September 14, 2009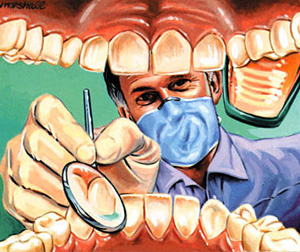 All my fellow dental-weenies feel free to follow the chronicles of the re-invention of my teeth... all the way to the new pearly whites.
This past year or so I have had a recurring nightmare that my teeth are crumbling and falling out of my mouth. A bit of research on the Internet showed that the significance of these types of dreams can be anything from anxiety about the dreamer's appearance, to how they perceive people see them, to the fear of sexual impotence, to an over-exaggeration of worries and anxiety.


Another rationalization is that the dreamer has a fear of being embarrassed or making a fool of himself. I don't think that the last one applies to me since I have bared my body-medical journey with the world for the past few years.


For me the above is all hogwash! I know MY reason! It is because I am beyond mortified to go to the dentist. I would rather stay home in agony and not speak at all rather than make a trip to the dentist. I would prefer to walk on hot coals, slide down a banister of razor blades or have a Chinese Water Torture than sit in a dentist's chair. I am a dental weenie!


Oh, I am good at making the appointment. Showing up is another story.


Last week I spent nearly three hours with a dentist who I know well. I have known his wife for many years. He went into great detail showing me his equipment that looks like it belongs in the space shuttle. He showed me a schedule of dentists who are coming from the United States to be trained by him!


Though he didn't make me sit in the actual dental chair, he gave me a stool to sit on as he showed me on the computer some "before" and "after" teeth photos of some previous patients (who I know personally!) He explained the entire process of how teeth are repaired. He let me hold some molds. He showed me the new veneers he would be putting in someone's mouth that day.


This is definitely not some back street dental office with old equipment. It wasn't even a moderate office. It was gorgeous! This place gleamed with cleanliness! Everything was shining and new.


One of the things I love about this guy is that we laugh. We laugh and I cover my mouth because I embarrassed for a dentist to see my teeth. No, I am not a toothless old lady but I am not proud of my choppers.


So, for all of you co-dental-weenies, feel free to follow the chronicles of the re-invention of my teeth all the way to the new pearly whites.


The next step: X-rays of my mouth. (I KNOW that won't hurt!)
---

Pamela Thompson is a registered nurse who has lived in Puerto Vallarta for over 17 years, 10 of them in health care. Pamela now leads HealthCare Resources Puerto Vallarta, a local healthcare resource network. Her years of experience and expertise are available to you by emailing your questions to pamela(at)healthcareresourcespv.com or by visiting HealthCareResourcesPV.com.


Click HERE to learn more about the health and well-being services offered by HealthCare Resources Puerto Vallarta.
Tell a Friend
•
Site Map
•
Print this Page
•
Email Us
•
Top