News from Around Banderas Bay | September 2009
PEACE Volunteer Vacation Yoga Retreat

Katherine Fisher - peacemexico.org
September 01, 2009

From October 17-22, 2009, the Banderas Bay area non-profit organization PEACE is holding a Volunteer Vacation Retreat in Punta de Mita, Mexico, giving everyone the opportunity to experience another culture while making a difference in the lives of others: Children, Women and Animals.


As a PEACE Volunteer you will help raise awareness and contribute to the overall love, community and hope to the people and animals affiliated with the PEACE organization.


Descriptions of Volunteer Events


Help the Animals
Working with the animals you will experience hands on what it's like to work in a spay / neuter clinic. You will volunteer your time in admissions, surgery or recovery. Calm the nerves of a frightened dog as she waits for surgery. Show some tender love to cats in the post-op area. Teach children about the importance of spay and neuter clinics. Give a neglected animal some love and attention. Enjoy working with a professional, yet fun team!


Casa Comunidad
Would you like to teach an eager youngster some English? Enjoy the squeals of delight as you teach a group of children a game in English. Give a child some much needed one-on-one attention as you read them a book under a tree. Guide students as they plan projects to beautify and improve their community. Take a field trip with a group of students to the beach to clean up trash and post signs urging people to do the same. Expose a group of middle school aged to their first game of kick ball, dodge ball or capture the flag. Rekindle the desire to learn for adults who did not finish grade school.


Community Pride
"I worked on building planter boxes for gardens in the local public schools, it was awesome! I worked with Ceci, Community Pride Program Director, and we gathered wood for free in Punta de Mita, Sayulita, and Higuera Blanca and then we spent two days designing and constructing huge planter boxes. It was hard work, but really fun! Working with my hands to create something that will be used to teach children about organic gardening was an incredibly rewarding experience!"


Reduce, Reuse & Recycle!
Get your hands dirty as you help a class tend their community garden. Help students spread the word about the benefits of composting to local restaurants. Learn to make a playground out of someone else's trash! Help preserve the local turtles by staying a night in the turtle camp. Help collect the recycling around town. Take part in lessening the negative ecological impact in this gorgeous bay.


Manos Unidas por la Mujer
Have a hands on experience with the Women of Manos Unidas and Libo, Group Leader of Manos Unidas, will walk you through a step by step creation of a handmade craft that will be sold in the PEACE Art & Philanthropy store. Enjoy the camaraderie of an afternoon gathering of women and crafting. Give ideas and insight regarding product design. Entertain the women's children with games while their moms work away on their creations. Teach the women something YOU know - a recipe, a dance, a new craft, a fun workout. Admire the strength these women possess.


Daily Schedule
7:30-9:00 am - Yoga Class
9:00-10:00 am - Breakfast at Villa Ananda
12:00-1:00 pm - Lunch
1:30-4:30 pm - PEACE Volunteer Event
5:30-6:30 pm - Yoga Class
7:30 pm - Dinner Event


Evening Dinner Event
We will have 2 dinner events in the towns of Punta de Mita and Sayulita. We will experience the local culture with food, fun, dancing and mingling. The other nights we will have a local chef cook up some fresh Mexican dinners, you will not be disappointed.


Plenty of volunteerism, rest, yoga and free time
• Local cultural activities
• Unique set of experiences and memories.
• Volunteers form once-in-a-lifetime friendships as they travel, live, work and eat together.


The Yoga Experience
You will receive top-notch yoga instruction from Certified Yoga Teachers. All classes will be at Villa Ananda.


Experience the bliss of your own essence at Villa Ananda, Mexico's premiere luxury Ayurveda destination Spa. Villa Ananda was inspired by the grace of the divine with the intent of guiding people into experiencing balanced health and inner peace, through the all encompassing principles of Ayurveda and Yoga.


There will be 5 morning classes, each 1 1/2 hours long. There will be 3 afternoon classes, each 1 hour long. There will be adjusters in each class so you will receive a lot of love and hands on adjustments.


No Experience Necessary
PEACE's Volunteer program welcomes all who want to make a difference by helping to change lives and save animals. There is no age limit, we welcome ALL who want to make a difference.


About the Instructors


Lauren Pech
A yoga teacher and psychotherapist with an investment in the human condition and the mind/body's inherent capacity to heal, Lauren Pech is dedicated to the union of Eastern and Western practices demonstrated by weaving together the somatic experience of yoga, mindfulness practices of meditation, and self-inquiry of psychotherapy. She studied counseling and meditation at Naropa University where she earned a Master's degree in Transpersonal Counseling Psychology in 2006. In 2003, Lauren completed a 200 hour yoga alliance yoga teacher training in Vinyasa and hot yoga.


As a yoga teacher, Lauren has worked in conventional yoga centers as well as therapeutic communities like the Eating Disorder Center of Denver, Denver Children's Home, and the University of Colorado Health Sciences, where she taught yoga for women in recovery. Her background in counseling includes years of work Denver Public Health and the University of Colorado Health Sciences Center with dual diagnosed individuals living with HIV/AIDS and substance abuse issues.


Lauren follows the Shambhala teachings, which are rooted in the contemplative teachings of Buddhism. These teachings contribute to her spiritual development and continue to influence her work as a professional. Lauren recently returned from a 9 month around the world trip during which she taught yoga in Cape Town, South Africa, traveled through remote parts of Southern Africa, and journeyed through Europe, Thailand, Australia, New Zealand, and Fiji. As a result of her travels, Lauren is increasingly dedicated to raising awareness around multi cultural issues in the community, and to practicing gratitude for the privileges Westerners often take for granted.


Mindy Reser
An Ayurveda Practitioner and Yoga Enthusiast, Mindy Reser says, "Yoga Asana practice exposed me to a new found inner peace when I began my Ayurveda studies in Sarasota, Florida in 2002. I didn't understand what Yoga was exactly but I always felt like I just attended a 'church service' each time I rolled up my mat. In April 2005 after completing my Ayurveda degree, I traveled to India for an intensive 60 day course of Hatha Yoga with the Sivananda Institute in Uttar Kashi. It was here that the pieces began to come into place internalizing the profound nature of Yoga philosophy, the art and science of practicing the Ayurveda lifestyle and my passion to guide others through these principles to find their own sense of peace and harmony within. I give gratitude to the masters and saints who endlessly share this Divine knowledge with us all."


Katherine Fisher
In 1999 Katherine found Bikram Yoga. Practicing almost every day, it became such a staple and part of her being. An avid runner, with 3 marathons under her belt, she found that practicing yoga was the perfect balance physically and emotionally. "The changes to me were unbelievable and I continue to be amazed how much yoga has enhanced my life." She completed a 200 hour yoga alliance yoga teacher training in Vinyasa and started teaching right away. "Teaching has certainly become a passion of mine and I am so excited to share my energy."


Working with the PEACE non-profit organization, she finds that yoga and PEACE are very similar. Knowing that she is helping the less fortunate families and animals in Mexico is as inspiring and courageous as teaching a yoga class. Bringing the mind, body and spirit together is something she strives for every day. She continues to give, on and off the mat. "I am so thankful to have yoga in my life."


Monica Martin
From Pasadena, CA., Monica Martin started practicing yoga steadily in 2004. She received her certification at the Yoga Kingdom Sanctuary in Classical Hatha in Dec 2006. She taught classes in Burma, Pasadena and Mexico. Her favorite form of yoga to practice is Vinyasa Flow and Ashtanga.


For more information about the Oct 17-22, 2009 PEACE Yoga Based Volunteer Vascation Retreat in Punta de Mita, Mexico, please contact Katherine Fisher at katherine(at)peacemexico.org.
---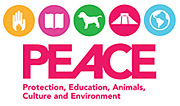 A Banderas Bay non-profit organization, PEACE acts as an umbrella organization for four charitable programs, Casa Comunidad, Ayuda Los Animales (Help The Animals), a Women's Co-Op (Manos de Mujeres Unidas) and Community Pride. It is a U.S. non-profit 501(c)(3) organization, which accepts tax-deductible donations and a Mexican Civil Association that issues facturas for donations. For more information, please visit PeaceMexico.org or click HERE to read more about PEACE
Tell a Friend
•
Site Map
•
Print this Page
•
Email Us
•
Top