Entertainment | Restaurants & Dining | September 2009
The Art of Dining & Living Well: Limon Tree, Very Pretty...

Liana Turner - PVNN
September 16, 2009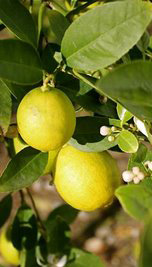 In Mexico limes are called limones and lemons are called limas. Go figure...
I love to grow things, but until I lived here in Vallarta I tried to avoid growing things in pots, preferring the openness of the outdoors. Now I have no choice, and due to my lack of real estate, I have given in and now attempt to keep a few plants alive in pots on my patios.


A couple of years ago the plant man came by with some beautiful lime trees, about one meter tall. But not just any limes... these were "Mandarin limes." He picked one and broke it open for me. They are small and green, just like our Mexican limes, but inside the flesh was light orange, dripping with juice, and a citrussy fragrance that had me hooked.


Since then it has provided a steady supply of citrus garnish for my cocktails. The fruits are incredibly juicy and sweet smelling, like a Mandarin orange, and the scent comes through in the flavor, but there is no sweetness in taste. They are very tart and absolutely delightful. If you can find one of these trees I would highly recommend buying one (or two if you drink a lot).


We normally have two different lime varieties to choose from here. The most common is the Mexican lime, also known as Key lime. These are small, round and smooth skinned. This is the citrus fruit with the highest level of acid. They are dark green when young and turn yellowish when very ripe. It is best for food and drink when it is still green, but not hard.


The second common lime available here is Persian lime. They are slightly larger, slightly elongated, seedless and less acidic than the Mexican lime. They are great for lemonade or agua fresca.


Occasionally we see those big, thick skinned yellow lemons, the Sunkist kind. Personally, there are very few dishes that don't taste better with lime than with lemon, but that's just my opinion, so I don't spend much time pining over the rarity of those lemons.


There is one lemon that I would go out of my way for, though. I don't know what its called, but some friends of mine have a tree in their yard that produces these lovely juicy lemons that are the size of grapefruit! Oooh... Squeeze, add sugar, water and ice and enjoy!


Note: In Mexico limes are called "limones" and lemons are called "limas." Go figure...


Liana Turner is the chef and owner of Paradise Bakery and Catering. Serving the "Best Cinnamon Rolls in Vallarta," along with delicious sandwiches, salads, main dishes and yummy sweet treats every day but Sunday, and providing all styles of catering services, from pre-prepared meals to-go for informal gatherings to full service elegance for dinners, cocktail parties, wedding receptions and special events, Paradise Bakery & Catering is located at Sierra Aconcagua 299, Prolongacion Brasil, Colonia Lazaro Cardenas, Puerto Vallarta. For more information, call (322) 222-5133 or visit VallartaCatering.com.

Click HERE for more articles by Liana Turner.
Tell a Friend
•
Site Map
•
Print this Page
•
Email Us
•
Top