Health & Beauty | October 2009
Dr. Jose Antonio Rodriguez: Restoring Good Vision to Aging Eyes

Roberta Rand - SF Productions TV
October 14, 2009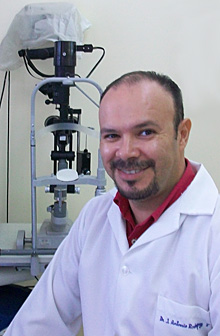 To arrange a consultation with Dr. Rodriguez, call (322) 225-3445 or send an email to visionvallarta(at)hotmail.com.
When you first step into the office of Dr. Jose Antonio Rodriguez in the Medica Vallarta complex near Plaza Caracol, the first thing you notice is the refreshing blast of air conditioning. The second thing you notice is the spotlessly clean environment.


Dr. Rodriguez' office is an immaculate, light-filled space, with a polished desk at one end and a large piece of medical equipment used for eye procedures on the other. The walls behind his desk are covered with diplomas and medical certificates. Dr. Rodriguez himself is dapper and soft spoken, with a neatly trimmed goatee and kind eyes - a nice attribute for an eye doctor.


Dr. Rodriguez is a board-certified ophthalmologist with extensive medical training. He has been performing cataract surgeries and LASIK eye surgeries for over eight years, with approximately 500 surgeries under his belt. Of those 500, he claims a 95-97% success rate.


He holds a general medical degree from the University of Guadalajara and an advanced degree from the Autónoma de Guadalajara Ophthamologie. He also trained at the Fundación Hospital Nuestra Señora de la Luz, one of the largest and oldest hospitals in Mexico. He was the first ophthalmologist to use Phacoemulsification technology in Puerto Vallarta.

A Primer on LASIK Surgery

For those of you who have been living in a cave for the last 20 years, LASIK eye surgery is the ground breaking technology that has enabled millions of people suffering from nearsightedness, farsightedness and astigmatism to see clearly without glasses or contact lenses. But do you know what "LASIK" stands for? It's actually an acronym for laser-assisted in situ keratomileusis (bet you can't say THAT five times fast).


LASIK surgery wouldn't exist today were it not for a surgical instrument called a microkeratome, invented by Spanish Ophthalmologist Jose Barraquer in Bogota, Columbia, in 1950. The microkeratome allowed eye surgeons to create a thin, circular flap in the cornea and alter its shape - thereby improving vision.


The laser part came much later, perfected over decades through the work of several scientists, most notably Dr. Rangaswamy Srinivasan, who discovered that an ultraviolet Excimer laser could etch living tissue in a precise manner with no thermal damage to the surrounding area. The procedure was named Ablative Photodecomposition.


The surgery we know today as LASIK was patented in 1989. After the surgeon makes an incision in the cornea to expose the corneal bed (feeling queasy yet?), the exposed surface is then "ablated" to the desired shape with an Excimer Laser (sounds a bit like the sword Sir Galahad might use to dispatch bad guys . . . but much more precise).


The really good news is that Dr. Rodriguez can perform the procedure for roughly half of what it would cost in the US. The training he receives is exactly the same as doctors in the US receive, and the equipment is also identical.


Dr. Rodriguez cautions that not everyone is considered a good risk for LASIK eye surgery; people who suffer from Diabetes, glaucoma and scar tissue in the eyes are not considered good candidates.

Cataract Surgery

Dr. Rodriguez is also experienced in cataract removal surgery. Cataracts are a problem for approximately 50 percent of people over age 65. Seventy percent of Americans aged 75 or more have their vision significantly impaired by cataracts. Cataracts can be caused by numerous factors, from diabetes to frequent exposure to bright sunlight.


In cataract surgery, the surgeon uses a local anesthetic, cuts an opening in the cornea, then uses a minute probe to break up the cloudy lens, which is then removed and replaced with a clear, plastic lens. According to Dr. Rodriguez, the procedure takes 20-30 minutes for each eye. An overnight stay in the hospital is routine. Complete recovery takes about two weeks. Again, the savings over similar surgery in the US is quite significant.


So, why have Dr. Rodriguez perform your eye surgery? Besides the obvious financial benefits, the doctor explains, "My American patients discover that the technology is up-to-date with well-maintained surgical equipment and clean, sanitary facilities." He adds, "I am able to take the time necessary to address any concerns patients have and to answer all their questions in English. Also, unlike the US, there's very little bureaucracy and lots of personal attention."


In other words, you don't have to have 20/20 vision to see that having eye surgery in Mexico - especially in Puerto Vallarta - is a win/win proposition.


To arrange a consultation with Dr. Rodriguez, he can be accessed at the following telephone numbers: (322) 225-3445, 293-5493, and 225-0417, or email visionvallarta(at)hotmail.com.


Sources:
Dr. Jose Antonio Rodriguez
AllAboutVision.com
DocShop.com
Wikipedia.org
MedicalNewsToday.com

To see your business featured in an article on BanderasNews, please contact Martha at SF Productions TV, Tel. (322) 209-0092, or send an email to Martha(at)sfproductionstv.com.

Roberta Rand is Public Relations Manager for SF Productions TV, a full service production and marketing company in Puerto Vallarta. Prior to relocating to Mexico from Colorado Springs with her dog, Bo, Roberta worked as a magazine editor, web editor and marketing copywriter. She is also an essayist and author, whose book "Playing the Tuba at Midnight" explored the quirks of living single.


To learn more about SF Productions, click HERE or visit SFProductionsTV.com.
Tell a Friend
•
Site Map
•
Print this Page
•
Email Us
•
Top