News from Around Banderas Bay | October 2009
Hacienda Jalisco: True Mexican Hospitality

Gary R. Beck - PVNN
October 02, 2009

Three of us wished to visit San Sebastian again and through Pam Thompson, we reserved suites at Hacienda Jalisco, which is situated not far from the town. Our trip in April was delightful but it was a bus day trip. This time we wanted to immerse deeper into the culture of the land and stay overnight.


What a place we chose. The buildings were erected in the early 1800's as a Spanish fort. It literally drips with history featuring nearby prosperous silver mines where workers went to the river and cleaned the ore with arsenic and other chemicals untested by man. We could only imagine how many people suffered from this activity, let alone those who drank from this water source.


The fort served for many years and prior to the 1910 Mexican Revolution, the area grew to nearly 30,000, many of the inhabitants surviving on the mining work, and served as a major seat of government far surpassing tiny seaside Puerto Vallarta, a one and a half hour car trip west.


But rebels came in and went to the homes of the wealthy mine owners and asked for simple goods at the front door while others went in the rear and emptied the property of anything of value, especially animals. Soon, the wealthy could not keep their mines open and the area went into a steep decline. Almost the entire population moved east to Mascota, resulting in San Sebastian dwindling to around 600 inhabitants. Eventually the fort was shut down.


The massive stone-walled hacienda with side 'casa chica' enamored expatriate Bud Acord and he and a partner purchased the entire property, which included massive jungle acreage and old architectural remnants such as moss-encased stone walls, all still there for viewing. The Sierra Madre range with high peaks circled the land.


Unfortunately we felt that the narrow winding cobblestone and dirt road turnoff for San Sebastian was not how we traveled by bus, so we kept driving. Soon the distance to Mascota was shrinking and we realized we had gone way too far.


We stopped at a lovely family restaurant run by a talented mother-daughter team. They had lived in the USA and spoke fluent English. We explained our problem and were invited in for a cold drink and some light traditional Mexican food. We could not refuse, thinking possibly we were lost for a purpose. We were told that a major portion of their business is from people just as us who drive too far and turn around.


After a delightful repast, we headed back, took the well-marked road and soon saw Hacienda Jalisco on the left. We entered the open gate of the thick old stone wall and drove the winding, fern-lined cobblestone driveway, immediately engulfed by the sense that we were entering a magical, spiritual slice of the world.


The sheer awe of entering this secluded tropical paradise thrilled us and may have even made us speechless. Soon we approached a huge old gate and parking lot. We gathered our belongings and headed inside to be warmly greeted by Joe Thompson, who operates the bed and breakfast with his wife Monica.


One has to see for themselves to describe not only the physical beauty of the property but the spirit and feeling of being taken back a couple hundred years. Not much has been changed since those olden days with the exception of modern conveniences as bathrooms and the kitchen. Fruit trees were everywhere and flowers made the rear area a garden one never wished to depart.


Joe showed us our suites and since we were the only guests that night due to low season, we were each given a suite taking over the entire top floor. Each room was unique with historic artwork combined with Hollywood memorabilia.


Liz Taylor, Richard Burton and John Huston visited often when the filming of Night of the Iguana allowed. We could hear their laughter mixed with conversation as they told stories or played card games. The couple could escape the media frenzy which had followed the world's most famous new couple, both married but enjoying their mutual intimacy.


On the first floor in the front is a small museum packed with ledgers dating far back, marked by penmanship no longer seen, rich and flowing. One room has faded floral-painted walls, fireplace and sturdy wooden supports. Bud had combined all this history with his own, where we snapped photos of pictures of his many guests, perused the books and artwork.


The museum is open to the public and worth a visit, even if you do not stay at the hacienda. Merely breathing in the air excited my mind and told me this is one very special magical place. We were both enthralled and enchanted.


After settling in and adjusting to the new time zone of early 1800's, we explored only a small part of the estate. Being a horticulturist, I checked out multitude of plants, trees and flowers, many unknown to me.


The dinner bell sounded and we were shown a table just inside a covered walkway area. The couple and their chef produced a lifetime memory of dining experience. The fruit and lettuce salad was mounded with their fresh organic crops from their land.


Chicken Piquin and vegetables arrived shortly and by dessert all we could manage was to shuffle outside to beautiful hand-painted floral loungers arranged around a pit. Joe stoked it and soon the wood was spitting fire, smoke and ashes up to the extremely black sky highlighted by millions of tiny white stars not hindered by city lights.


I asked him about the wood used and Joe related that no tree may be chopped down due to regulations but he was free to pick up fallen branches, a chore in itself. The mixture of species produced mixed delicious aromas. None of us wished to ever vacate the setting. Hours later, we turned in and crawled onto gorgeous large beds with quilts and blankets which were museum quality. Since there is no electricity, the suite were dark, making sleep all the easier.


We awoke refreshed and after cleaning up, the breakfast bell sounded. San Sebastian coffee arrived, a must for all visitors to purchase in the area. Breakfast was just as tasty and impressive as dinner. Again, we wanted to settle in the chairs with a cup of coffee and stay a few months. But the town called us and we packed and headed deeper into the town.


The church is old and impressive. A few shops offer simple wares and there are several open-air cafes which were filled with locals and guests. The colonial town reflects the same air of history as the hacienda, entirely enchanting, though small compared to its long gone heyday.


We drove to the La Quinta coffee plantation where, this time, we were the only ones there so the owner took us on a very personal tour of his operation. We were fascinated especially by the grinding of his specialty blend. He has ground some of his dark roast coffee beans, added coarse Mexican cinnamon and then crammed bars of rich chocolate from Oaxaca into a trough, unclogging often with coffee to keep it flowing.


He informed us he has a longstanding arrangement with the chocolate producers to send them coffee in an exchange for rich pure unsweetened chocolate bars. We could only imagine how long that grinder had been in the family. Founder mama has a central portrait on the wall alongside group family photos. It was amusing that it appears one son was absent the day of the shooting but he was added in, although you had to peer closely to see the insertion. We sipped the complementary coffee and made purchases.


We would have stopped for a lunch at Real y Mina (now called Montebello) before heading back to Vallarta, but Walter and Coco open their home, gardens and restaurant only on weekends during the summer. Their Italian cuisine is hard to exceed in the entire Jalisco area. Keep it on your list and call beforehand.


Visiting in April, we enjoyed a wonderful salad, homemade thin ravioli, angel hair pasta and a pizza with the thinnest crust possible. All ingredients are either grown on their property or purchased locally. He uses no canned products and the freshness of the sauces and herbs jumped at our senses. A truly memorable lunch.


Walter also makes Italian-style digestives in four flavors, the highlight being an herb blend in a stunning bottle, or you may opt for sweet limσn, lime or orange flavored versions. All four impressed my friends. I agreed, using a dipped straw to taste each one since I do not drink alcohol.


The enchantment of true Mexican hospitality coupled with exquisite cuisine marks Hacienda Jalisco as a destination we urge everyone to experience, especially if you are enthralled with history and magical vibrations. One of us was certain he heard children running up and down the staircase at night screaming with laughter. The place is alive and if you open up yourself, the rewards are beyond words.


To learn more about Hacienda Jalisco, click HERE or visit HaciendaJalisco.com.

Note: This article reflects the author's personal experiences and may not be totally accurate in the historical information. He apologizes for any errors.
---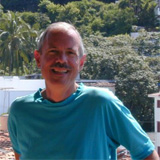 After 20 years in the San Francisco restaurant business, Gary R. Beck turned his attentions to cooking, dining out, creating recipes and exploring Puerto Vallarta's rich array of eateries. Famous for his restaurant guide, available online at CafePress.com or Lulu.com, Gary also writes restaurant reviews for Puerto Vallarta newspapers, Bay Area magazines, and now, a feature column for BanderasNews.com. Contact Gary at garyrbeck1(at)yahoo.com.

Click HERE for more articles by Gary R. Beck.
Tell a Friend
•
Site Map
•
Print this Page
•
Email Us
•
Top