Entertainment | Restaurants & Dining | October 2009
Drinks Your Father Drank

Matt Griffin - AskMen.com
go to original
October 09, 2009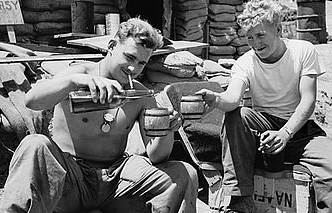 Try some of these drinks your father drank and reconnect with his generation of real bar flies.
Let's assume your father is American and is currently between the ages of 55 and 65, which means that he was of legal drinking age somewhere between 1962 and 1972 - the cocktail party era. Now, your dad probably got his fill of Coca-Cola, Tang and Kool-Aid, but once it was time to hit the bars, his real drinking culture began. What we're presenting here are some of the trends from that era and the drinks your father drank when he was a yuppie in training.


Today's drinkers follow suit with a generation overrun by watered-down drinks and fruity concoctions, which mask the very liquor men have earned the right to consume. So, try some of these drinks your father drank and reconnect with his generation of real bar flies.

Harvey Wallbanger
Recipe: 3 parts vodka, 1 part Galliano and 6 parts orange juice.

Invented by a series of bartenders in California during the 1950s, the Harvey Wallbanger is apparently named after a surfer in Manhattan Beach. The cocktail was little-known outside of California until the 1970s, when TWA served it in-flight and inspired national popularity.


In case you were curious about where the "wall banging" comes from, drinks featuring Galliano often feature the word "wall," since the bottle's tall stature requires steady storage. Next time you overhear a woman ordering a drink "up against the wall," don't get too excited.

Scotch on the Rocks
Recipe: Rocks and scotch.

Along with brandy, scotch-based cocktails surged during the '60s and early '70s. As the UK invaded our radio waves, so did their drinking habits. With the South brewing whisky and bourbon of our own, Americans looked across the pond to find a chicer version of the amber liquor. Scotch, in many ways, became a status symbol for parties, business deals and man-to-man talks. No wonder it was one of the drinks your father drank.

Tom Collins
Recipe: 2 parts gin, 1 part lemon juice, a drizzle of sugar syrup, fill with carbonated water.

In the late 19th century, pranksters in the Northeastern United States would ask strangers: "Have you seen Tom Collins?" to begin a conversation. When the victim expressed confusion as to this man's identity, jokesters would encourage others to find him at the local bar. Tom Collins, of course was not a man, but rather a man's drink and, therefore, one of our drinks your father drank.


By the 1960s, the Tom Collins reintroduced itself from the late 19th century version to include more lemon juice and carbonated water, ingredients that became increasingly popular for cocktails during that time.

Gin Martini
Recipe: 5 parts gin, 1 part sweet vermouth.

Just as 30-something women love to affirm their love for Sex and the City with a cosmopolitan, men of the 1960s and early 1970s looked to James Bond as their drinking idol. Though martinis are rarely "shaken not stirred," gin-based cocktails were a popular item of the early 20th century, which today is fading out as drinkers favor vodka instead.


Also interesting, this era did not do a lot of wine drinking, though some found refuge with vermouth, a crucial martini ingredient.

Old-Fashioned
Recipe: Muddle an orange slice, lemon twist, and two maraschino cherries. Add ice, bourbon, two dashes of bitters, and a splash of soda water.

Although the image of a martini glass and speared olives has become synonymous with the word "cocktail," the Old-Fashioned came first. Modern drinkers and bartenders begrudge the relative tedium needed to stir an Old-Fashioned, but invest the time to taste the past and one of the drinks your father drank.


An Old-Fashioned was a man's drink of pre-depression times and resurged later in the 20th century. In the late '60s, tropical drinks with gaudy garnishes swelled at poolside parties and cosmopolitan lounges, ushering in an era that idealized the pop culture of warmer climates. Men were less likely to take part in multicolored drinks served in curvy glasses with pineapple slices, but the Old-Fashioned fell somewhere in between - cherries, oranges and lemons with a nice bourbon base was a perfect compromise.


Raise your glasses


Harvey Wallbangers and Tom Collins might be an odd request at today's establishments, but these drinks are as delicious as they are manly. Knowledge of cocktails, and the drinks your father drank, will enhance you experience in a world where modern drinkers turn to ad campaigns and postmenopausal women to influence their nights out. Look to your father for advice instead.


Dad might be onto nice beers and Tinto-stained teeth during the holidays, but once upon a time, he regretted massive volumes of these drinks, just like you have in some form, and your son will in another.
Tell a Friend
•
Site Map
•
Print this Page
•
Email Us
•
Top