Entertainment | November 2009
Puerto Vallarta's Got Latin Fever

Alex Gomez - PVNN
November 11, 2009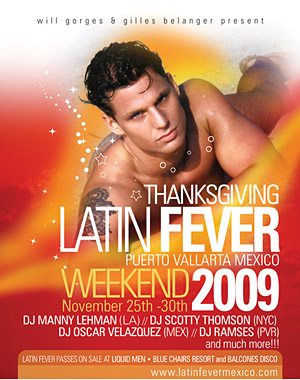 Latin Fever 09 will be held in Puerto Vallarta, Mexico from November 24th-29th. For more information and discounts, visit LatinFeverMexico.com.
For the past twelve years, Gilles Belanger (Toronto) and Will Gorges (L.A.) have teamed up to produce a five-day long party right here in Vallarta, one during American Thanksgiving and another during New Year's. These parties not only bring men and women from the U.S., Canada and Mexico, but from South America and Europe as well.


Everyone who knows about Latin Fever looks forward to the parties all year long, because they bring DJ's from around the world and from here in Vallarta and Mexico City, who effortlessly drive their audience into ecstatic dance frenzy. Their event has attracted the likes of David Geffen, Jennifer Tilly, Ricki Lake and Robbie Williams.


In Vallarta, the various clubs and bars that Latin Fever have held events at usually give them space freely, because of how popular the parties are and the number of patrons that they bring in. While Latin Fever began as a gay circuit party, lesbians and heteros now regularly frequent it, because, in comparison to the established dance clubs in Vallarta, Latin Fever is known for its cutting edge music, sound systems and lightshows.


The parties are not always held indoors, many are held under the stars and even on the beach, which is a welcome and attractive change for many. The DJ's they have lined up this year promise to be fantastic:


• DJ/Producer Manny Lehman (LA)


• DJ Scotty Thomson (NYC)


• DJ Oscar Velazquez (DF)


• DJ Paul Goodyear (Sydney Mardi Gras)


• And our own Ramses (Ramsesthedj@hotmail.com)


They are also bringing International Drag Superstar Sofonda Cox


You can get your tickets online at LatinFeverMexico.com. Type in the code gaygdl to get a 40% discount. Or you can pay at the door of the particular events. The ones that marked TBA will be announced in mid-November.

Schedule of Latin Fever Events 2009

Nov 24th - Warm-up Party at Paco Paco 10 pm-6 am


Nov 25th - PV Stripped (strippers all night) at newly renovated Balcones 10 pm-4 am


Nov 26th - White Party at Mar Azul, dinner and disco on the Beach. 7 pm-3 am


Nov 26th - White After TBA 3 am-11 am


Nov 27th - SQUIRT Blue Chairs Rooftop 4 pm


Nov 27th - Colt Dirty Black (Leather, Denim, Manly Live Show, Colt Giveaways) at Z'tai 10 pm-Late


Nov 28th - BEACH BALL 2 on the sand at Bite Me Beach Club (Blue Seas) 5 pm-10 pm


Nov 28th - Saturday Night Latin Fever at a Z'tai 10 pm-Late


Nov 28th - After The Fever at Balcones 4 am-11 am


Nov 29th - Latin Fever LUAU at Blue Chairs Beach Club and Rooftop 4 pm-11 pm


Nov 29th - ADIOS PV Closing Party at Paco Paco 10 pm-6 am


Gilles and Will have become friends with many locals over the years, including my family and me. They employ many Vallartans for their ticket sales, as door attendants and security, as well as for printing, sound and light production services.


Gilles makes Vallarta his home for a few months of the year and now speaks fluent Spanish. He's been known to take locals back to Toronto with him to work for Pride there. Everyone is welcome at Latin Fever, but respect is obligatory. This year's line-up is sure to dazzle and entertain. Don't miss out, bring your friends and have an amazing time.

For more information and Latin Fever 2009 discounts, visit LatinFeverMexico.com.
---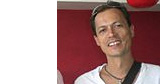 Alex Gomez is an award-winning writer, who'd die if he couldn't write. To date, he has written numerous short stories, hundreds of articles and two serious novels.

Click HERE to read more articles by Alex Gomez.
Tell a Friend
•
Site Map
•
Print this Page
•
Email Us
•
Top