News from Around Banderas Bay | November 2009
Update: Puerto Vallarta Little League Year Two Changes Opening Day to Saturday, January 9th, 2010

Bob Cohen - PVNN
November 23, 2009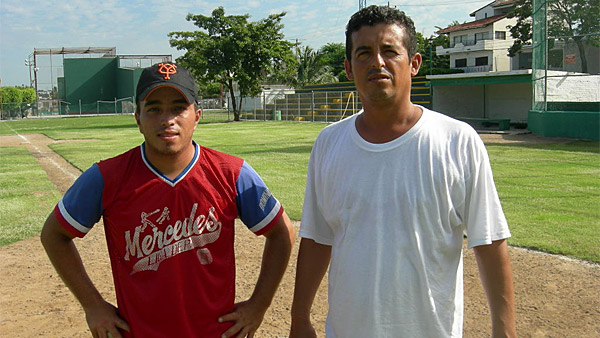 On the left, the coach of the 15-16 year old All Star team, Carlos Del Molina of Mexico City, with PV Little League Prseident Miguel Angel Vargas. They have been out every Saturday the past month training the kids.
The second season of the Puerto Vallarta Little League will officially start on Saturday, January 9th, 2010 and will run well into June, depending on how many teams are in the league this year. Previously the league opening day was scheduled for December 5th but due to the holidays, schools being out and some kids not available, League President Miguel Angel Vargas announced the change this past weekend.


Miguel however is still holding tryouts and practices for the kids for the last month every Saturday morning beginning at 9:30 AM. The kids coming to the tryouts didn't play last year and are getting coached and trained by Miguel and a few other volunteers. More volunteers have committed to coach and train the kids; something extremely important especially for those kids that have had no or limited baseball experience.


On November 13th - 15th a "friendly" tournament the weekend was held and was a tremendous success. That gave the league more exposure as the stands at the baseball field were full with locals and families watching their kids from out of town play. There were two age divisions; 11 &12 year olds and 16 -18 year olds. Coaching and training the older kids was Carlos Del Molino who played baseball in Mexico City and has been in Puerto Vallarta for four months. Miguel coached the 11 & 12 year olds. Teams that traveled here were from Guadalajara, Arandas and a Nayarit All Star squad, quite a long trip for the competition.


About 200 kids and parents came to Vallarta and as the host city, we fed the kids one meal each day and some of the kids will be stayed in homes of PV players, most others stayed in hotels. Many Moms Saturday volunteered to bring dishes to help offset the cost of feeding the kids but it is something we need to cover as well. The teams are covering their own hotels. The value and importance of this tournament is immeasurable and the kids surely have a new experience and experience the level of Little league baseball in other parts of Mexico.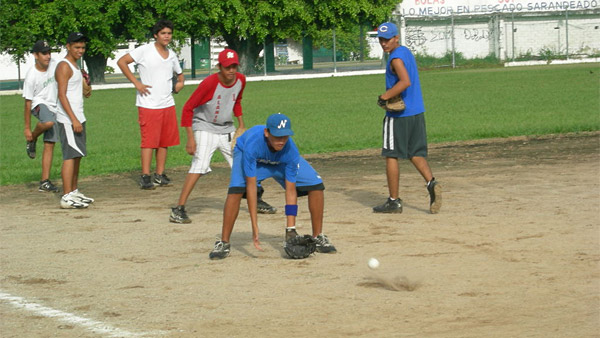 Miguel has the kids practicing basics in order to fine tune their abilities. Here the players are fielding ground balls and 3rd base and throwing to 1st base.
While the kids are training for the weekend tournament, Miguel had been working with the 30-50 kids that have showing up each Saturday for the tryouts and will continue to do so as the teams are formed prior to the revised opening day. This had been strictly word of mouth and local newspapers have announced information about Year Two in the rejuvenated PV Little League. We expect many more kids to come out as word gets out via the press and the coverage from the tournament.


Many of last year's teams will participate again this year and have been practicing on their own with their coaches. Last year we had 10 teams with 15 players on each team and we expect the same this year. There is an age format change this year and we will also have two T Ball teams for 6 - 8 year old kids. The two other age groups are 9 -12 years old and 13-15 years old. The plans are to have four teams in each of those divisions, but if we have more kids and we have more team sponsors, then the size of the league could expand.


Now is time for our plea to the public for assistance in three ways. We do need team sponsors, although as of Thanksgiving week six of last year's ten founding sponsors will again sponsor a team. The cost for team sponsorship is $10,000 pesos and includes the sponsoring person, business or organization's logo on the front of each player's jersey, a banner that will hang in the outfield all season and regular mention on BanderasNews in weekly articles written by me, your public servant, and in other English publications as well. This is will give plenty of exposure to sponsors, but is not intended to only promote the sponsors businesses. We do want sponsors that step up because they care and want to be of help and give back to the community. All one has to do is go back to all the archived articles on BanderasNews, click on the big Little League logo on the homepage and see the 15 articles written from our inaugural season. Please contact me at bob@banderasnews.com or at a1abob@yahoo.com for more information on sponsorship.


Last year's founding sponsors that have taken a team again this year are BanderasNews.com, Teatro Limon Restaurant, Dave and Dawn Marriner of the PV Yankees, Jerry Bianchi and Frank "Pancho" Torres of Las Rocas, Dave Rost and Mike Hooper of Los Picosos and Harvey Brown of Sage Hill Lightning, who were the league champions. New team sponsors that have come aboard are Mexlend, who will be named the Mexlend Martillos and Pipis Restaurant. More will be written about their involvement, but welcome aboard and we look forward to you supporting your team with the enthusiasm that other sponsors have.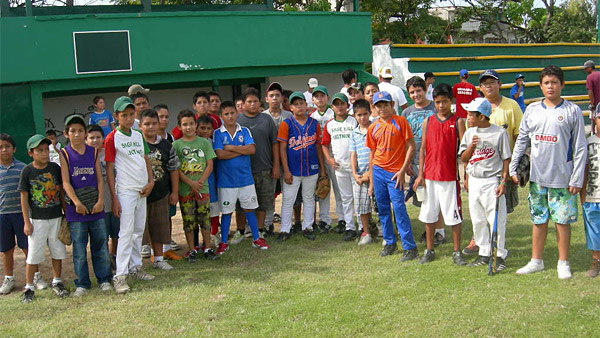 That's a lot of new kids that are attending the weekly tryouts and are increasing in size each week.
Next, we always need donations of cash and/or equipment. Baseball equipment is extremely expensive in Puerto Vallarta and last year we had numerous donations that allowed the league to play a full season with no added expense. At least a dozen people brought balls, gloves, bats, etc. with them when they came to vacation in our city and I dutifully went to their hotels to pick up the donation and always took a photo and put it in an article. This year we have a "Donation Station" set up by Jerry Bianchi, who showed up last year with a van full of equipment. Again, one can see what he brought down from Colorado by looking at past articles. The website for the "Donation Station" is us-mex-littleleague.com. There are pickup points in Calgary, Alberta, Canada, Lakewood, Colorado, Union City, California and in Puerto Vallarta, Mexico. If one is not coming to Puerto Vallarta but want to donate equipment, it can be sent to any of the donation stations and will be here before and during the season.


The last thing we do need is coaching and mentoring help. Last year in our inaugural season, we were lacking in enough coaches and trainers to teach the kids baseball fundamentals and this year we already have some that have stepped up to the plate. To give an example of what practicing does; last year's champion, Sage Hill Lightning from Bucerias was a good team the first half of the season, finishing third out of six teams. When play was forced to stop due to many outside and uncontrollable situations, Sage Hill continued to practice five days a week. When we finally were able to resume play, the team won the championship and actually dominated everyone they played.


This is where we are at as we near Thanksgiving. We have set up a Paypal account for an easy payment option for sponsors and for those that wish to make cash donations and it has been effectively utilized. The non-profit status of the Puerto Vallarta Little League is almost in place (things sometimes take quite a while in Mexico), but all financial records are open and transparent to the public. We all look forward to a better season than our first, we do need your help and we thank you in advance.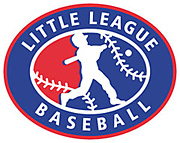 Your support provides endless benefits for Banderas Bay area kids, who will develop the qualities of citizenship, discipline, teamwork and physical well-being by participating in Puerto Vallarta Little League Baseball. To learn how you can help, send an email to Bob Cohen at bob(at)banderasnews.com or Miguel Vargas at tacos.park(at)hotmail.com. For more information about Puerto Vallarta Little League Baseball, click HERE.
Tell a Friend
•
Site Map
•
Print this Page
•
Email Us
•
Top