News from Around Banderas Bay | November 2009
Three Bengal Tigers Born at Vallarta Zoo

PVNN
November 24, 2009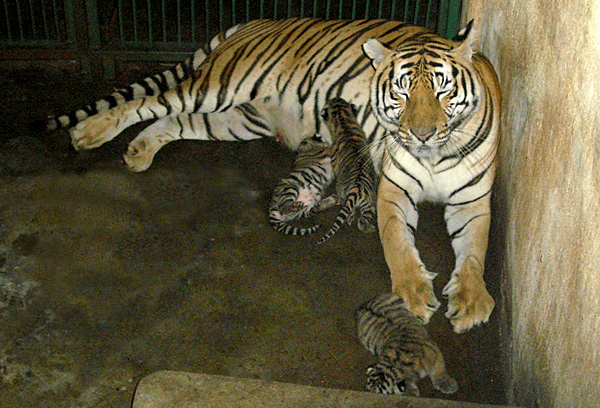 Three Bengal Tiger cubs were recently born at the Zoologico de Vallarta facilities in Mismaloya.
On November 22, 2009 Puerto Vallarta Zoo owners, Martin, Antonio and Alfredo Castañeda, proudly announced the recent birth of three Bengal Tigers at the Zoologico de Vallarta facilities in Mismaloya. The cubs were born in perfect health and will soon be ready to meet the public.


The Vallarta Zoo is one of the most famous in the world because of its extraordinary success in big cat births. Between 28 and 35 cubs are born every year, and twice a year anyone who is brave enough can pet and cuddle and have their photos taken with baby lions and tigers and jaguars, oh my!


The Castañeda family has deep ecological concerns and devote themselves entirely to the preservation of all animal species. They believe that providing the animals with excellent care and a safe environment encourages them to reproduce in captivity.


And it seems that they have found the formula for success. Since September of 2005, a slew of Tigers, Pumas, Leopards, Black Panthers, Jaguars, Spider Monkeys, Capuchinos Monkeys, Hienas, Flamingos, Emus, Nandus, African Dwarf Goats, Vietnamese Pigs, Pheasants and Guacamayas are among a variety of animals that have been born in the zoo's facilities.


The Castañeda brothers, who share the entire burden together - doing everything from construction to cage cleaning - believe that hard work and dedication, along with the zoo's state-of-the-art facilities, great veterinarians, and privileged location have contributed greatly to the success of their reproduction in captivity program.


Located in Mismaloya, Zoologico de Vallarta is surrounded by lush jungle vegetation in one of Puerto Vallarta's most exotic zones. This naturally tropical environment provides the perfect setting for the zoo's more than 400 mammal, bird and reptile inhabitants.


Half the animals on display are indigenous to Mexico, and most every creature found in this area is represented – jaguars, pumas, coyotes, ocelots, tlacuaches, coatimundis and quite a few bird and reptile species among them - crocodiles and iguanas included.


The Zoo also has a nice restaurant with a wide variety of Mexican dishes and snacks for your enjoyment, as well as an assortment of reasonably priced zoo tour packages designed to cater to your paticular interests.


For those unable to visit the zoo in person, the tiger cubs and many other animals can be seen on the zoo's website: ZoologicoDeVallarta.com.

Located just south of Vallarta in the jungles of Mismaloya, Zoologico de Vallarta is open daily from 10 am to 6 pm. For more information, call (322) 228-0501, click HERE or visit ZoologicoDeVallarta.com.
---
Nacen 3 Tigres de Bengala en Zoológico de Vallarta
PVNN


Zoológico de Vallarta orgullosamente se complace en anunciar el nacimiento de sus nuevos cachorros. 3 tigres de bengala naranja especie nativa de la india la cual se encuentra en peligro de extinción. Se nació estos en perfectas condiciones de salud y con la simpatía característica de su especie.


Estamos seguros que con sus travesuras en muy poco tiempo lograran ganarse el corazón de los visitantes que acuden de diferentes partes del mundo para admirar este parque zoológico enclavado en medio de la selva en el hermoso Puerto Vallarta.


Les brinda la oportunidad de interactuar con mas de 100 especies animales provenientes de diferentes partes del planeta. También hacemos la invitación al publico en general a visitar nuestro sitio web www.zoologicodevallarta.com y sugerirnos los nombres con los cuales les gustaría que fueran bautizados estos simpáticos cachorritos.


Para más información así como fotografías, favor de visitar ZoologicoDeVallarta.com o comunicarse a los teléfonos (322) 228-0501 y 228-0955.

Tell a Friend
•
Site Map
•
Print this Page
•
Email Us
•
Top