Entertainment | Books | December 2009
The Savage Garden by Mark Mills Reviewed

Alex Gomez - PVNN
December 06, 2009

The novel begins dreadfully; then ends and begins again. The first two pages are written by Adam Strickland's girlfriend, Gloria, leaving him to wonder if the two years of studying "all that Beowulf and Chaucer, and Sir Gawain and the Green Knight" have led her to write such drivel.


Both the scene and the novel change almost immediately, and Adam finds himself confronted with a note from his thesis advisor, Crispin Leonard, telling him to meet with him at once. The professor dismisses his early attempts at a paper, as well as his lazy attempts to justify them, and advises him to head to the Tuscan hills, just south of Florence, to assume a new course of study in an incredible garden at Villa Docci, where he'll find that "art and nature come together," etc. Adam is hooked at the mere mention of Italy and replies, "Yes, please." And why not? All his expenses are to be paid by Cambridge University.


Thus, Adam's sleepy train ride to Italy begins, only to awaken him temporarily in Milan; then fully in Florence a few days later. He finds himself disappointed in the city he had so idealized in his now overthrown thesis. After taking a taxi to a neighbouring town, he finds that, despite its commanding position and the steep walls that surrounding it, San Casciano was unable to withstand Nazi occupation and Allied liberation. Soon he finds lodging at the Pensione Amorini, which survived the war (ended some nine years before) relatively intact. When he meets its owner, the widow Signora Fanelli, he is reminded of a "stringier version of Gina Lollobrigida in Trapeze," a pleasing thought to our hero.


At this point, it becomes obvious to the reader that Adam will have a fling with his hostess. He's a randy twenty-two-year old heterosexual, after all; and has been left felling somewhat inadequate by Gloria, who, before his departure, dismissed him as being rather "boring" and "bland."


The next day Adam trudges to Villa Docci, and finds that, while it is not as grand or large as he had expected, it nevertheless has symmetry and even a certain majesty. Maria, the furtive and unfriendly housekeeper, who had been expecting him, meets him at the door. She appraises him "as if he were a horse she was thinking of betting on (and leaving him with the distinct impression that she wouldn't be reaching for her purse anytime soon)."


Soon, he meets with La Signora herself, Francesca, a seventy-something woman with an abundance of silver hair. It turns out she speaks perfectly correct English, thanks to her father, an unabashed Anglophile, and has a personal acquaintance with professor Leonard. She leads Adam to the loggia (an Italian word for covered, pillared balcony) off her bedroom for his first view of the ancient garden. Adam is immediately entranced.


The next day he begins his exploration of the strange, mysterious sixteenth century garden, filled with sculptures, grottos and little caves; designed by a grieving Docci ancestor for his late wife, Flora. Eventually Adam realizes, from the arrangement of the sculptures in it, that the garden has a story to tell; rather like an enormous, life-sized puzzle. He sees connections to Dante's Inferno and its nine circles of Hell, and soon realizes that the story is that of a man who poisoned his philandering wife.


Adam soon meets the rest of the Docci family, including Francesca's beautiful granddaughter Antonella, a couturier, her uncle Maurizio and his wife Chiara: along with Fausto, a disaffected former soldier, and Signora Fanelli's lover. In the midst of all these intriguing acquaintances, Adam's elder brother Harry, a sculptor who is prone to mischief in the way of illicit liaisons, arrives at the villa, and Adam falls in love with Antonella.


Antonella tells him the location of the key that opens the top floor of the villa, which as been sealed and forbidden to all since the war, and once he realizes that another murder was committed there, Adam begins to wonder if he has uncovered the secrets of the villa entirely on his own, or through an elaborate set-up on the part of the much-conflicted Docci family, and their heretofore unforeseen connection to his Cambridge professor.


The Savage Garden is Mark Mills' second novel, on the heels of his first international bestseller, Amangansett. It is a literary thriller and mystery, and one that I recommend highly. One reviewer, too keen for my liking, compared Mills to Dan Brown, for the way in which the author peppers his novel with enticing clues. He would have done better to compare him to E.M. Forster, an earlier British writer who set two of his own alluring novels in Italy. In the end, both authors write with a humanist's eye, beautifully and eloquently.
---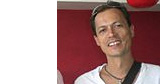 Alex Gomez is an award-winning writer, who'd die if he couldn't write. To date, he has written numerous short stories, hundreds of articles and two serious novels.

Click HERE to read more articles by Alex Gomez.
Tell a Friend
•
Site Map
•
Print this Page
•
Email Us
•
Top