Entertainment | Books | December 2009
A Short History of Tractors in Ukrainian Reviewed

Alex Gomez - PVNN
December 17, 2009

I've read this book twice now; the second time in order to be able to review it. I enjoyed it the first time; the second time was better. As with my reading of Arturo Perez-Reverte's The Queen of the South, the second reading delivered more significant detail than the first.


My second reading of Tractors led me to ingest its complexities better and appreciate its pitch-black humour even more. The premise of this book is hilarious from the first, but the tragedy in it became more pronounced the second time around.


The premise is this: an eighty-four Ukrainian émigré to England, an engineer named Nikolai, decides to remarry, two years after the death of his wife Ludmilla; and the woman he wants to marry is a thirty-six-year-old Ukrainian woman with enormous breasts and bleached blond hair, with a pubescent son named Stanislav.


Nikolai's daughters, Vera and Nadia, are outraged by his happy news. They have been squabbling pettily for years over their mother's inheritance, but come together to stop the marriage, because they rightly regard Valentina as a gold-digger who wants to enjoy the luxuries offered by a life in England, and wants her son to have a "cambridge/oxford education."


Nadia has one daughter to Vera's two, and is convinced that Vera, while caring for their dying mother, convinced her to divide up her small fortune amongst her granddaughters, meaning that divorcée Vera's family gained more from her inheritance.


While Tractors was nominated for both the Orange Prize and the Man Booker Prize, it has had its detractors, mostly men, and obviously men who don't enjoy reading about the lives of women. One such detractor is fellow Ukrainian writer Andrey Kurkov, who goes so far as to call Tractors banal and the story it tells unenlightening in regards to the 'Ukrainian ethnic group' in England.


Might this be because Kurkov once worked as an agent of the KGB and self-published with money he borrowed from friends, after being rejected by publishers at least five hundred times? Interestingly, Kurkov has been criticized by the English Ukrainian community for continuing to write in Russian. Lewycka, a teacher at Sheffield Hallam University, writes in English.


Tractors is anything but banal, and I, who in Canada was a member of an ethnic minority, certainly learnt a great deal about Ukrainians and the Ukraine from it. For example, of the twenty million Russians slain by the time of WWII, at least half were Ukrainian, and Stalin starved approximately ten million of these to death.


Many of those who survived Stalin met their end at the hands of the Nazis, when transported; along with Jews, homosexuals, criminals and the mentally ill, to Nazi labour camps. Nikolai and Ludmilla were lucky to have survived at all, and after they accepted the British offer of relocating in England, continued to live their lives as though they were being hunted down by the secret police, and as though their food supply would run out at any given moment.


In fact, this book led me to better understand and appreciate my Canadian grandparents' Ukrainian servants, Dora (the cook), who oversaw a Canadian maid, and Peter (the driver) who oversaw the maid's husband, a gardener. My mother and uncle both loved Dora and Peter and considered them family, and brought up their children to do the same.


After my grandparents' deaths, Dora and Peter prospered and bought an enormous house of their own, to which our families were invited regularly and treated with relentless generosity and hospitality. While Dora and Peter were not exactly refugees from the Ukraine, they had close ties to the Ukrainian community in Ontario, and often invited my family to parties and socials held by Ukrainian community centres.


But back to Tractors. With the help of various doctors and solicitors, Nadia and Vera manage to rescue their father from Valentina, to the point that Nikolai, after his new bride abuses him vocally as well as physically, is able to divorce her. In the meantime, Nikolai has been writing a history of tractors, beginning with the first one invented in the Ukraine, and the social costs and advantages of this technology. Tractors has passages of Nikolai's oeuvre strewn throughout, and these serve to elucidate the condition of humanity in relation to machines, and, metaphorically, to the wealth of the West.


Towards the end of the book, Nikolai's family becomes whole again, and Vera and Nadia put their differences aside at last, especially as Vera (War baby) finally tells her younger sister (Peace baby) of her experiences in the family's flight from the Ukraine, the terrible fate of their grandmother, her experiences in a Nazi labour camp with their parents, and their father's tendency to idiotic behaviour, for all his intellectual aspirations. Their family is extended temporarily to include that of Valentina's first husband, Stanislav's father, as well as the baby girl that Valentina gives birth to while in England, whose own father remains unknown.


The novel approximates at its end with a quote from Nikolai's book: And so I leave you with this thought, dear reader. Use the technology which the engineer has developed, but use it with a humbling and questioning spirit. Never allow technology to become your master, and never use it to gain master over others.


As for Nikolai, once he accepts his transfer by his daughters from his overlarge house to an assisted shelter; he ends the book by performing Yoga's Sun Salutation.
---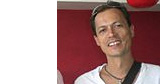 Alex Gomez is an award-winning writer, who'd die if he couldn't write. To date, he has written numerous short stories, hundreds of articles and two serious novels.

Click HERE to read more articles by Alex Gomez.
Tell a Friend
•
Site Map
•
Print this Page
•
Email Us
•
Top