Health & Beauty | December 2009
Inner Beauty: It's All About Attitude

Eddie Ortiz - PVNN
December 28, 2009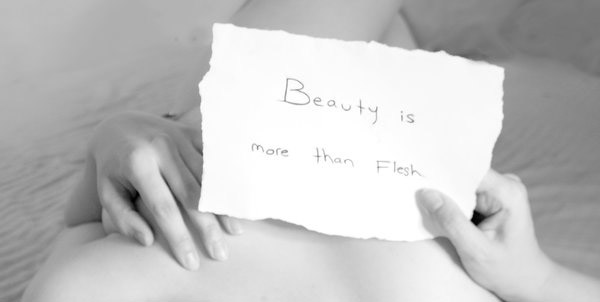 True beauty is about what kind of person you are, not how beautiful your looks are. (photo courtesy of whatismykarma.com)
The holidays are here, and so far I have spent all of December either going to Posadas and trying to catch up with myself, or behind the chair getting people ready for holiday parties, family visits, trips to be with family, and let's not forget those famous family photos that we usually dread looking at later. It wasn't until recently that I was able to step away from the chair and see clearly.


What I saw was all this energy and time being spent on preparing for the party, for the picture, for the right dress, the right jewels, and even the right table. God forbid I would have sit down next to someone who wasn't worthy of my presence for whatever reason I have in my head about how great and beautiful I am.


Before leaving for the holidays I saw a very special client of mine, when I say "special" I don't mean picky, difficult, rude, or even famous. I say "Special" because of who and how she is. Always polite, kind, helpful and patient. In my opinion it's rare when a client has all those qualities. She came in and she was obviously thinner, and looked great, and even had a glow of peace about her.


For those who think that "glow" isn't real, or that it's an invented expression, I can tell you with confidence that it is real, and that something can trigger that glow in all of us. It might be losing 5 pounds, or making a decision that has been difficult.


After talking with her a bit, she shared with me the abuse she has been taking for some time now, and that one day she woke up and said, "NO MORE! This is not what I want and it's not the life I want for myself!" Respecting her privacy, all I will say is that is where her 'glow' came from.


I know I have had my share of challenges in life, love and career so I can relate to her story and growth. I believe there is magnetic magic in beauty, and in general, any person gets attracted by beauty. It might be an object (shoes), nature (our beautiful beaches here in Mexico), or a person.


We have all found ourselves taking a second or third look at someone. God knows I've walked into a wall trying to get a second look. If a person goes for beautiful object or nature, it will not change that person's life, but if the same goes for a person of beauty, then comes the situation of his or her life being changed - hopefully forever. My client is a great example of this. In her case, it was her own inner beauty and power that she was able to connect with and that gave her the "glow".


We are so programed to look for beauty in the other person but it is not always good and healthy to go for outer looks alone. As we often hear the saying, "Beauty is only skin deep", we need to look for inner beauty also. What I have learned working with people all these years, and especially on television, is just because you are beautiful on the outside, doesn't mean you are beautiful.


Going to gym, getting botox, are great and are all for the exterior part of ourselves, but what about the infrastructure of who we are, does that play a part in our exterior beauty? I say, "Yes!" It worked for my client, not only did she lose 10 pounds, but she also finally got a new haircut to go with her newfound love.


The love for herself is what showed up that day for her appointment, not the abused overweight woman I knew. When there is outer beauty, one's mind is happy. When there is inner beauty one's soul is happy, this is where the "glow" comes from. Only when there is a balance between these two can there be harmony between two hearts.


In my conversations with women and especially young girls, I share that inner beauty is very important. One can live with a lame or a dumb person. But one cannot lead a happy life with an insensitive and heartless person. For any life to be satisfactory or fulfilling, understanding is essential and primary. So if you plan to marry someone just because you're attracted to that person's looks, pause a little. Observe his or her qualities, mentality and behaviour for a while and then proceed. My client re-connected with her inner beauty and it shows. She, like many of us, thought that one's outer beauty defines who they are.


Being away from behind the chair always helps me see clearly. And I believe it helps me connect with people on a real level, especially in a business where I provide a service to help you look good on the outside. No one on this earth is perfect.


If you see a beautiful person, you may think that person is gifted with happiness. If you see a person who is not that beautiful, maybe you tend to feel sorry for that person. But what do you know? She or he might be leading a very happy life though not beautiful, while a beautiful person's life might have been lived in chaos. So, it is wise to ponder on this simple truth: True happiness and satisfaction lie within the Heart rather than in the Skin.


My client is the example of this, and I hope the new fresh and sexy hairdo I gave her had some guys walking into walls.


Eddie Ortiz has been a professional licensed stylist and make-up artist for 28 years. Having trained in California at the Paul Mitchell Training Center in San Diego and the Vidal Sasson Education Center in San Francisco, his work as a freelance stylist and make-up artist have appeared in national magazines such as Glamour, XY, Bon Appetit, and Entertainment Weekly. His television credits include Fox News, CBS Productions, ABC News and CBS Evening Magazine. Today, Eddie lives in Puerto Vallarta and works at Salon Diva's in Plaza Marina.


For more information about the luxury salon and spa services available at Salon Diva's, click HERE.
Tell a Friend
•
Site Map
•
Print this Page
•
Email Us
•
Top