Entertainment | Restaurants & Dining | December 2009
Kaiser Maximilian Scallop Ceviche Recipe

Laura Gelezunas - PVNN
December 09, 2009
How to make Kaiser Maximilian's Puerto Vallarta Gourmet Festival Guest Chef Jeremy Kittelson's Scallop Ceviche.
If you missed the 15th Annual Puerto Vallarta Festival Gourmet, which took place at some of the finest restaurants around Banderas Bay from November 12-22, 2009, you can continue to enjoy Guest Chef Jeremy Kittelson's Gourmet Festival menu at Kaiser Maximilian through December 14th.


During the 15th Annual Festival Gourmet, Guest Chef Jeremy Kittelson stirred things up in the Kaiser Maximilian kitchen. Jeremy is the Executive Chef at Avondale Restaurant at the Westin Riverfront Resort & Spa in Beaver Creek, Colorado, which features fine dining and a varied menu.


He was impressed with the variety and amounts of fresh produce and seafood available almost year-round in Puerto Vallarta and could not resist the tempting melons, so he came up with a great version of a local favorite, Scallop Ceviche.

For the Scallop Ceviche

1 pound of high quality sea scallops
Juice of 3 limes and 3 lemons


Remove the small white muscle that is around the scallops and discard. Slice the scallops into 1/4 inch thick discs. Combine the scallops with the citrus juice and chill in the refrigerator for 30 minutes.

Mojo Verde

1 clove of garlic, inside removed
1/2 t of Espelette chili
1 avocado
pinch of cumin
3/4 c of sherry vinegar
2 c of cilantro
Salt and pepper to taste


Combine the first 5 ingredients together in a blender with 2 Tsp of cold water. Blend until the mixture is a smooth puree.


Add the cilantro to the mixture and puree until smooth. The shelf life is one day.

Lime-Ginger Vinaigrette

1 T of ginger, shredded
1 c of fresh lime juice
1/4 t sesame oil
1/4 c honey
1 T Dijon mustard
2 1/2 c of extra virgin olive oil
Salt and pepper to taste


Combine the ingredients into a mixing bowl and mix until it is emulsified. Season to taste and add more oil if necessary.

For the Fruit Garnish

8 pieces of watermelon cut into silver dollar sized discs
8 pieces of cantaloupe cut into silver dollar sized discs
8 pieces of honeydew cut into silver dollar sized discs
1 mango, diced
1 tablespoon cilantro, chiffonade
1 tablespoon of minced jalapeño, no seeds
Dash of Tabasco sauce
2 tablespoons of fresh lemon and lime juice
Salt and pepper to taste
Fleur de Sel to finish

For Assembly

Place 1 Tsp of Mojo Verde on the plate and spoon it out in a circle.


On a chilled plate, lay down the scallops and melons in a checkerboard pattern. Sprinkle the scallops with fleur de sel.


In a small mixing bowl, combine the mango, jalapeño, tabasco, candied ginger and yuzu vinaigrette.


Spoon the mixture over the scallops and melons. Top the dish with the fresh cilantro and serve right away.


Enjoy!

Open Monday-Saturday from 8 am to 11 pm for breakfast, lunch and dinner, Kaiser Maximilian Restaurant & Cafe is located at Olas Altas #38B in the Zona Romántica of Puerto Vallarta. Closed Sundays. Visa and MasterCard accepted. Reservations recommended. For reservations call (322) 222-7981 or visit KaiserMaximilian.com


Click HERE to read more about Kaiser Maximilian.
---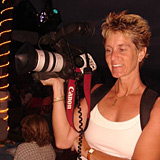 After having spent 10 years in the world of US broadcast news, Laura Gelezunas decided to unleash her skills on Puerto Vallarta by opening Video Diva Productions, a full-service, professional digital video company. Whether you're interested in a sales video, WEBmercial, music video, feature story, documentary, or corporate event video coverage, she has the experience, equipment and talent to coordinate a professional production. For more information, visit her website at VideoDivaProductions.com.
Tell a Friend
•
Site Map
•
Print this Page
•
Email Us
•
Top