Entertainment | Restaurants & Dining | December 2009
Sounding Off: Restaurant Gripes

Ed Schwartz - PVNN
December 03, 2009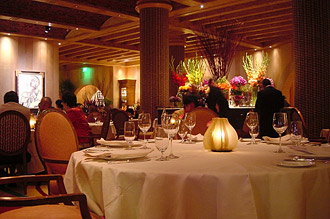 Some of the best times in my life have been dining out in dining places all over the world — about 5000 dinners on the towns and counting. (photo by healthline.com)
By way of introducing the topic, I am an ardent restaurant lover. Some of the best times in my life have been dining out in dining places all over the world — about 5000 dinners on the towns and counting. I've worked for many and have about 200 reviews under my belt. I also am aware that running a fine restaurant is the toughest business in the world.


O.K. - this by establishing my credentials for listing my top ten gripes about restaurants. This is in no particular order, but my worst gripe is the one last listed. No fair peeking.


Diners, waiters and restaurant owners please take note.


1. Thumbs down when a restaurant runs out of the special by 6:30 pm. It couldn't have been that special. Also not disclosing the cost of the special, especially when the cost is twice that of any other item on the printed menu. Tell people in advance so that there are no bad feelings at the end of the meal.


2. I just hate it when a wine list is so expensive I wince. I was in an uber-fancy restaurant in New York where every California Cabernet was over $100 USD a pop, even those costing the restaurant $10 tops. The wine steward, in a double breasted brown suit, no less, asked me if I were having trouble making a selection. I told him that I was and then simply closed the wine book and asked him to bring me the cheapest wine he had. Now it was his turn to wince. I got a nice Sauvignon Blanc from New Zealand along with a dirty look and it was way under $100 — the wine, not the look.

Moral: don't be intimidated, especially by a guy in a brown suit with a French accent. You may know more about wine than he does. Beer is a good choice, too.

3. Walking into a fairly empty restaurant, even with a reservation and the host says, "Your table will be ready in just a few minutes," then sticks you at the bar to buy a cocktail which I don't like. So I sit there, not ordering and I am soon seated. I do not like to get annoyed just before the appetizer.


4. Near the end of the dinner, the waiter brings a check and says, "No rush, you understand, but here's the check, just in case." In case of what? — a fire in the kitchen?

This is my big night out... give it five more minutes.

5. Clearing one plate from someone in our party that is a fast eater when no one else is finished. Please, staff, don't clear the plates until everyone is finished. It is simply rude and makes most people still eating feel rushed.


6. Gristle.


7. Strange takes on classic dishes. Here's one - ordering smoked salmon and have some overly creative chef decide to grace it with some strange and ugly-tasting mustard-laced sauce without specifying such a sacrilege on the menu. Another time I ordered crab cakes and the dish came with curry sauce slopped all over it. Crab cakes should look and taste like crab cakes. What's wrong with that?


8a. Discovering a cockroach in the soy sauce bottle after I had liberally sprinkled my dish with the sauce and had eaten it... It only happened once in my life, but that was enough.


8b. When the server asks for the fourth time, "How is everything?" If you really look at the faces of the diners, you don't have to ask.


9. When you come into a restaurant and the first strong whiff is a blast of pine disinfectant assaulting your nostrils. Can't someone make a disinfectant that smells like onions and garlic?


10. Vertical food. I just hate dishes where everything is piled on top of one another just for the sole purpose of achieving height. One time I ordered a dish of fish, mashed potatoes and pureed beets and what came out was a bed of mashed potatoes, on top of that a blop of pureed beets and a hunk of fish on top of that. So my potatoes tasted like beets, my fish tasted like beets and were red and I when I deconstructed the dish my plate looked like a bloody mess. Save the architecture for Frank Gehry or Renzo Piano.


Thanks. Now, may I have the menu?


Ed Schwartz has been involved in many aspects of fine wine for 30 years and has worked with top wineries in California, Italy and France. His writings on wine, food and travel have appeared in the SF Chronicle, LA Times and Image magazine.

Click HERE for more articles by Ed Schwartz
Tell a Friend
•
Site Map
•
Print this Page
•
Email Us
•
Top