Health & Beauty
In Mexico, Ladies Ring in the New Year in Brand-New Underwear

William Booth - Washington Post
go to original
January 02, 2010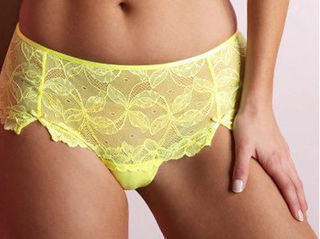 It is a popular New Year's ritual for women in Mexico to don fresh briefs to ring out the old and ring in the new - red for love and yellow for wealth.
Mexico City - A visitor here might be confused when suddenly, at the end of December, there appears in street stalls and market bins a mountain of underwear for sale. At subway stops, in grocery aisles, in department stores, it's all about ladies' undergarments, and always in the colors red or yellow. The recently arrived might take a guess. A bitter sporting rivalry? The Red Devils against the Yellow Hornets? Nope. It is a popular New Year's ritual for women in Mexico to don fresh briefs to ring out the old and ring in the new, and apparently nothing says Happy 2010 like a pair of bloomers - red for love and yellow for wealth (and no fair wearing both).


Because the choice of a color signifies one's aspirations for the coming year, newspapers in Mexico send out reporters to quiz vendors about the national mood, and as 2009 - a year of soaring drug violence and deep economic tremors - shuddered to a stop, the vote was clear.


"Yellow. That's all they want. I am selling twice as much yellow as red," said Lucia Mendoza, making some last-minute sales on New Year's Eve on the sidewalk outside the central market in the capital's Coyoacan neighborhood.


Milenio News reported a go-go market for yellow. El Universal found yellow ahead by a mile. Makes sense. Mexico's $1 trillion economy shrank by more than 7 percent in 2009, the hardest-hit in Latin America, a victim of the recession in the United States, Mexico's No. 1 trading partner. Everybody here is ready for a jump-start in 2010.


The donning of red and yellow panties is a relatively new phenomenon in Mexico, which values its old holiday traditions but appears ready to try on another one. New Year's Eve is usually celebrated with a late dinner of turkey or cod at home with family and friends drinking punch and waiting for the fireworks. At the stroke of midnight, Mexicans gobble a dozen grapes, making a wish with each one.


There are plenty of superstitions. Wishing to travel more in 2010? Pack a suitcase and walk around the block. Going through a rough patch? Spill water on the walk in front of your home, and all the past year's tears will be washed away.


"This will be a tough holiday season in Mexico, as we have a crisis that is very rough," said Guadalupe Loaeza, a columnist for Reforma newspaper and author of satirical books about the foibles of the rich and infamous.


Loaeza is a traditionalist. If she wants something in the new year, she eats grapes. The underwear fad is just kitsch. "It's a vulgar custom," she said. "It's not even Mexican, or even American, and it is just an import, probably from somewhere in Latin America. This red underwear thing is the height of bad taste. If someone were to give me a pair, I would say, better to give me the money and let's buy something worthwhile."


María José Díaz, an editor of a magazine devoted to horoscopes, said: "Until recently, you only saw the red panties, but then they started selling the yellow, yellow for gold, for money. It was a commercial decision."


Díaz said that she was not a fan of the phenomenon herself but that she gets the idea. "Half the people wear them and believe that it might bring them love or money, but the other half just wears them for fun, because maybe they just like to show off their red underwear."

Researcher Gabriela Martinez contributed to this report.
Tell a Friend
•
Site Map
•
Print this Page
•
Email Us
•
Top