News from Around Banderas Bay
A Fine Day at Los Muertos Beach in Sayulita

Ed Schwartz - PVNN
January 22, 2010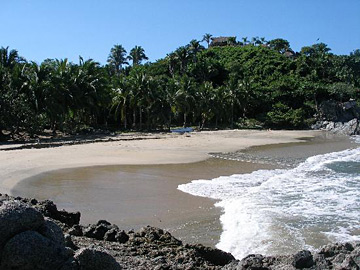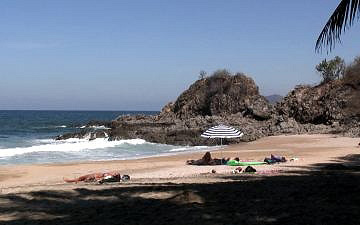 Los Muertos Beach is a beautiful spot, couched between rock promontories and a world away from the relatively busy main beach in Sayulita.
Storms have brought a lot of rocks to the main beach in Sayulita, bad for tender feet, so today we rode through a mini-jungle to get to beach option number two - Los Muertos. The road to Los Muertos is just this side of navigable; it's almost like a bad amusement park ride.


The small beach was almost empty - about the same number of pelicans in the water as humans; about 10 of each. I never stop admiring those large but graceful birds dive-bombing for fish, or how they glide over the water so close to the surface but never touch. Some were just 25 yards away, so I was able to study their diving technique; how they fold back their wings just at impact. On this day, they hardly ever came up empty-beaked.


The water was clear with no rocks but the waves came in very forcefully and frequently; one tumbling on top of the other. A strong wave knocked me down at the knees as soon as I entered the water. A bit of a surprise, but the water was very pleasant for this time of the year, even while studying wave conditions from my sitting position. Two of them broke over me while I was trying to get back on me feet.


The water brought me out of my lethargy in a hurry. You want to take in all the scenery at once — especially the birds flying right over your head - just 20 feet above you. That intense blue sky and a few white clouds making a stunning visual impression. A couple of young people on surfboards were showing everyone that they had a lot to learn.


There were a couple of toddlers on the beach. What a wonder it must be for them with all those new textures and temperatures and beach life. You can see it from the delighted expressions on their faces. Playing on the beach was one of my first pleasant memories and it makes me feel good that I can still have those same feelings and see them on others.


At the end of our afternoon visit, a small fishing boat came in and the beach suddenly became very alive. A pick-up truck arrived just as the boat pulled up. Five men in the boat started scooping up the fish, all red snapper, into plastic milk cartons filled with ice.


Two men lugged the cartons to the truck. Then the truck pulled away to, I suppose, sell them to restaurants that will account for the catch and serve them up for customers tonight. Tomorrow, we will try to replicate this very fine day.


Ed Schwartz has been involved in many aspects of fine wine for 30 years and has worked with top wineries in California, Italy and France. His writings on wine, food and travel have appeared in the SF Chronicle, LA Times and Image magazine.

Click HERE for more articles by Ed Schwartz
Tell a Friend
•
Site Map
•
Print this Page
•
Email Us
•
Top