News Around the Republic of Mexico
Mexico's Lucha Libre Wrestling Takes on U.S. Foe: WWE

Chris Hawley - Arizona Republic
go to original
January 18, 2010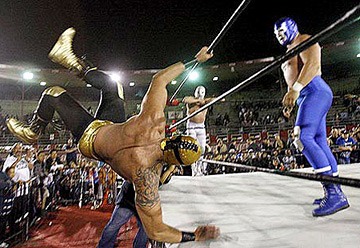 Both WWE and lucha libre feature "good guy" and "bad guy" characters acting out simulated violence. But the similarities don't go much further. (Los Angeles Times)
Mexico City - It was fight night, and the souvenir vendors were out in force around Arena Mexico, mecca for the Mexican style of pro wrestling known as lucha libre.


There were satin lucha libre masks for sale, posters of such Mexican legends as Blue Demon and el Santo, and action figures of such current Mexican wrestlers as Místico. But 5-year-old Jorge Rodríguez had his eye on a T-shirt featuring Jeff Hardy, an American and former star from World Wrestling Entertainment, the U.S. league.


"I like them better. I'm going to have a WWE birthday party!" he gushed.


In a country that's intensely proud of its wrestling tradition, the WWE is making an unprecedented push to win over Mexican fans, signing new television contracts, striking merchandising deals, launching a magazine and bringing its muscle-bound stars south of the border for live events.


"We've been working quite diligently (in Mexico) over the last couple of years," said Andrew Whitaker, executive vice president of WWE International. "It's a sea change in our brands and story lines."


Fans say the WWE's style, with lots of dialogue and soap opera-style plots, is gaining in popularity over the masked, mostly silent, intensely acrobatic lucha libre, which is Spanish for "free fighting."


Wrestling fans south of the border may take advantage of WWE's biggest annual event, which will hit Arizona this spring. Wrestlemania, which is the dramatic culmination of the year's story lines, is expected to fill University of Phoenix Stadium in Glendale with more than 60,000 fans in March.


WWE's success in Mexico and other foreign markets helped the company post a 2 percent gain in third-quarter revenue last year, compared with the same period the previous year, despite a tough economy.


But it has also created a glut of wrestling on Mexican TV that has combined with Mexico's still-serious recession to eat into ticket sales, said Salomon Duarte, a writer for Mexico's Boxing and Wrestling magazine.


Joaquin Roldán, chief executive of the Mexican wrestling company known as AAA, said his company, formally known as Assistance, Consulting and Administration Inc., has seen ticket sales fall 20 to 30 percent.


AAA's main Mexican competitor, the World Council of Lucha Libre, or CMLL, declined to speak to The Arizona Republic. But at some recent CMLL events, more than three-quarters of the seats were empty.


"It's a real invasion," fan Carlos López said as he looked over WWE action figures for sale outside Arena Mexico. "They're out to kill off lucha libre."


Whitaker said the WWE has no intentions of killing lucha libre. But in the past two years, WWE seems to be everywhere in Mexico, from the sides of buses in Mexico City to bags of potato chips.


WWE has signed new deals putting its weekly shows on both of Mexico's television networks, as well as several cable providers. A chain of movie theaters shows WWE matches live.


In 2009, the company opened a Mexico City office and held 12 live events in Mexico, up from two in 2004.


Unique art form


Inside Arena Mexico, the battle between Guerrero Maya and Escorpión had exploded out of the ring and into the front row of seats. Guerrero Maya sailed over the ropes, locked his legs around the neck of Escorpión and spun in midair. His opponent did a forward flip and crashed to the floor, inches from the spectators.


The acrobatics, masked heroes and a general lack of chatter are the main trademarks of lucha libre, said Heather Levi, a Temple University anthropologist and author of a book about the sport.


Both WWE and lucha libre feature "good guy" and "bad guy" characters acting out simulated violence. But the similarities don't go much further.


(Lucha libre is) "much more active than American wrestling," Levi said. "In U.S. wrestling, they talk for 10 minutes and wrestle for one. In lucha libre, it's very intense athletics for 20 or 30 minutes."


Pro wrestling in Mexico dates to 1933, when a promoter brought four wrestlers from the United States for an exhibition match, Levi said. The shows quickly became a popular attraction in poor neighborhoods. Most wrestlers held day jobs, so they wore masks and kept their identities secret.


Lucha libre has since become a fixture of Mexican culture, with wrestlers appearing in art, political campaigns and dozens of B movies.


Growing competition


WWE has offered pay-per-view events in Mexico since the 1990s. But income from those events has soared since the weekly shows debuted on Mexico's broadcast networks, Donna Goldsmith, WWE's chief operating officer, told analysts in a conference call in November.


Mexicans also are flocking to WWE's live events, shelling out $19 to $150. The turnout helped drive average attendance at WWE's foreign events up 38 percent this year, from 6,600 to 9,100.


Although Mexican fans are willing to pay to see U.S. stars once or twice a year, Duarte said, they're cutting back on weekly lucha libre events. He blamed an oversupply of televised wrestling: Along with the WWE's two weekly programs, CMLL matches air twice a week and AAA matches once a week.


"There's wrestling on television practically all week," Duarte said. "People say, 'Why should I pay for a ticket when I can watch it at home?' "


The WWE competition is already having an effect on Mexican stars, Duarte said. There has been a move toward bigger, more muscular stars, and the AAA has been experimenting with better-developed WWE-style plots for its events.


Outside Arena Mexico, T-shirt vendor Jaime Rojas said WWE merchandise accounts for 30 percent of his sales, up from 2 or 3 percent five years ago.


"The kids really like the WWE," he said, as little Jorge and his mother disappeared into the night with a Jeff Hardy T-shirt.

Tell a Friend
•
Site Map
•
Print this Page
•
Email Us
•
Top