Entertainment
Los Bambinos Wow at Viva Bar!

Polly G. Vicars - PVNN
February 08, 2010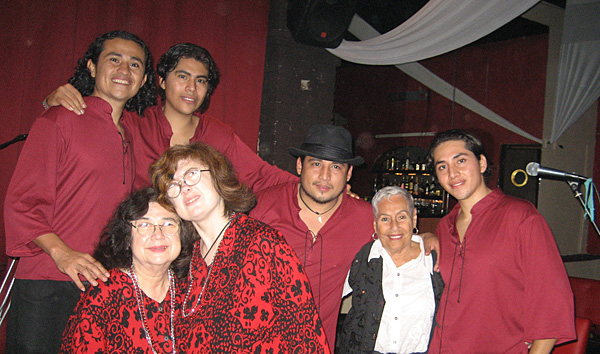 Los Bambinos with Sweet Talk and their biggest fan
On February 5th, Viva Bar was packed to the rafters with a plugged-in crowd whoopin', hollerin', singin' and dancin' to Los Bambinos renditions of the likes of the Beatles, the Monkeys, Chubby Checker, the Four Seasons and most of the world's other popular rock and rollers.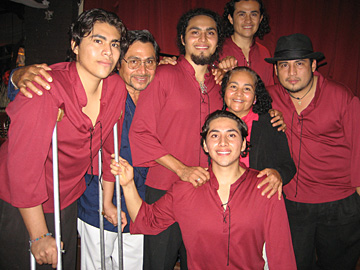 Los Bambinos with Mama & Papa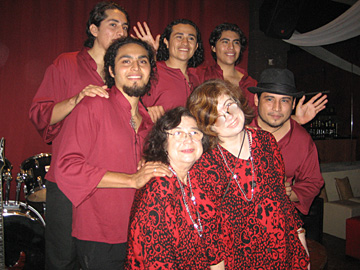 Los Bambinos & Sweet Talk: Linda Marie and Mother Rose Marie Mayer
The show, conceived and produced by Los Bambinos, opened with an original acappella that moved into The Lion Sleeps Tonight featuring the amazing voice of cousin Luis, who is equally at home belting out the lyrics with his incredible range of voice or banging on the bongos or the drum kit. Youngest brother, Giorgio, was back with his broken ankle on a footstool, his crutches near by and his beautiful smile and clear strong voice intact.


Carlos, Lazzaro and Immer took front and center to sing, play and put on some moves never before seen from these handsome guys. In addition to playing and singing, Immer displayed his sense of humor as the group's spokesman in his ever-improving English. Lazzaro exhibited his skills on both electric and acoustical guitars and of course Carlos, the leader of the group, did it all! Mixing exciting Spanish music with the rock and roll, the crowd just couldn't get enough.


When guest entertainers "Sweet Talk" Rose Marie and Linda, a Mother-Daughter duet from far away Oregon, took the stage and began to sing Proud Mary accompanied by Los Bambinos, the whole audience was soon 'Rolling on the River' and demanding more songs from this amazing duo.


After "Sweet Talk" it just got better and better ending in a medley of Frankie Valle and the Four Season's greatest hits. Having just seen "Jersey Boys" in Las Vegas, I can tell you that Cousin Luis gives Frankie a run for his money!


Thunderous applause filled Viva Bar when the guys bid us goodnight but no one was letting Los Bambinos leave. The encore of Corazon Espinado left the audience happy, content and ready to come again to hear this group of four brothers and a cousin known as Los Bambinos. Not sure when, but will keep you posted!
---

Polly G. Vicars and her husband of almost 60 years, Hubert (a.k.a. "Husband") retired to Puerto Vallarta in 1988 and soon became active members of several charitable organizations. Polly is the author of "Tales of Retirement in Paradise: Life in Puerto Vallarta, Mexico" [a sell-out!] and "More Tales of Retirement in Puerto Vallarta and Around the World." Proceeds from the sale of her books go to the America-Mexico Foundation, a scholarship foundation that is their passion.

Click HERE for more articles by Polly Vicars, or click HERE to learn more about Becas Vallarta and the America-Mexico Foundation.
Tell a Friend
•
Site Map
•
Print this Page
•
Email Us
•
Top