2nd Annual PEACE Jam - February 5th

Molly Fisher - peacemexico.org
February 04, 2010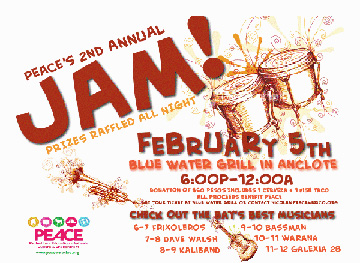 Click image to enlarge
Don't miss the 2nd Annual PEACE Jam hosted at The Bluewater Grill in El Anclote on Friday, February 5th from 6 pm to 12 am. You'll enjoy live music, good people and delicious food, while supporting PEACE, a nonprofit organization made up of four main programs, which focus on education, entrepreneurship, animal well-being, and community engagement in the Southern region of Nayarit, Mexico.


Tickets are $60 pesos and include a complimentary Cerveza and a fish taco. Several of Banderas Bay's best musicians will be joining us, including:


Los Frixoleros: 6-7 pm
Dave Walsh: 7-8 pm
KaliBand: 8-9 pm
BassMan: 9-10 pm
Warana: 10-11 pm
Galexia 28: 11 pm-12 am


Come prepared to groove and have fun! We will be raffling off prizes and selling amazing PEACE products. For more information, contact nicole(at)peacemexico.org.
---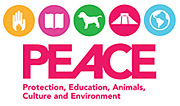 PEACE: Protection, Education, Animals, Culture and Environment, is a nonprofit organization established in 2005, made of four main programs which focus on education, entrepreneurship, animal well-being, and community engagement in the coastal regions of Nayarit, Jalisco and Quintana Roo, Mexico. Through innovative and community based programs, PEACE is working to improve the quality of life in local communities throughout the Bahía de Banderas. For more information, please visit PeaceMexico.org or click HERE to read more about PEACE