Entertainment
A Trio of 'Bandas' in Sayulita Plaza

Ed Schwartz - PVNN
February 24, 2010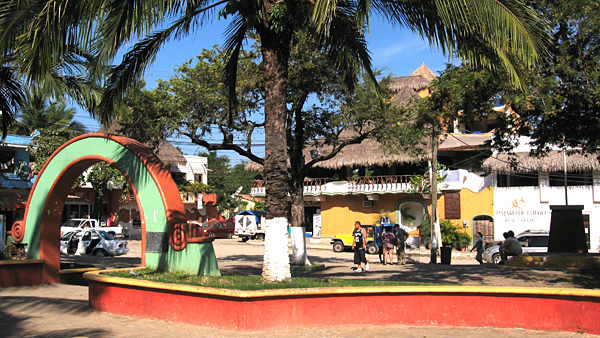 Sayulita, only 25 miles northwest of Puerto Vallarta, is the perfect place to enjoy the culture and color of Mexico. (photo by PromoVision)
We went down to the Sayulita Plaza a couple of nights ago. There were several bandas going at it. A banda, to refresh the memory, is a musical group with the following instrumentation - more or less - two trumpets, three trombones, one euphonium, one tuba, two clarinets and a bass drum with cymbal and a snare drum. It is a brass band. Many of the tubas look as if they had been through a war.


To my ears, the main object of a banda is to play very, very loud and to finish at the same time. The drums are in the center and everyone else plays around them in a semi-circle, loud or louder. Intonation is not exactly a core value. Each group has a name and a uniform of sort. Once in a while there is a male singer with a microphone which gives him the ability to project over the din. And, it is a din.


One banda playing is very exciting. Two bandas playing at the same time are a bit disturbing. Three bandas playing at the same time, with two dogs barking, one dog baying and a nut case dancing around the square barefoot with his shirt off, is mind blowing and not just metaphorically.


Three bandas playing will clear up a sinus condition, assuming you have one. In order to get the full, stereophonic effect, one has to place oneself in a line where all the noise — I mean, music — intersects.


A banda, like olives, is an acquired taste. The folks in the square were a mixed crew — Americans, Mexicans and a several babes in arms with their mothers dancing the two step. The kids run around. It is not possible to hear a banda without smiling occasionally at the determination of the group. Why they decide to all play at the same time is certainly a cultural distinction.


The only time I ever heard anything like this is at the Mariachi mass around Thanksgiving time in Puerto Vallarta. After the service, I have seen, and heard, 8 to 10 Mariachi bands in the square playing at the same time with their supporters around them. Very festive.


I am not sure if a banda is native to Jalisco. We have been around many cities and towns in Mexico and we never heard a banda until we located in Sayulita. Even, now, in our house, many yards from the center of town, we can hear the music carrying up Revolución. Wild!


Ed Schwartz has been involved in many aspects of fine wine for 30 years and has worked with top wineries in California, Italy and France. His writings on wine, food and travel have appeared in the SF Chronicle, LA Times and Image magazine.

Click HERE for more articles by Ed Schwartz
Tell a Friend
•
Site Map
•
Print this Page
•
Email Us
•
Top