Entertainment | Books
Donna Leon's Dressed for Death - Reviewed

Donna Leon's Dressed for Death - Reviewed Alex Gomez - PVNN
February 22, 2010

This author was recommended to me by one of the owners of A Page in the Sun, who knows the kind of thing I like to read; as well she should, she's my sister. Since then, I've read four or five of Donna Leon's mysteries, and I'm amazed at her originality, when every book she writes has the same cast of characters and the same location: Venice, Italy and its surrounding areas.


The star of all her books (more than sixteen so far) is a man named Commissario Guido Brunetti, of the Venice police force; his wife Paola, a Contessa, as well as a distinctly leftist, enthusiastic English literature professor from one of the oldest Venetian families, their children Raffi and Chiara, Brunetti's loyal lieutenant, Lieutenant Scarp, and their boss, the vain, self-serving, lover of celebrity, Vice-Questore Patta. Patta's secretary, the lovely and intelligent Sigorina Elettra, often works with Brunetti and uses her many contacts (underground or otherwise) to assist him in solving crimes.


The story of Dressed for Death begins with the discovery of a pair of red women's shoes in a field outside an abattoir in Mestre, centred in an industrial park, which Leon gruesomely describes; the pollution, the stench, as well as the reason many people choose to be vegetarians. Commissario Brunetti is called to the case because the other three commissioners are out of town, and because he's been ordered to by Patta, who could care less that Brunetti has plans to go away with his family to the mountains, in order to avoid the sweltering heat of Venice. (Ha!) When he arrives on the scene, it has already been established that the owner of the red shoes is a man who has been beaten to death and had his face bashed in, and thus left unrecognisable.


The men from the slaughterhouse, as well as an imbecilic Sergeant Buffo (I suspect that Leon named him this way for a reason), who immediately make homophobic remarks about the case, lead Brunetti to wonder why people can't be more discriminating in their hatred; why they can't hate the Christian Democrats or the Liberals or even people who hate homosexuals.


Then at home for dinner (Leon always takes the trouble to describe food, (authentic Italian food, that will make anyone hungry just to read of it), which Paola is preparing, he tells her of his new case and asks, "Don't you find these men strange?"


She answers that she finds the men who pay for them stranger, and points out that at least the men who dress up as women aren't deceiving themselves. She says something along the lines of 'the men who pay for them will return to their wives, pretending that nothing had happened, and safe in their heterosexuality because they gave it, they didn't take it.'


I admit, at this point, I would have agreed with Paola, were it not for a most interesting conversation I had on the subject with a friend of mine, originally from Mexico City. He told me that there, he'd had many transvestite friends and they'd informed him that, more often than not, it was the customer that took it and the trannie that gave it. This made perfect sense, because in a twisted way, the straight man who wanted to be penetrated could fool himself into thinking it was all right, because it had been a woman who'd done it.


For any straight men out there that would like to experiment this sort of thing (and don't pretend you don't), please make sure to do it safely, for the sake of your wife or girlfriend, if not your own — with any prostitute, not just male ones.


As the story unfolds, typically for Leon, it becomes more and more complex and difficult to make sense of. It soon turns out to involve a religious group that is renting out impossible-to-acquire apartments in Venice, meant for the needy, to transvestite hookers and otherwise undeserving people.


Two respected and much-admired Venetian lawyers turn out to be involved in this situation, as well as the murder of who turns out to be a concerned bank manager set up and murdered as a cross dresser. With Donna Leon, as with Agatha Christie and Ruth Rendell, I don't even bother to try to solve the crimes they describe. I prefer to sit back and enjoy the ride to the end.
---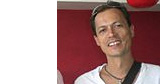 Alex Gomez is an award-winning writer. he's written numerous short stories, hundreds of non-fiction articles and two serious novels. Writing makes him happy and nothing can kill him now.

Click HERE to read more articles by Alex Gomez.
Tell a Friend
•
Site Map
•
Print this Page
•
Email Us
•
Top