Yoga Satisfies My Body, Mind and Soul

Alex Gomez - PVNN
February 12, 2010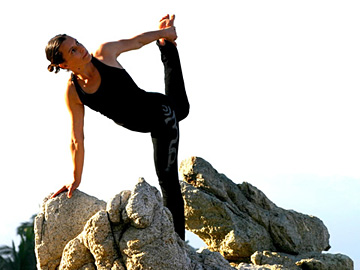 When possible, Anna hosts an entirely original Sunset Yoga Class on the rooftop of her house, which ends with a ten-minute meditation and eyes opening on another spectacular Vallarta sunset.
Puerto Vallarta - At Davanna Yoga, the class always begins in the same way. We are led in a Sanskrit chant, Om, Shanti, Shanti, Om (All is one, Peace, Peace, All is one). It vibrates out of me, to commingle with the chants of the other students around me. The room vibrates with our chants.


Then we begin to do yoga, either with a downward dog, or the cat posture, or a suryanamaskar, Sun Salutation. The sun and moon are revered, the opposites—yin/yang. For me, most classes are about confronting my fears, about doing strange, sometimes difficult things with my body, without falling over sideways or onto my ass. And I do confront them, every time. I am liberated from them in this way, I become more open. Although I'm supposed to focus only on myself and the things within me, I can scarcely restrain myself from watching my Yogini, my teacher, or the other students around me to compare how I'm doing. I am given a reassuring smile by the teacher, and focus on myself again.


I first met Anna Laurita in Maito, a beautiful, virtually unscathed and unknown place, with her husband and her three children. Gracie, Jack and Max make fast friends of my niece, Gabriela and nephew, Santiago. My sister engages Anna's husband David in conversation, and I watch, awestruck, as Anna goes from the downward dog to the wheel. I've never seen this done before; I'd never even known it could be done.


Then she comes to teach at Yoga Vallarta, the school I then attend. When a friend tells me she has opened her own school, I walk from Manuel M. Dieguez to the corner of Corona and Matamoros. I walk up the stairs around the corner from the bank at Libertad. At first this takes my breath away, but after a few classes, it becomes an easy thing to do, and an exciting thing as well.


I love yoga, which I've been doing more or less since I took a class with my friends at the age of seventeen, interspersing it with aerobics, Tae Kwan Do, and weight-training. But nothing satisfies my body, mind and soul quite like yoga.


Anna is perfectly bilingual, as I am, and as are most of her students, whom I begin to get to know. One inspiring woman I meet at Davanna is Artemisa, whose age surpasses that of any of the other students. She amazes me; I want to be like her, eventually; still doing yoga in my later years.


It doesn't take long for me to become fascinated by Anna, and the things she is able to do with her body. I have to find out more about her. She seems permanently content, and always smiles, encouragingly and acceptingly. I have to find out more about her, besides the snippets I overhear about her life in China, in Brazil, where she learnt Portuguese. I email her three simple questions, and what she replies is more than enough to write this article, perhaps even two.


Anna began practicing yoga in Katmandu, Nepal, a place more ancient and esoteric than Guelph, Ontario, where I began. She continued her training with specialized teachers; in Iyengar, (a style taught to me by Mikki Prost here in Vallarta for five years). She went on to study Pranayama, the art of breath control, which is crucial to yoga.


After this she studied Hatha Yoga, or Sun and Moon Yoga, which is comprised of all the essential Yoga Asanas, or postures. When she met Master Duncan Wong and did his Yogic Arts, a combination of Ashtanga Yoga, Dance, and Buddhist Kung Fu, she knew it was the style she would teach.


I myself learned Ashtanga from a manual I downloaded from It's Yoga in San Francisco, back when the manuals were free of charge. Once in San Francisco I attended two of their classes, and took Ashtanga for a week here in Vallarta, along with Mikki Prost.


Anna, while living in Pudong, China, taught Yoga China at the American Club. After she became a registered teacher in the Yogic Arts style, she travelled to Los Angeles to study The Radiant Child programme and become a certified child yoga instructor in the Kundalini style.


In 2008, after having taught around Banderas Bay for one and a half years, David and she opened the Davanna School in 2008, on the ground floor of their beautiful house, the location of which I have already cited. In 2009, Anna began a Yoga Alliance Registered Teacher Training Program, the only one of its kind in Puerto Vallarta, and to date has successfully trained seven teachers from various countries, including Mexico. This program qualifies a teacher to teach anywhere in the world.


Anna is humorous, kind and considerate of her students. You couldn't ask for a better teacher. She, like every other Yoga teacher I've ever had, watches over her students and takes the trouble to correct or assist in their postures, and moderates the practice according to her students' needs.


I am happy to have found her, because we are similar in that we both like challenges. Yoga keeps me healthy, strong and flexible. It also helps me to maintain my mental stability and leads me on my unique, totally unreligious, spiritual path. As such, I can't over-recommend yoga at Davanna Yoga.


Anna hosts three classes daily, or has them hosted by a qualified substitute teacher; and when it is possible, she hosts an entirely original Sunset Yoga Class on the rooftop of her house, which ends with a ten-minute meditation and eyes opening on another spectacular Vallarta sunset.
---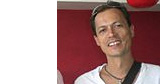 Alex Gomez is an award-winning writer. he's written numerous short stories, hundreds of non-fiction articles and two serious novels. Writing makes him happy and nothing can kill him now.

Click HERE to read more articles by Alex Gomez.