Health & Beauty
Therapeutic Massage at Aura Spa

Mark de Leon - PVNN
February 15, 2010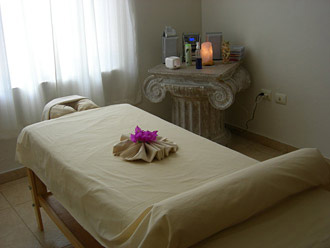 For appointments or more information, one can call locally at (322) 209-1000 or call Ada her on PV cell phone at 044-322-141-3943. Email: ada_auraspa(at)yahoo.com.mx
The Aura Spa is located on calle Albatros #285 which runs on one side of Plaza Marina. Although instructed by phone it was a "few blocks" behind the Marina, they are quite long blocks. The location may seem somewhat inconvenient for those coming from outside of the Marina, but the place certainly must be a true gem for those who live in or frequent the Marina, as well as for those that go the distance to find it from outside of the Marina.


Once I arrived, I was greeted by two friendly people, the younger of the two was Lidia. The place was clean and neatly kept, inside and out. Lidia was truly professional and seemed to really enjoy her work. Although deceived by her youthful appearance and thinking that I would have not chosen the younger of the two that were there, as age can often indicate experience.


Lidia turned out to be a wonderful massage therapist. She asked me a few questions before beginning, and I indicated to her that I wanted a more deep full force massage. Lidia has wonderful hands and knows what she does very well. I received a very deep massage, and was quite taken away by how I felt afterwards.


I have been for several massages in Vallarta, about four per year, and the massage that I received at Aura Massage was by far the best I have experienced anywhere in Vallarta. The cost may be somewhat higher than the bargain prices found elsewhere, however when looking for, or in need of, a truly good therapeutic massage, the price often becomes less important than what you get out of it.


My only complaint was that at times she seemed to use a little too much force on a couple of sore areas, which made me a little sore for days afterward. I did however, ask for the deeper full force massage, so that could be my own fault.


In the end it was worth going the extra distance for what was clearly the best massage I have had in Puerto Vallarta in six years.


For appointments or more information, one can call locally at (322) 209-1000 or call Ada her on PV cell phone at 044-322-141-3943. Email: ada_auraspa(at)yahoo.com.mx
Tell a Friend
•
Site Map
•
Print this Page
•
Email Us
•
Top