News from Around Banderas Bay
ITF Wheelchair Professional Tennis Tournament Held at Canto Del Sol Tennis Club

Bob Cohen - PVNN
February 07, 2010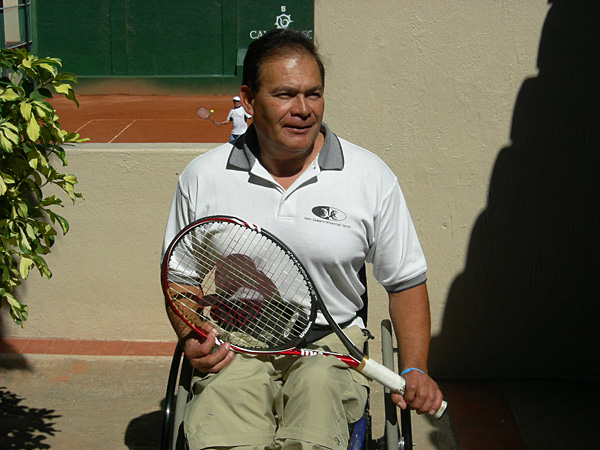 Dr. Rene Corona, founder and president of the Mexican Whelchair Tennis Association at the Canto Del Sol Tennis Club during the Mexican Open.
The Canto Del Sol Tennis Club held a new professional tournament from February 4th - February 7th that was ITF (International Tennis Federation) sanctioned. It didn't feature the Mexican professionals that we have been used to seeing in Puerto Vallarta, but we were able to see a wheelchair tennis tournament, most of us for the first time. The real story was not about the outcome of the tournament, but learning and watching the sport played by those in that are physically disabled and have to play in wheelchairs.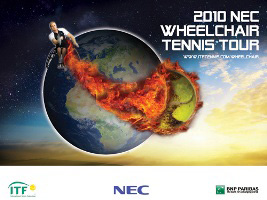 I was fortunate enough to meet and speak with the founder and President of the Mexican Wheelchair Tennis Association, Dr. Rene Corona, who is a 54 year old dentist from Mexico City. Corona, who was born with polio, started to play tennis at the age of 38. Rene taught me about the growing sport that has been a part of the ITF since 1992 with 11 international tournaments. He founded the association in Mexico City just a year after it became a recognized sport.


To quote how far and popular wheelchair tennis has become; from the ITF website, "by 2000, the number of tournaments had reached 130 events in 37 countries and the 2009 NEC Wheelchair Tennis Tour topped 150 tournaments for the very first time, with 151 tournaments in 37 countries taking place during the season. The 2010 NEC Wheelchair Tennis Tour is set to feature 156 tournaments.


Once again in 2009, the NEC Wheelchair Tennis Tour boasts more than $1 million in prize money, while the Tour enters a new era this year, with the wheelchair events at the four Grand Slams now yielding the most world ranking points available to players.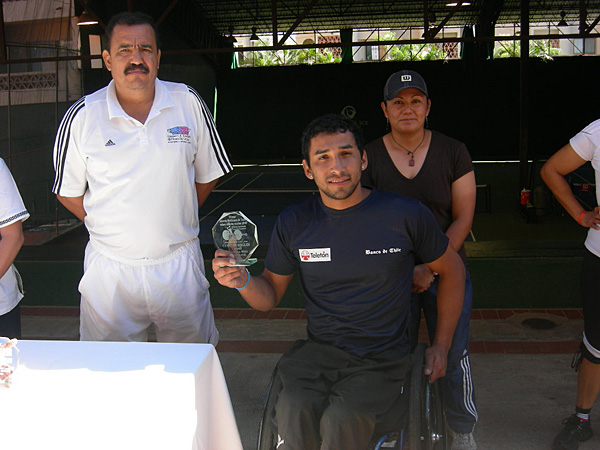 Robinson Mendez of Chile won the tournament and is a Top 30 player in the world, here picture with Canto Del Sol Tennis Director Martin Parra at the awards ceremonies.
The sport has clearly elevated itself to another level. Tournaments offer various divisions allowing all players a chance to compete at an appropriate standard of play. The No. 1 ranked male and female players at the end of the year are honored as the Wheelchair Tennis World Champions during the ITF World Champions Dinner held at Roland Garros".


Wheelchair tennis is also a part of the Paralympics Games, starting with a demonstration in the Seoul, South Korea Games in 1988 and became a full medal sport in the Olympic Games beginning at the 1992 Barcelona Olympics.


Dr. Corona is the top ranked player in Mexico, even at 54 years of age and his world ranking was as high as #38 in the world in 2002 in singles and #72 in the world in doubles in 2005. Rene traveled extensively throughout the world in 2002-2005 in constant competition. His first pro tournament was in 1994, his second in 1995 and in 1996 he traveled to Australia, Japan, Atlanta (for the Paralympics Games) and California. He backed off his schedule and went full force beginning in 2000, playing in the Paralympics Games in Australia. In 2001 he opened with four tournaments in the U.S., and then competed in Switzerland. In 2002, his best year he made the round of 16 in singles and won the doubles title at the U.S. Open, clearly a highlight for anyone's resume. He has 55 career singles victories and 29 career doubles victories. Wilson Sporting Goods is also his sponsor.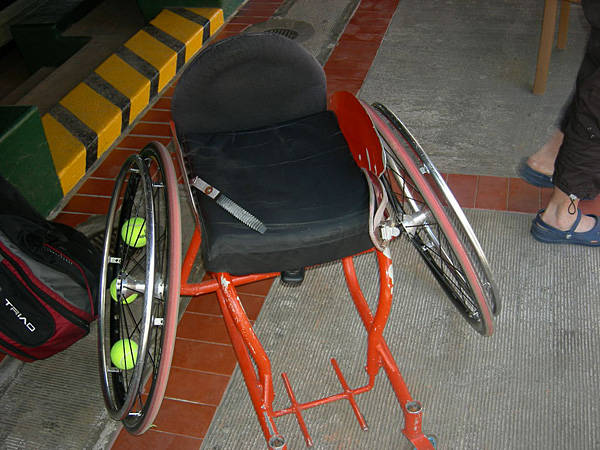 The wheelchairs used are pictured here. Note that the whels are bowed out for balance and rapid changes of direction during competition.
He took a couple of years off and has played in just a handful of tournaments a year since then. This tournament was his first since April, 2009. Currently his world rankings are #401 in singles and #309 in doubles. I asked him what his equivalent would be for a player that uses his legs and not a wheelchair and he told be he would have a good match against a solid "B" player right now. Under his supervision there are now four professional tournaments a year in Mexico and 60 players, most of them are from Mexico City. He is also the official correspondent for the ITF Wheelchair Tennis in Mexico.


Dr. Corona's sports conquests have not just been on the tennis courts. He was won four Paralympics medals in other sports. He medaled twice in swimming and twice in racing. His best was a silver medal he earned in Holland in 1980 in the 100 meter sprint. Quite a resume and he has also done quite a bit of dental work.


Rene was the runner up in this tournament held at the Canto del Sol. The winner was a much younger 25 year old Robinson Mendez, who came to play all the way from Santiago, Chile. Mendez is currently ranked #29 in the world in singles and #32 in doubles and started playing tennis at 16, and then turned pro at 19. At his peak ranking in 2006, he was #11 in the world in singles and #13 in the world in doubles. His career has taken him to five continents and he has played regularly since he turned pro. He has 136 career singles victories and 107 in doubles. Of course Robinson can reap the rewards of a full schedule of tournaments that people like Rene Corona helped pave for him and others.


The next time I complain about my aches and pains, I will think about how fortunate I am to have been born healthy and still am on my original limbs. Of course everything is subject to change, but spending some time with Rene Corona helped to put things in perspective.

Tell a Friend
•
Site Map
•
Print this Page
•
Email Us
•
Top