News from Around Banderas Bay
PV Little League Results & Highlights - Regular Season Week Two

Bob Cohen - PVNN
February 23, 2010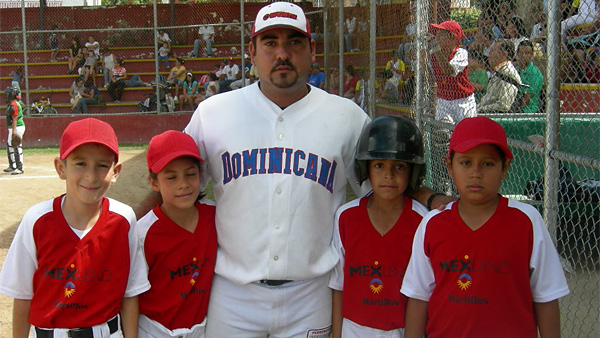 Mexlend Martillos coach Osiris Garcia surrounded by four of his speediest players.
Things are changing and exciting things are also happening in the Puerto Vallarta Little League. The league completed Week Six Saturday but league officials came to a very equitable decision on how to handle the schedule and the addition of the two new teams after the third week of play. Thus, Week Six will now be officially changed to Week Two with an explanation below.


Also added were two T Ball teams made up of six and seven year olds and they are sponsored by and named VIP and Home & Style. The magazine owners bought the youngsters full uniforms and are team sponsors. They play their games every Thursday afternoon at 4:00PM and are a treat to watch. The parents probably get more excited watching Puerto Vallarta's future baseball stars than any other age group. We welcome VIP and Home &Style and the 30+ youngsters into the growing Puerto Vallarta Little League.


For the two divisions, (9-11) and (12-14), there will now be one full season and not a first and second half as previously determined. Due to the fact that La Cruz (12-14) and Pelagic (9-11) came into the league late, the first official week of play will be the week that the two teams joined the league, which was after Week Four. Therefore the first four weeks of play were deemed unanimously by coaches and league officials to be exhibition games. The official league start date was changed to Saturday, February 13th.


Of course this changes the standings, but it was deemed the most equitable way to accommodate the new teams and also permit the teams that had virtually no baseball experience a fair chance to compete with four exhibition games under their belt. Even undefeated BanderasNews.com and the PV Yankees agreed to the amended change.


Then officials had to determine how to handle the playoff system, which changed due to the single season. The solution was superb. There will be eight total weeks of play; this past Saturday was the second week. That will allow all five teams in the 9-11 and 12-14 year old divisions to play each other twice, one as a home team and once as a visitor. The winner of each league after the eight weeks will automatically qualify directly to play in the finals, which will be a best 3 of 5 series.


The best part of the playoff system is that every team will have an opportunity to play in the playoffs, thus anyone can be crowned champions. The 2nd place finishers in both age divisions will play the 5th place finishers in a 2 of 3 series and the 3rd place finishers and the 4th place finishers will play another best 2 of 3 series. The winners of those series will face of in another best 2 of 3 series. The team that is the survivor and winners of those two rounds will face the first place team for a best 3 of 5 game championship series. In June two teams will be the new champions of the Puerto Vallarta Little League.


The older (12-14) team is from La Cruz, and the other team (9-11) is made up of more kids from Puerto Vallarta and is named Pelagic. The league is looking at what will be needed to join part way through the season, but the La Cruz team already has uniforms and also a sponsor. Due to the fact that there are now five teams in each division, every three weeks will be a bye week for one team. We have received partial sponsorship for Pelagic and are still looking for someone or a group to help sponsor the team as well as league expenses that will include expenses for regional playoffs. Anyone interested can contact me at a1abob(at)yahoo.com.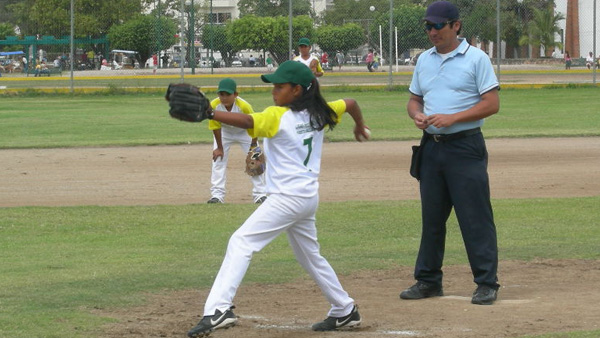 Teatro Limon brought in Jocelyn Ontiveros who pitched two scoreless innings in her teams victory.
Games were again played on both the baseball and softball fields this past Saturday and again there were two thrilling games. In the 9-11 division, Los Picosos and the Mexlend Martillos faced each other in the second game on the softball field. The Mexlend team has been improving each week and is made up of younger players than any other team and Los Picosos have been a steady high scoring winning team. Coach Osiris Garcia has been working on base running fundamentals with his team and after two innings it showed as the Martillos jumped out to a 9-3 lead and the game has all appearances of a big upset victory for Mexlend. Bases were stolen at every opportunity and the daring Martillos confused Los Picosos.


Los Picosos however, who can never be counted out with their big bats, scored seven runs in the following two innings and held Mexlend without a run to take a 10-9 lead after the 4th. Mexlend held and tied the game with a run in the bottom of the 5th at 10-10 with just the 6th inning to play. The Picosos bats erupted for9 big runs and Mexlend could only manage 3 in the exciting 19-13 victory for Los Picosos, who vaulted into first place at 2-0.


The other thriller started very late due to a long ride into PV for the La Cruz team in the 12-14 year old division after their religious trainings were finished. Their opponent was BanderasNews.com who has been in a couple of battles but have yet to be defeated. La Cruz jumped out to a 6-0 lead heading into the bottom of the 2nd, where Banderas News scored 5 runs to cut the lead to 6-5 and then held La Cruz scoreless and added 4 more runs to lead after three innings 9-6.


The well dressed new addition from Nayarit exploded for 9 big runs in the top of the 4th and Banderas News responded with 3 runs and La Cruz led 15-12. La Cruz was held scoreless in the top of the 5th and Banderas News batted around twice, scoring 13 runs in their half of the 5th to open up the close game to lead 25-15. La Cruz managed 2 runs in the 6th for a 25-17 Banderas News victory.


In the opening game of the day in the 12-14 year old division, Teatro Limon, beaten only once in six games and only by a single run faced an inexperienced but still improving Las Rocas team. Teatro Limon led 2-0 after one inning and extended their lead to 10-0 after the 2nd inning. Three more runs made it 15-0 after three innings and Las Rocas needed at least five runs to extend the game due to the mercy rule. They only scored once at Teatro Limon won 15-1. Look for Las Rocas to improve and we see a win in their near future against tough competition.


The second 9-11 year old game had the undefeated PV Yankees facing the new Vallarta team named Pelagic. As any new team that has a number of kids that are new to baseball, the learning curve is factored in. The Yankees scored virtually at will and the game was terminated after three innings due to the mercy rule. Pelagic will improve through good coaching and practice. It is a price that any successful team has to pay in any sport and at any level.


We are all excited about the new format and the quality of play. We are also happy to see the stands full of parents and friends who are cheering the kids on. After 15 years of no Little League baseball in Puerto Vallarta, Saturdays are a day that many kids look forward to.


Standings thus far after the revised two weeks of play: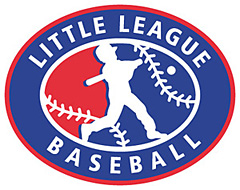 For donations, sponsorships and further information we urge you to contact Bob Cohen at bob(at)banderasnews.com


12-14 Year olds:
BanderasNews.com 2-0
Teatro Limon 2-0
Sage Hill 0-1
La Cruz 0-1
Las Rocas 0-2


9-11 Year olds:
Los Picosos 2-0
PV Yankees 1-0
Mexlend Martillos 1-1
Pipis Restaurant 0-1
Pelagic0-2


This Saturday's schedule is as follows:


Sage Hill (0-1) vs. Las Rocas (0-2) - 11:15AM on the softball field
Teatro Limon (2-0) vs. La Cruz (0-1) - 1:15 PM on the softball field
Mexlend (1-1) vs. Pelagic (0-2) - Noon - Left field on the baseball field
Pipis (0-1) vs. PV Yankees (1-0) - Noon - Right field on the baseball field


Week off: Banderas News and Los Picosos


Don't forget the T Ball game on Thursday at 4:00PM on the baseball field in left field.


Come out and join us for games each week beginning at 11:15 AM. We hope to see everyone watching Little League in Puerto Vallarta every week.

Your support provides endless benefits for Banderas Bay area kids, who will develop the qualities of citizenship, discipline, teamwork and physical well-being by participating in Puerto Vallarta Little League Baseball. To learn how you can help, send an email to Bob Cohen at bob(at)banderasnews.com. For more information about Puerto Vallarta Little League Baseball, click HERE.
Tell a Friend
•
Site Map
•
Print this Page
•
Email Us
•
Top