News from Around Banderas Bay
Two Sayulitans Win Honors in the World of Tequila

Ed Schwartz - PVNN
February 13, 2010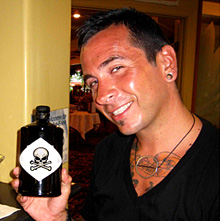 Gabbi Villarubia's hot tequila website, SayulitaTequilaJournal.com, is one website that will tickle your tequila fancy.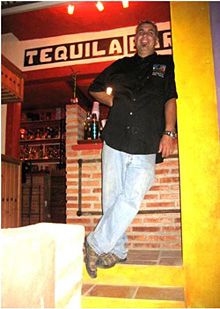 Mark Alberto Holt's Sayulita Fish Taco Restaurant & Tequila Bar is located on Sayulita's Main Plaza. For more information, call (329) 291-3272.
When I first came to Sayulita, the first person I met was the property manager of a condo in Villa Amor, Gabbi Villarrubia. The fourth person I met was Mark Alberto Holt, who had recently opened a tequila bar named the SFT Tequila bar, right on the square.


As fate would have it, we would all become friends, supporters and, in the case of Gabbi and Mark, celebrities in the world of tequila, flourishing like a blue agave plant under the hot sun in Jalisco.


Gabbi introduced me to Mark because he knew that I had promoted wines and spirits when I was a working stiff in San Francisco. (I now am a non-working stiff). Mark had this great bar up and going and wanted to hire me to do some kick-off promotions. I agreed, provided that Gabbi, a tequila expert and expert drinker, would be part of the team.


Getting publicity for Mark was like drinking a great margarita, not hard at all.


Mark has passion, knowledge, and hundreds of tequilas. Plus his tequila joint is in Sayulita, a place of interest to gringo editors. We got out a press release, made some calls and the first "hit" was in Playboy Magazine's well-read website. Soon, the SFT Tequila Bar was rated one of the top tequila bars in Mexico and beyond and was written up in many drinks publications and websites in the United States.


Gabbi, with little prodding, decided to start his own tequila website. He sent the first couple of stories to me by email, looking for advice and direction. I gave him both — "Don't change one word!" is what I told him. Gabbi has a unique writing style and outlook as well as being a great visual artist. It was the best advice I ever gave anyone, and he took it to heart. His website is clever, wild, interesting, informative and at least three more adjectives, including a bit bizarre. And why not?


Now, his creativity has paid off. His website has just been voted one of the Top 10 Tequila Websites by Taste Tequila.


His blog is very well-written with original content ideas, like "Patron vs. Cuervo" and "Mixtos, Bum Wines, Cheap booze and more drunk for your buck." He quips, "I don't have a drinking problem; I have a drinking solution." His advice to writers, and good advice it is, too, "Don't write unless you have something to say that you want out there. Don't write for an invisible audience; write for yourself. If you like it, your readers will, too."


Go to SayulitaTequilaJournal.com. Get to know Gabbi and you will never be the same!


Ed Schwartz has been involved in many aspects of fine wine for 30 years and has worked with top wineries in California, Italy and France. His writings on wine, food and travel have appeared in the SF Chronicle, LA Times and Image magazine.

Click HERE for more articles by Ed Schwartz
Tell a Friend
•
Site Map
•
Print this Page
•
Email Us
•
Top