News from Around Banderas Bay
Vallarta Fishing Experience: Yellowfin Footballs, Rooster Fish, Striped Marlin, They're All Here!

Stan Gabruk - PVNN
February 03, 2010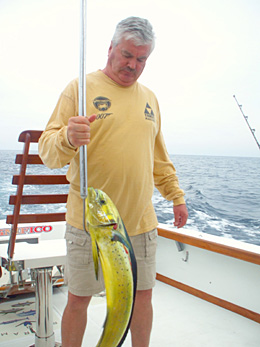 On their January 27th 8 hour fishing charter, the Metzelaar Party caught this Magnifico Dorado.
These days trying to figure out what the next days fishing conditions are going to be is almost impossible. One day you're boating fish at a supersonic pace, the next day you might think it was a day dream. Chasing fish where they were yesterday may or may not be a good way to plan for the following day. It all comes down to the Captain and Crew you have. There is no substitute for experience.


Location, currents, tides, moon phase, and the list could go on forever! These are all relevant factors that have to be considered. The more you've been on the water, the more tales and experience you have to have. It's also a known fact that some captains come in with fish even when others are making excuses. When winter hits with full force, and things get slow, this is when the real Captains (walkers) will be separated from the excuse makers (talkers).


This week the "walkers" were coming in with Yellowfin Tuna from El Banco (aka The Bank). Some days they were football sized, other days they were in the 140 lb range. And yet again, you might be in for a giant disappointment, especially if some low rent agent told you Moby Dick was just outside of the bay! Remember, there are no truth in advertising laws in Mexico. Those with the bones and the fuel budget for the most part came back with fish, but not always the exact fish they wished for.


If you have an open mind and a willing spirit, El Banco is always worth the effort. Bottom fishing here is always productive with Rainbow Runners, Amber Jack, and Cubera Snapper. There are always Marlin in the area anywhere from 275 lbs to 450. Sailfish also love the high spots with the abundant bait. Dorado have been hitting 45 lbs here as well. For the most part, there are more reliable spots to choose from unless you're shooting for size.


One frustrating factor is finding fish, then not being able to interest them in what you're presenting. Squid is something any self respecting fisherman will take the responsibility to find. Even Puerto Vallarta has a WalMart, so there really is no excuse for coming in empty handed when the experienced Captains keep some on the boat at all time. Again, experience can make or break your trip amigo, especially now when it's not like fishing in a bucket!


Corbeteña has also been slow. Not many boats heading out there this week from Marina Vallarta as things slow down with tourism a touch. Those heading to Corbeteña have been having mixed results. Mostly smaller fair with Cubera Snapper, Smaller Sailfish, Yellowfin Tuna footballs, Jack Crevalls to 40 lbs, and the normal other players. Again, more bang for your fishing buck elsewhere...


The reefs around Sayulita have been the place to be this week. Anywhere from the point or Islands (Big Rocks actually) off Punta Mita up north to San Pancho has been the place most charters have been heading out to. But the chase fish scenario is applicable here.


Starting the day off heading anywhere from eight to fifteen miles out from San Pancho has seen some decent Striped Marlin action. Hook-ups were fairly common with Marlin in the 325 to 450 lb range. Sailfish are here as well, but nothing to write home about. Dorado has been in and out as well, but when they're in, they're in the 25 to 40 lb range. Perfect for the blue plate special that evening and a perfect way to end a day!


With so much action in the area it has been hard to recommend other locations. Large Rooster fish in the area have been the saving factor for charter guys like myself. Running in the 40 to 65 lb range, fifty inches or longer, some days you can boat fifteen or more. But remember to throw them back. If you've been told Rooster Fish taste bad, not good eating, then you've been lied to as well. I tried some not so long ago (keeping an open mind) and was surprised how "unterrible" it was! So if you boat one, take it Victors Café Te Cuba and he will fix you up. But don't drink all the tequila he will feed you, it kicks like a mule in the morning!


Next week we should see conditions regarding moon phase and tides return to something a little more normal and the fishing will improve. There has not been any bait issues with plenty of live bait in the fishing grounds. The Rooster fish look to be picking up and the peso is a bargain. One last thing, remember to support our advertisers who make this publication possible!


Until next week, don't forget to kiss your fish!

Stan Gabruk is the owner of Master Baiters Sportfishing and Tackle in Marina Vallarta. He came to Puerto Vallarta for a brief, three-week vacation and never left. You can find Stan at his Master Baiters Sportfishing shop in Marina Vallarta, located on the boardwalk down from the lighthouse next to Tikul Restaurant. For more information about fishing in Puerto Vallarta, visit MasterBaiters.com.mx or email Stan at Catchfish(at)MasterBaiters.com.mx.
Tell a Friend
•
Site Map
•
Print this Page
•
Email Us
•
Top