Technology News
Migration: Lost in the Desert? There's an App for That

Enrique Gili - Inter Press Service
go to original
February 08, 2010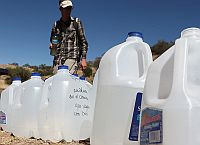 Walt Staton, a volunteer with No More Deaths, was convicted in 2009 for "knowingly littering" a national refuge by leaving water for border crossers.
San Diego, California - Over the past two decades, Ricardo Dominguez has made a career for himself tweaking the sensibilities of government officials and developing software tools meant to disrupt the status quo.


Presently, he leads a team at the University of California at San Diego that is designing a mobile application to assist migrants attempting to cross the U.S.-Mexico border.


In the future, low-cost cell phones could be placed in the hands of migrants crossing the border illegally. This summer, Dominguez hopes to distribute the phone to church groups and activists working with migrants along the border.


The wayfinding device is called the Transborder Immigrant Tool. It is an application specifically designed for migrants attempting to make the dangerous journey north into the United States.


Commonly referred to as apps, mobile applications are becoming ubiquitous as cell phones become feature-rich information managers, bundling text messaging, GPS, and digital cameras into one neat handheld device. Once the domain of business professionals, the gee-whiz gadgets are being used in new and unexpected ways.


Dominguez says the primary use of the GPS/phone device "is to offer people making the crossing a way not to die." He calculates that the wayfinding tool increases the likelihood of survival by two percent for migrants who find themselves lost in a desert renowned for its treacherous terrain.


Development of the tool is currently underway at CalLit2Lab, a multidisciplinary think tank that encourages technological experimentation. Dominguez, a visual artist, calls himself an "artivist" - part artist, part political activist - in the tradition of the Dadaist art movement that challenged conventional notions about the function of art and its process.


In the late 1990s, Dominguez co-founded the Electronic Disturbance Theatre, a group of like-minded political activists that staged electronic sit-ins against the U.S. and Mexican governments for their alleged persecution of the Zapatistas and indigenous people of Chiapas.


Dominguez wants to distribute the device as the temperature climbs into the triple digits. The purpose is to provide real-time information on the location of water caches, stashed in way stations positioned along remote desert tracks. The device would also transmit poems meant to provide comfort and encouragement to migrants.


"The phone is like a virtual Statue of Liberty," said Dominguez.


Each year, legions of migrants attempt to thread their way through the rugged terrain separating San Diego and Imperial County from Mexico's northern frontier. They risk blistering daytime temperatures and bone-chilling nights, with no potable water within easy walking distance.


As the principal investigator, Dominguez and his colleagues are field-testing the app in San Diego County where the border fence extends 22 kilometres inland from the Pacific Ocean, traversing rugged mountain terrain.


According to Dominguez, the wayfinding device was inspired by the nonfiction title, "The Devils Highway," a graphic account of lost migrants facing death from dehydration in the Sonora desert in 2001. Historically, the "El Camino del Diablo" was a desert route that linked Mexico's northern frontier with modern-day Arizona.


Issuing the phone could result in prosecution under federal law for "aiding and abetting" border crossers attempting to enter the United States in violation of USC section 1825, which refers "to encouraging or inducing unauthorised aliens to enter the United States, and engaging in a conspiracy or aiding and abetting any of the preceding acts."


Mark Rasch, a former Justice Department lawyer and security expert, observed, "It would be like you telling me that you were going to cross the border illegally, and I provided you with water and a flashlight, or more aptly, a map with a red line drawn in it."


Months prior to deployment, the GPS phone is already proving divisive. It has become the focus of heated debate among people already angry over border policy matters that pit law-and-order types against academics and human rights activists.


One person's right to academic free expression is another's unlawful activity. Forums on the OC Register, Boing Boing, and Vice web sites are spiked with acid-tongued commentary. Attitudes towards the device have become as much a part of the story as the story itself.


"We've received death threats," said Amy Sara Carroll, a professor from Michigan University who is currently visiting UC San Diego.


Such sentiments reflect the pitiless nature of the border. Conditions along the U.S.-Mexico border have deteriorated in recent years, as drug-fueled gun violence in cities such as Tijuana and Ciudad Juarez have spiraled out of control, affecting border towns in the U.S. southwest.


Security and surveillance operations meant to curtail illegal activity along the border have forced traffickers and migrants deeper into the desert and away from U.S. population centres such as San Diego (California), Tucson (Arizona), and Las Cruces (New Mexico), with deadly consequences.


A report released by the American Civil Liberties Union (ACLU) estimated that in the 15 years since the launch of Operation Gate Keeper, in 1994, between 5,000 and 6,000 migrants have died attempting to cross the border. Human rights activists decry the economic conditions that lead migrants to take such dangerous risks.


"If it saves one life, it will be worth it," wrote Enrique Morones, founder of the Border Angels, a San Diego- based advocacy group that places water caches and supplies in remote desert regions.


Daryl Reed, a spokesperson for the U.S. Border Patrol, almost seemed resigned. He noted that traffickers have used cell phones for years as a way to monitor the movements of law enforcement officers.


However, he expressed concern that the wayfinding tool might provide a false sense of security, leading to additional loss of life. "Not everyone is able to make that trek," he said.

Tell a Friend
•
Site Map
•
Print this Page
•
Email Us
•
Top