Entertainment | Restaurants & Dining
Signature Dishes in Sayulita

Ed Schwartz - PVNN
February 12, 2010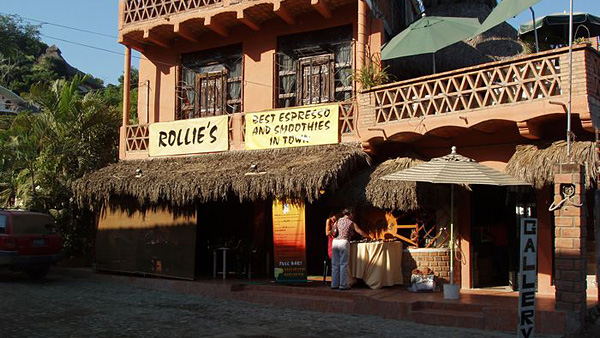 Rollies Restaurant is located at Avenida de Revolucion #58, past the zocalo and up the hill on the right side at the top of the triangle in Sayulita.
In my mind, or stomach, to be more precise, when I think of excellent restaurants, I think of notable dishes for which the restaurant is famous. And, there are several restaurants in Sayulita that make that list.


Rollie's, that famous breakfast palace in Sayulita on Revolucion, is well-chronicled for pancakes, and well it should be. Very light and fluffy, but after four of these hub-capsized pancakes, you will not be interested in lunch so much as a snooze on the beach.


At night, Rollie's has two excellent signature dishes. The first is its paella, very tasty and very authentic. This is the classic dish of Valencia, including a good lacing of saffron, seafood, sausage and chicken.


But, if you can, save room for dessert — it's an excellent rendition of chocolate gone wild. A hot chocolate soufflé-like concoction, with two delicious scoops of vanilla ice cream and, just to give your heart notice that you are not paying attention, a lovely, rich, hot chocolate sauce poured over everything. Words can not describe how yummy it is. But it is. I always manage to spill some of the sauce on my shirt, but that's another issue. Certainly a dessert to share.


Right on the square and up a flight of stairs is Calypso. I am not sure how this popular restaurant balances a very wide-ranging menu with high quality and speed, but the kitchen staff is doing just that, night after night.


I start off the evening with a mango daiquiri, a good way to get your daily dose of fruit. The signature dish I like is fried chicken and it comes out hot and crisp. It also comes smothered with a thick, white gravy, Southern USA style, but if you ask, you can have the sauce on the side, which is the way I like it.


The restaurant also is noted for its deep fried red snapper. It is not only excellent, but, because you have to be careful about the excess of bones, eating this dish requires concentration. You need to spend a lot of time looking at your plate, not the super view of the goings on in the plaza, or casing the joint for friends. After all, you want to end the evening satisfied, not having the Heimlich maneuver administered to you.


More singular dishes to come! And, remember, when you are having red snapper, Bone Appetite!


Ed Schwartz has been involved in many aspects of fine wine for 30 years and has worked with top wineries in California, Italy and France. His writings on wine, food and travel have appeared in the SF Chronicle, LA Times and Image magazine.

Click HERE for more articles by Ed Schwartz
Tell a Friend
•
Site Map
•
Print this Page
•
Email Us
•
Top