Entertainment | Restaurants & Dining
Wine Express Even Drinks It For You

Ed Schwartz - PVNN
February 17, 2010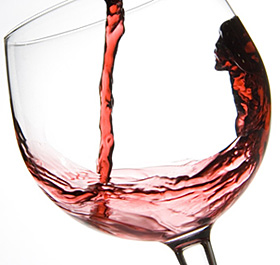 I have mixed feeling about all this virtual stuff. I am more of a realistic type - especially when it comes to wine.
I am amazed at the proliferation of wine websites. And, because I am considered a wine writer by some and a wine buyer by others, I get several a day. No samples, but a lot of words.


Since I live in Mexico some of the time, I have also become involved in the tequila game. Drinking folks take tequila very seriously here and the various good makers impart subtle differences in their products, akin to the single malts coming from Scotland. So, I write for various tequila websites and also receive a lot of tequila advice. This is all well and good.


Today's wine email episode was eye-opening, in more ways than one. It is on a website called Wine Express. I logged on to it and saw a very fine Spanish wine featured as "wine of the day." Underneath the wine, was a photo of a nice gentleman with gray hair, otherwise not identified. He had a bottle of this wine on the table, a fancy carafe, a very large spit bucket and a glass along with a caption that told me to click on the arrow and I could participate in a virtual tasting.


What the hell? Why not? So I clicked on the arrow and the wine expert came to virtual life. The wine in question was a 2001 Rioja Gran Reserva Bodegas Montecillo. My guide tells me all about the wine, where it came from and its impressive pedigree.


Then, without anymore ado, he picks up the bottle and a corkscrew, opens the bottle like the pro he is, pours the wine into the carafe, pours a spot of wine into his very large wine glass and sniffs it and very professionally, I might add.


After the sniff, he goes into a monologue about the various scents he finds in the nose. Predictably, he then takes a sip and swishes it in his mouth. He does the sucking-in-some-air-bit, twice. The wine lingers in his mouth, flowing to all taste receptors. He swallows a bit, tosses the rest in the spit bucket, then, musing for a moment, launches into his taste impressions — fruit, cedar, anise, chocolate, the usual suspects.


He then launches into how good it is (and the wine is good, I've tasted it) and how it is rare that a wine like this is ready on release. By then the 20 second virtual tasting is virtually ended.


I have mixed feeling about all this virtual stuff. I am more of a realistic type - especially when it comes to wine. But, one can teach an old dog new tricks.


Ed Schwartz has been involved in many aspects of fine wine for 30 years and has worked with top wineries in California, Italy and France. His writings on wine, food and travel have appeared in the SF Chronicle, LA Times and Image magazine.

Click HERE for more articles by Ed Schwartz
Tell a Friend
•
Site Map
•
Print this Page
•
Email Us
•
Top